Orange game against Australia suspended due to rain
Nederlands

SANTIAGO DE VERAGUAS (Panama) - The game of the Dutch Baseball Team against Australia on Wednesday-afternoon was interrupted by rain in the top of the seventh inning with the score tied at 1-1. After an almost 3-hour delay, it was finally decided to halt and suspend the game, which was played in Estadio Omar Torrijos in Santiago de Veraguas. This means that the remaining three innings are being postponed to be played at a later date. When one of the teams would have been leading at the moment of halting, the game would have been valid, but now it has to continue, as every game needs to have a winner.

In the evening, the Technical Committee of the International BAseball Federation (IBAF) announced the new date for the remainder of this game as well as for the three games that were canceled in its entirety.

Because of the cancelations, the schedule for the rest of the Second Round was remodeled. On Thursday and Friday, six games are to be played on each day. Additionally, the number of innings will be adjusted from nine innings to seven innings, as teams will play double-headers. Except for the completion of the suspended game between the Netherlands and Australia, which will be played over nine innings from the moment play stopped due to rain in the top of the seventh inning.

The new schedule (with Panamanian times) is now as follows:
Thursday, October 13
Time
Game
Site
Time
Game
Site
11:00 AM
Canada - Venezuela
Aguadulce
12:00 PM
USA - Australia
Santiago
3:30 PM
Canada - South Korea
Aguadulce
3:30 PM
Netherlands - Australia (remainder)
Santiago
7:30 PM
Panama - South Korea
Aguadulce
7:30 PM
Cuba - Netherlands
Santiago
Friday, October 14
Time
Game
Site
Time
Game
Site
11:00 AM
South Korea - USA
Aguadulce
11:00 AM
Panama - Australia
Panama City
3:30 PM
Venezuela - USA
Aguadulce
3:30 PM
Canada - Cuba
Panama City
7:30 PM
Venezuela - Netherlands
Aguadulce
7:30 PM
Cuba - Panama
Panama City
---

Starting for the Dutch Team this afternoon was Shairon Martis, who last pitched 10 days ago in the opener against Taiwan. After his first start, Martis had a sore shoulder. ,,Out of precaution, we therefore gave him some extra days of rest'', Manager Brian Farley stated. The righthander saw Australia frequently reach base in the first three innings, but gave up only one run, as he was supported with some fine defense. With two outs in the first inning, Justin Huber and Stefan Welch (the last a comebacker to Martis) singled, but a flyout ended the early Australian thread.

In the second inning, the Aussies did score a run. Tom Brice, who this season played in the Dutch big league for DOOR Neptunus, led off with an infield-hit, then moved when next batter Allan De San Miguel was hit by a pitch. Martis then struckout next batter Scott Wearne, but that was followed by a runscoring double by veteran Brad Harman. Hereafter, De San Miguel was thrown out at home trying to score on a grounder by James Beresford to third baseman Jonathan Schoop and a following grounder ended the at bat.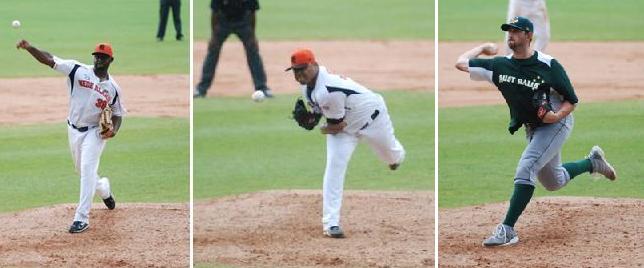 ...Today's pitchers Shairon Martis, Diegomar Markwell & Dushan Ruzic...

The Dutch Team faced Dushan Ruzic, who pitched three seasons for DOOR Neptunus (2008-2010) and therefore knew several of the players. This season, Ruzic pitched in the Italian Baseball League for Rimini, but next year, he will return to the mound again for Neptunus. The righthander retired the side in the first inning, but then gave up the tying run in the second at bat. First, Curt Smith led off with a single. After Bryan Engelhardt flied out, Smith moved to third base when Sharlon Schoop doubled and scored on a following grounder by Jonathan Schoop. But the latter stranded at third base when another flyout followed.

In the third at bat, Martis walked lead-off batter Justin Huber, but then was supported with a double play. He then gave up a single to Tim Kennely, but Martis ended the inning himself when he got the runner in a pick-off-caught-stealing-rundown.

From the third ining on, the game evolved into a pitching duel between Martis and Ruzic. After retiring the side in the fourth, Martis gave up a lead-off single to Harman in the fifth, but then retired the next three batters. Ruzic had one-two-three innings in the third, fourth and fifth.

As the pitching duel continued, the game started to become a thriller. In the sixth, Martis walked lead-off batter Stefan Welch, who then moved on a sac-bunt, but stranded on second base. In the home of the sixth, Ruzic kept on throwing strongly, as he started by striking out Shaldimar Daantji and Danny Rombley, therefore striking out four batters in a row and lifting his strikeout-total to eight. Five of those strikeouts included his former teammates with Neptunus in its championship year 2010 Danny Rombley (three times) and Shaldimar Daantji (twice). But after Ruzic had retired 13 batters in a row, his string was broken when Mariekson Gregorius doubled. A possible run was then avoided by the Australian defense when short stop James Beresford caught a line drive by Sidney de Jong to end the inning.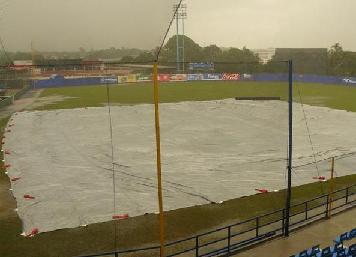 ...The stadium in Chitré...

In the seventh inning, Australia again reached base. Martis first struckout Scott Wearne, but then gave up a single to Brad Harman (his third hit in three at bats) and was replaced by Diegomar Markwell. The lefthander started by striking out James Beresford, but then a single by Mitchell Dening put runners on first and third base. It was the first time since the third inning that the Aussies had two baserunners again and the first time since the second that they got a runner on third base. But then, after Markwell had thrown a strike on batter Justin Huber, the game was interrupted by heavy rain. Initially, this game was to be played in Panama City, but was one of four games scheduled on Tuesday and today that were moved to other locations due to expected rain in the Panamanian capital. But during this afternoon, it started to rain everywhere in the area where the playing sites are located. Heavy rain prevented the afternoon-game between Venezuela and the USA to start in Chitré and it was then decided to transfer everyone to Aguadulce. However, when everyone arrived in Aguadulce, it also rained there.

After a two hours and 47 minutes rain-delay, the game between the Dutch and Australia was finally called a suspension.

The Venezuela vs. USA eventually was called off, but the rain also led to the cancelation of the two scheduled evening games. Cuba had to play vs. Panama in Santiago de Veraguas, while Canada's game vs. South Korea also was moved from Chitré to Aguadulce, but also rained out.

The game vs. Australia will resume on Thursday-afternoon at 3:30 PM in Santiago de Veraguas, to be followed by the evening match-up vs. Cuba. Manager Brian Farley now has to decide who he will sent to the mound for the remainder against Australia, but that just might be Diegomar Markwell, who had just entered the game when it was halted by rain. On Friday, the game against Venezuela has become an evening game instead of an afternoon-game, starting at 7:30 PM in Aguadulce and will be the second of a double-header for Venezuela, which meets the USA in the afternoon in their make-up game.

Today's line-up was as follows:
Danny Rombley (LF), Mariekson Gregorius (SS), Sidney de Jong (C), Curt Smith (1B), Bryan Engelhardt (DH), Sharlon Schoop (2B), Jonathan Schoop (3B), Kalian Sams (RF) and Shaldimar Daantji (CF).

(October 12)