DUTCH IN WORLD CUP-FINAL AFTER BEATING CUBA!
Nederlands

SANTIAGO DE VERAGUAS (Panama) - The Dutch Baseball Team has qualified for the World Cup Final by winning 4-1 to Cuba on Thursday-evening, the first loss by the dominating Cubans on this tournament! It is a historical victory for Dutch baseball. Not only does the team set a record with its ninth World Cup-victory, it also becomes the first European team ever to reach a World Cup-final through a competition format! It becomes the first European team in 73 years to play for gold!

The win also meant that the USA is dethroned as reigning champion. There is a 4-way tie possible for the Americans, but it would not be in their favor. And with the loss, even Cuba's quest for a final became insecure.

In the final, the Dutch will face either Cuba or Canada.

In the end, because of the (unexpected and upsetting) victory against Cuba, Canada is no thread anymore to halt the Dutch road to the final and also the last game on Friday against Venezuela is of no influence anymore for what medal the Dutch squad is playing. On Saturday, the Dutch Baseball Team is playing GOLD!!!

The win against Cuba was the second in history by the Dutch since first participating in a World Cup in 1970. In 2007, the Dutch won 2-1. Twelve other games vs. Cuba during a World Cup were lost, including a huge 27-1 loss during the 1976 Cup in Colombia.
---

In the 7-inning contest against Cuba, Dutch Manager Brian Farley gave some of his regulars some well deserved time off. Danny Rombley and Shaldimar Daantji didn't start, while Sidney de Jong was the designated hitter and Shawn Zarraga took over as catcher.

But despite the changes in the line-up, the Dutch reached base right away in the first at bat, as lead-off hitter Dwayne Kemp reached on an error. However, after two outs, Kemp was picked off, got in a run-down and was caught stealing.

In the second inning, the Dutch offense was more successful. Curt Smith led off with a walk, then Bryan Engelhardt drilled the ball into rightfield for a 2-run homerun and an early lead.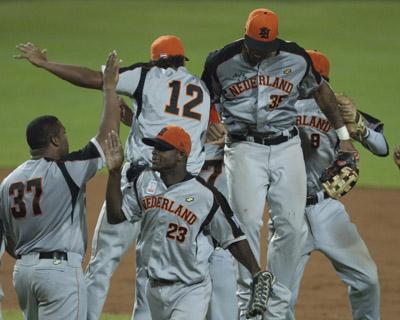 ...The Dutch celebrate and write history...

The 2-0 lead gave starter Orlando Yntema some space to work with. In the first inning, he had allowed two Cubans to the bases with an one-out walk and a 2-out single, but in the second and third inning, he retired the side.

Cuban starter Miguel Gonzalez gave up a 2-out single to Mariekson Gregorius in the third, then retired the side in the fourth (two strikeouts). He then was supported with a run in the home of the fourth, as Frederich Cepeda and Alfredo Despaigne led off with back-to-back doubles that narrowed the deficit to 2-1. Yulieski Gourriel then followed with a single to put runners on first and third. After a strikeout, Gourriel moved to second on a grounder, but then another grounder ended this Cuban scoring opportunity.

The Dutch Team then had a strong comeback in the fifth inning after giving up the run by scoring two of their own! With one out, Shawn Zarraga singled, then Kalian Sams followed with his second homerun of the tournament to make it 4-1. Hereafter, pitching ace Jonder Martinez was brought in, but was greeted with a single by Dwayne Kemp, but then got out of the inning thanks to a double play.

In the home of the fifth, Yntema walked a batter with one out, but that caused no harm, as two flyouts followed.

Bryan Engelhardt singled with two outs in the sixth and was replaced by pinch-runner Shaldimar Daantji, but he was left. In the home of the sixth, Leon Boyd took over the pitching and initially ran in some problems, as he walked lead-off hitter Despaigne, then gave up a single to Gourriel. But the two were unable to advance as a flyout followed, then a line drive out to rightfielder Kalian Sams and a strikeout.

After the Dutch were retired in order in the top of the seventh, clinching the final was only three outs away. Boyd started with a strikeout and then two grounders to short stop Mariekson Gregorius sealed the win. The Dutch Baseball Team clinched the final of the 39th World Cup!

And while the game against Venezuela still has to be played, it appears that Manager Farley will have his aces Rob Cordemans and Tom Stuifbergen both available for the final!

The starting line-up was as follows:
Dwayne Kemp (LF, 1-for-3), Mariekson Gregorius (SS, 1-for-3), Sidney de Jong (DH, 0-for-3), Curt Smith (1B, 0-for-2), Bryan Engelhardt (RF, 2-for-3), Sharlon Schoop (2B, 0-for-3), Jonathan Schoop (3B, 0-for-3), Shawn Zarraga (C, 1-for-3) and Kalian Sams (CF, 1-for-3).
In the sixth inning, Shaldimar Daantji entered the game as pinch-runner for Engelhardt and took over in centerfield with Sams moving to rightfield.

(October 13)