Breaking news: Greg Halman passed away!
Nederlands
IN MEMORIAM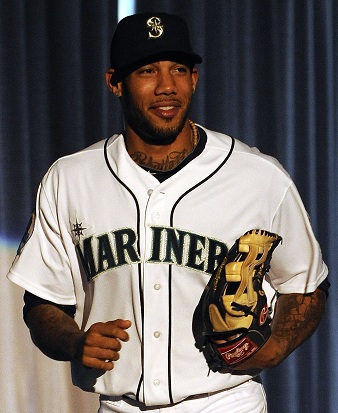 ...Greg Halman...
(1987 - 2011)
(© Photo: Henk Seppen)

ROTTERDAM (Neth.) - Professsional player Greg Halman has passed away at the age of only 24 in the city of Rotterdam as a result from wounds he sustained during a stabbing fight with a deadly ending. It was reported that his brother, who is two years younger, was taken into custody to be questioned. Greg Halman played for the Seattle Mariners, where he played in 35 Major League-games this season. Our thoughts are going to the family and friends of Greg, who we all condolence with this tragic loss.

Local channel RTV Rijnmond reported that the fight occured around 5:30 AM this morning (Monday, November 21) in a house in Rotterdam. Police and medical personel have tried to resuscitate Halman, but unfortunately to no avail. According to the police, Halman's brother was taken into custody in the house after the incident. Police spokeswoman Patricia Wessels of Rotterdam-Rijnmond said in an interview with TV Rijnmond that a loud radio might have triggered a quarrel. The exact facts of the case are under investigation.

Only two weeks ago, Greg Halman was one of the Major League-players, who took part in the European Big League Tour, organized by Dutch Major League-pitcher Rick van den Hurk. The two were joined by another Dutch big leaguer, Roger Bernadina (Washington Nationals) and American Major League-players Prince Fielder (Milwaukee Brewers), Adam Jones (Baltimore Orioles), Dexter Fowler (Colorado Rockies) and Mike Stanton (Florida Marlins), who held instructional clinics for Dutch youth baseball-players in Utrecht and Amsterdam, but also traveled to Prague (Czech Republic) and Parma (Italy). During the first clinic on November 5 in Utrecht, during a meet-and-greet, Halman and Van den Hurk told youthplayers that they already play against each other since Little League. The two had a lot of fun during their conversation, with Halman informing the kids that Van den Hurk started his career as a catcher. Last year, Halman also took part in the first Big League Tour in the Netherlands and Belgium.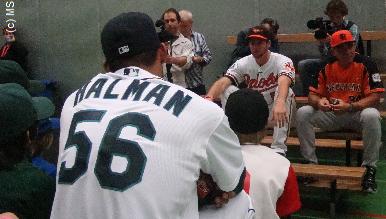 ...Greg Halman and Rick van den Hurk joke...
...around with kids in Utrecht on November 5...
...Sitting right is Dutch Team coach Wim Martinus...
(© Photo: Marco Stoovelaar)

The passing of Greg Halman resulted in a huge shock in the Dutch baseball-family, which was stunned by the news. Just over a week ago, thousands of fans came to Haarlem (where Halman was born) to celebrate and honour the Dutch National Team that captured the world title last month in Panama. And now, 10 days later, the Dutch baseball-world mourned the death of a wellknown and successful player.

In a statement issued by the Royal Dutch Baseball and Softball Association (KNBSB), Technical Director and former National Team Manager Robert Eenhoorn gave a first reaction: ,,This is a drama, an enormous shock for everyone. My only thoughts at this moment are with the family and friends of Greg. I wish them a lot of strength with this big loss.''

In a later reaction for De Telegraaf-newspaper, Eenhoorn added: ,,This is a enormous drama. I'm very shocked about this. It is so difficult to say what this means for Dutch baseball. This is not about the baseball-player Halman, but about the person Halman, a son, a friend. That's where this is all about this moment. I really need more time to express my feelings and to be able to think about this, as I'm only thinking at the moment of his family. I really have no words for this.'' Eenhoorn was the Manager of the Dutch National Team when Halman made his debut in the Orange-squad in 2007.

The shock also was enormous at Corendon Kinheim, the Haarlem-based club where Halman started his career. Head Coach Eelco Jansen and Chairman Top Baseball Peter Jager reacted to De Telegraaf-newspaper.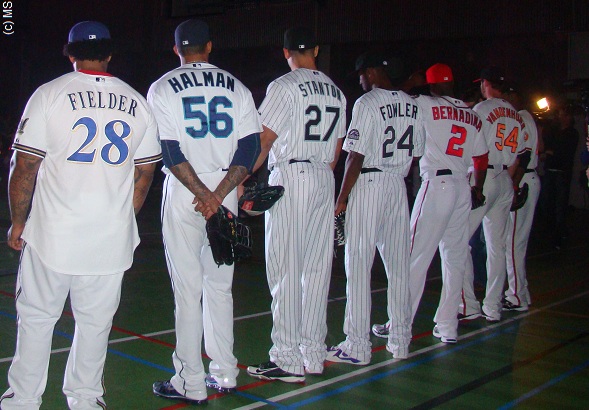 ...Greg Halman with colleagues during the Eurpean Big League Tour...
...two weeks ago in Utrecht...
(© Photo: Marco Stoovelaar)

,,I'm deeply shocked, in disbelief. This is a big loss for Dutch baseball, but also for the sport in general'', stated Eelco Jansen. ,,Greg was a role model. He was the example of players who do their utmost best to reach the highest possible. He was the proof of that. When he practiced with us in the offseason, he was the animator within the group and wanted to improve the batters. He was enormously passionate. Also during the European Big League Tour, as he always was available to share his knowledge with youthplayers. Greg also took his responsibility as a role model and did that on a very high level. I have the greatest respect for him as a baseball player and as a person.''
Peter Jager reacted: ,,I'm very distraught. For Kinheim, he of course was an icon. The first player who developed himself within the club of Kinheim to reach the Major League and had a bright future ahead of him. He is one of the highlights of Kinheim of whom we are very proud. He was one of the best Dutch baseball players, a great hitter and a wonderful baserunner with a good mentality which was focused to reach the final station and wanted to perfectionize that. We all are still euphoric about winning the world title, then this really is an enormous gap from that. I really need time to cope with this all''.

Italian executives also reacted. ,,I'm shocked. Especially how it happened. This is very sad news, I have no words for it. Baseball mourns deeply'', said Riccardo Fraccari, the President of the International BAseball Federation (IBAF) and the Italian Baseball and Softball Federation (FIBS).
Massimo Fochi, Vice-President of the FIBS, met Halman personally, just over a week ago on November 12. ,,He was in Parma then for the European Big League Tour. He then was a player who was much respected by the children, the fans and the press. I cannot believe it'', stated Fochi.

,,The Mariners family is deeply saddened by the tragic death of Greg Halman'', said Mariners Chairman Howard Lincoln, President Chuck Armstrong and General Manager Jack Zduriencik in a statement issued by the club. ,,Greg was a part of our organization since he was 16, and we saw him grow into a passionate young man and talented baseball player. He had an infectious smile that would greet you in the clubhouse, and he was a tremendous teammate. Our thoughts and prayers go out to Greg's family''.

,,Today Major League Baseball mourns the passing of Greg Halman, a member of the Seattle Mariners organization since 2004. Greg reached the Major Leagues in each of the last two seasons, hitting his first career home run on June 15 of this year. Greg proudly represented the Netherlands in the 2009 World Baseball Classic, and he was a participant in MLB International's grassroots clinics in Europe, as recently as earlier this month'', said Major League Commissioner Bud Selig in a statement.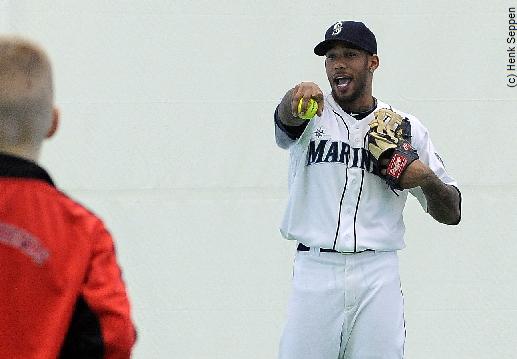 ...Greg Halman yells instructions during the...
...Eurpean Big League Tour 2 weeks ago in Amsterdam...
(© Photo: Henk Seppen)

,,The loss of a talented 24-year-old young man like Greg, amid such tragic circumstances, is painful for all of us throughout the game. On behalf of Major League Baseball, I send my deepest condolences to the entire Mariners organization and to all those whose lives were touched by Greg''.

On its website, Seattle Mariners Manager Eric Wedge reacted: ,,I only knew Greg for a brief time, but I feel lucky that I had the chance to get to know him. He was a fine young man with a bright future. Greg had a tremendous energy about him, both on and off the field, that I loved. This is just tragic. That's all I can think, that this is so tragic and sad.''

Michael Weiner, the Executive Director of the Major League Baseball Players Association, issued the following statement, as published on the website of Major League Baseball: ,,We are deeply saddened to learn of the tragic death of Greg Halman. Greg was passionate about the game of baseball and generously gave of himself to share his passion with others in an attempt to help grow the sport's popularity across Europe. He will be sorely missed. ... Our thoughts and prayers go out to Greg's family, his teammates, the Mariners organization and his many friends and fans throughout Europe and America''.

Aaron Artman, the President of the Tacoma Rainiers, where Greg played the last two seasons, released the following statement:
,,Greg was a huge part of the Rainiers during his time here in Tacoma, and played a pivotal role -- on the field -- in our run to the 2010 Pacific Coast League Championship. ... He had a huge smile on his face, every day, and his enthusiasm was infectious. He just had a way about him that made our front office staff and fans see a guy who clearly loved what he was doing. ... We miss Greg already, and our prayers go out to his family, friends, teammates and the Mariners organization''.

Much more reactions by Major League-players, including current and former teammates, coaches and executives are posted on the website of the Seattle Mariners in a special tribute for Halman. At Safeco Field, the stadium of the Mariners, the videoscreen put up a photo in remembrance of Halman.
Mariners Tribute Page
Remembrance page Official Mariners Fan Guestbook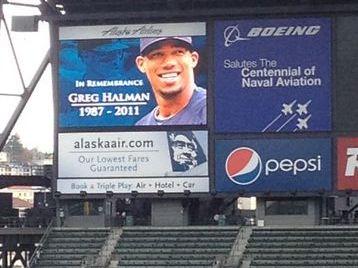 ...Greg's photo on the videoscreen...
...in Safeco Field in Seattle...
(© Photo: Website Seattle Mariners)

Gregory Anthony Halman was born on August 26, 1987 in the Dutch city of Haarlem as the son of former Dutch big league and National Team-player Ed Halman. Greg also had two sisters, one who played softball (including one season in the Dutch big league) and another who plays basketball in the highest division and is a member of the national team.

In Haarlem, Greg started playing for Kinheim, where he made his Dutch big league-debut at age 16. It also immediately was his first full season on the highest level, as he played in 40 of the 42 games for Kinheim. In his rookie season, he batted .248, scored 12 runs and had 19 runs batted in.

A year later, Halman led Kinheim in hitting (.358), RBI's (41) and homeruns (4) and was named the league's Most Valuable Player, was the Homerun King and also won the Ron Fraser Award for the Most Promising Dutch Youth Player. His batting average was only .003 less than the Batting Champion of that season.

After the 2004 season, Greg and his brother both transfered to Amsterdam Pirates. In 2005, his brother made his big league-debut with Amsterdam at age 16, playing in 37 games and hitting .279, but Greg never played for the team, as he made his professional debut that year.

Greg Halman initially signed a contract with the Minnesota Twins on November 21, 2003, three months after his 16th birthday, but that signing was voided on April 1, 2004. He was then signed as an amateur free agent on June 26, 2004 by the Seattle Mariners and made his professional debut in 2005, playing in 26 games for the Rookie League-team of the Mariners in the Arizona League, hitting .258. In 2006, he was promoted to Single-A Short Season and played in 28 games (hitting .259) for Everett AquaSox.

Another promotion followed in the 2007 season, as he played in both Single-A Short Season, as well as Single-A, playing in 114 games and hitting 20 homeruns, while having 52 RBI's. 2008 brought Halman to the Double-A level after having started the season in Single-A Advanced. With the West Tenn Diamond Jaxx (AA), Halman played in 61 games. For the two teams combined, he hit 29 homeruns. In the 2008 season, Halman also appeared in four games again for Kinheim towards the end of the season after he completed his professional season. After his transfer to Amsterdam, he moved to ADO after the 2006 season, but he also never played for that team in The Hague. After the 2007 season, he transfered back to Kinheim together with his brother, who had played for Almere '90 (2006) and ADO (2007) after his rookie-season in Amsterdam. For coming season, the younger Halman was on the roster of Rotterdam-based DOOR Neptunus.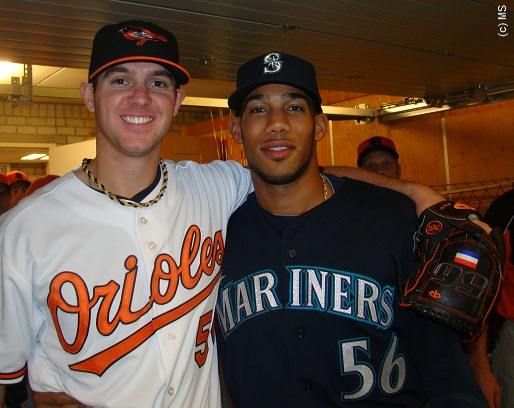 ...Greg Halman with Rick van den Hurk...
...during last years European Big League Tour...
(© Photo: Marco Stoovelaar)

After being named the Seattle Mariners Minor League Player of the Year in 2008, Greg Halman played in 121 games in 2009 for West Tenn Diamond Jaxx (AA), hit 25 homeruns and batted .210, but also struckout 191 times. The next year, Halman was promoted to the Triple-A team and has a successful season with the Tacoma Rainiers, which won the championship in the Pacific Coast League. In 112 games, he scored 82 runs, had 80 RBI's and led the entire Mariners-organization with 33 homeruns. After finishing the season with the Rainiers, Halman was called up to the big league-team and on September 23, 2010, he made his debut in the Major League, going 0-for-4 (two strikeouts) in an 1-0 loss vs. the Toronto Blue Jays. In that game, played at Toronto, Halman was the starting centerfielder, standing between Michael Saunders (left) and Ichiro Suzuki (right). On September 27, he hit his first big league-hit, an RBI-double in the second inning off C.J. Wilson of the Texas Rangers. Halman played in nine Major League-games and batted 4-for-29 (.138), scored once and has three RBI's.

This year, Halman started Spring Training with the Mariners, but was sent to Tacoma two weeks before the start of the season. He appeared in only 40 games of Tacoma. On April 10, in only the fourth game of the season, Halman was hit on his hand by a pitch, resulting in a fracture. After being sidelined for six weeks, Halman was activated on May 28 from the Disabled List, homered in his first at bat and played in five games for Tacoma. He was then recalled by the Mariners on June 2. Three days later, he was the starting centerfielder in a home game against the Tampa Bay Rays and went 3-for-4, including a 2-out, 2-run triple to give the Mariners a 5-3 lead in a 9-6 win. The next day, he went 3-for-3 vs. the Chicago White Sox. On June 15, Halman hit his first big league-homerun at home vs. the Los Angeles Angels of Anaheim off reliever Rich Thompson. Halman went on to play in 35 Major League-games this season, hitting .230 (20-for-87), with two doubles, one triple and two homeruns. He scored seven runs and had six runs batted in. With this, Halman appeared in 44 Major League-games overall, collecting 24 basehits, scoring eight runs and hitting .207. After being sent back to AAA, Halman was not recalled in September, but currently was on the 40-man roster of the Mariners for coming season.

In his minor league-career, Halman was named a Postseason All Star in the Northwest League in 2007, as well as a Short Season All Star by Baseball America. In 2008, he was an AFL Rising Star and in 2009, he was named a Postseason All Star in the Southern League.

On September 4, 2007, Halman made his debut in the Dutch National Team during an exhibition game vs. Spain, preceeding the European Championship/Olympic Qualifier in Barcelona. That event was won by the Dutch, meaning it qualified for the Olympic Games of 2008 in Beijing. In November 2007, Halman participated with the Dutch squad in the World Championship in Taiwan, then also was a member of the team during the World Baseball Classic of 2009. In the 2007 World Championship, Halman smacked a 2-out, 2-run double in the 11th inning of the quarter final game vs. host Taiwan to give the Dutch a 4-2 lead in an eventual 6-3 win to clinch the semi-final.

In 2008, Halman opted not to go to the Olympics, but focus on his professional career and that Fall played in the Arizona Fall League for the Peoria Javelinas. In total, Halman played in 22 games for the national team. Because he was on the 40-man roster of the Mariners, Halman was not eligible to play for the Dutch Team that captured the world titel last month in Panama.

A condolence register has been opened for Greg

(November 21)

...Greg Halman during the 2007...
...World Championship in Taiwan...
(© Photo: Marco Stoovelaar)

...Greg Halman during the 2009...
...World Baseball Classic in Puerto Rico...
(© Photo: Henk Seppen)

...Greg Halman with Prince Fielder...
...during Big League Tour 2 weeks ago...
(© Photo: Marco Stoovelaar)