L&D Amsterdam Pirates lets bronze medal slip away in Brno
Nederlands
BRNO (Czech Republic) - On Thursday-afternoon, L&D Amsterdam Pirates led 5-1 in the fifth inning and 9-4 in the eighth inning, but failed to hold onto the lead, as two errors led to six runs (five unearned) in the last two innings, resulting in a 10-9 loss to Unipol Bologna on the second and final day of the European Champions Cup Final Four in Brno (Czech Republic). With this, Amsterdam finished in fourth and last place, while Bologna captured the bronze medal.

In the evening, T&A San Marino defeated Parma Angels 7-1 in a quick, just over two hours, game to capture the European Cup.

Amsterdam struck early this afternoon in Méstský Baseballový Stadion, the home field of Draci Brno. With one out, Roelie Henrique reached on a throwing error, then stole second base. After Sidney de Jong walked, Bas de Jong flied out, but then Vince Rooi and Kenny Berkenbosch both singled to bring in two runs. The bases then got loaded when Bologna-starter Cody Cillo hit Percy Isenia with a pitch, but then the inning ended when Bas Nooij flied out.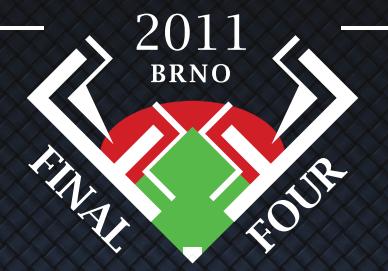 Amsterdam added its third run in the second inning, but then also left the bases loaded. With one out, Wesley Connor walked and advanced on a single by Roelie Henrique. Next, Sidney de Jong also singled to bring in Connor and make it 3-0. Hereafter, Bas de Jong also single to load the bases, but then Henrique was forced out at home on a grounder by Vince Rooi and Kenny Berkenbosch ended the at bat with another grounder.

Amsterdam-starter Jos de Jong began the game with a strikeout, walked a batter with two outs, but then a flyout ended the first at bat. In the next inning, the righthander two baserunners when he gave up a single with two outs, then walked the next batter. De Jong then ended the inning by striking out Andrea d'Amico.

After retiring the side in the third inning, De Jong gave up Bologna's first run in the fourth. With one out, he gave up consecutive singles to Juan Angrisano, Daniele Malango and Marco Sabbatini. The first two led to the run. Angrisano's single was followed by a defensive error and he then scored when Malango followed with his single. With runners on first and second, more runs were avoided as a flyout and force out followed.

In the fifth inning, Amsterdam took more distance off Fabio Betto and increased the lead to 5-1. The new pitcher gave up a lead-off double to Kenny Berkenbosch, who then advanced when a throwing error was made on a grounder by Percy Isenia, who himself moved to second base. Berkenbosch and Isenia then both scored when Bas Nooij followed with a double. But then three outs followed.

Bologna then came right back into the game in the home of the fifth when it struck off Ben Grover, who entered the game in relief of Jos de Jong. With one out, the American walked Gabriele Ermini, then gave up a single to Juan Carlos Infante. Both scored when Mark Castellitto followed with a triple, who then scored on a grounder by Juan Angrisano to narrow the deficit to 5-4. Now with two outs, Grover walked Malango and gave up a single to Sabbatini. Malango then advanced to third base on a failed pick-off to second base by Grover, who then finished the inning by striking out Riccardo Fornasari.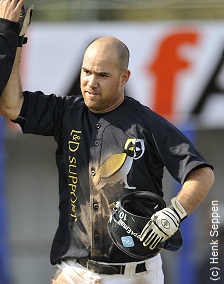 ...Kenny Berkenbosch...
...solo-homerun...
(© Photo: Henk Seppen)

Pirates immediately got its act back together again and reacted with three runs in the top of the sixth inning. Veteran Bologna-pitcher Betto (who will turn 39 next Sunday) gave up lead-off singles to Sidney de Jong and Bas de Jong, then Vince Rooi followed with a 3-run homerun to make it 8-4. Next, Kenny Berkenbosch reached on an error and Bas Nooij singled with one out, but the two runners were left behind as two flyouts followed.

Bologna got two runners on base again with two outs in the home of the sixth off Grover, who gave up a single and hit the next batter with a pitch, but this time the two stranded as a groundout followed.

Luca Turrini became the third pitcher for Bologna in the seventh inning. He gave up a lead-off single to Roelie Henrique, but then three flyouts followed. Ben Grover then had an one-two-three inning in the bottom of the seventh, including two strikeouts.

In the eighth inning, Amsterdam added a run when Kenny Berkenbosch led off with a homerun. After two flyouts, Seb Visser then accounted for Amsterdam's 16th basehit in this game, but he was left behind.

Bologna then made it a new ballgame in its eighth at bat when it scored five runs (four unearned) with two outs. A groundout and strikeout gave Grover two quick outs, but then a throwing error by third baseman Seb Visser (who had replaced Rashid Gerard in the fifth) on a grounder by Massimiliano Sartori followed. Next, Gabriele Ermini singled and Juan Carlos Infante doubled to bring in a run and put runners on second and third base. The bases then got loaded when Grover walked Mark Castellitto. Hereafter, Amsterdam's Head Coach Charles Urbanus brought Rik Geestman to the mound. But the lefthander was greeted with a baseclearing 3-run double by Juan Angrisano, who then scored the tying run himself moments later when Daniele Malango followed with a single. Another single off the bat by Marco Sabbatini followed. He then was forced out on second base, but Bologna had come alongside.

In the ninth inning, Amsterdam got a the chance right away to get back on top again as it got the bases loaded with one out. New pitcher Mark Langone gave up a lead-off single to Roelie Henrique, then walked Sidney de Jong. The two then advanced on a sacrifice bunt by Bas de Jong. The bases were then loaded when Vince Rooi was walked intentionally to set up a force play. That worked, as the inning ended when Kenny Berkenbosch then grounded into a double play.

Amsterdam then led the game slip out of its hands moments later. Geestman walked lead-off hitter Andrea d'Amico and was replaced by Al Morales Gomes. Next, Massimiliano Sartori reached on an error by second baseman Roelie Henrique, resulting in runners on second and third base. Hereafter, Morales walked Gabriele Ermini and then gave up a walk-off single to Juan Carlos Infante that gave Bologna a 10-9 victory, ending a 3 hours, 25 minutes game.

(September 22)