Dutch win fourth exhibition game with walk-off vs. Venezuela
Nederlands

LA CHORRERA (Panama) - The Dutch Baseball Team also was victorious in its fourth and last exhibition game on Thursday, September 29 when it came to a 12-11 walk-off win vs. Venezuela. The Dutch opened its exhibition series on Monday with a 10-6 win vs. Venezuela, then won 6-5 vs. Panama on Tuesday and defeated Taiwan 6-2 on Wednesday. The four games were part of the Dutch preparation for the upcoming World Cup, which opens on Saturday.

The Dutch Team collected 19 basehits, including the fourth homerun in four days by Sharlon Schoop. The squad twice faced a big deficit in the game, but kept on battling and came back both times. In the fourth inning, Venezuela led 6-1, but the Dutch Team came alongside. In the eighth, Venezuela had come back on top and led 11-6, but in the end was left empty-handed.

Nick Stuifbergen started for the Orange squad and was followed on the mound by Arshwin Asjes, Berry van Driel and David Bergman, who made his second relief appearance. Stuifbergen pitched 2 1/3 inning, walked three batters and gave up two hits, while striking out one. Asjes also walked three batters and gave up five hits in the 2 2/3 inning he pitched. Van Driel threw the next two innings in which he struckout one batter, walked two and gave up four hits. Bergman, who became the winning pitcher, threw the last two innings in which he struckout three batters.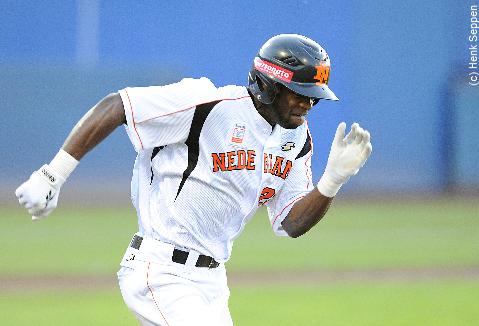 ...Shaldimar Daantji - winning run...
(© Photo: Henk Seppen)

In the first inning, the Dutch Team opened the score and scored once, but in the second, Venezuela came alongside off starter Nick Stuifbergen. Venezuela then added three runs in the third inning. Stuifbergen started the inning, but he was relieved by Arshwin Asjes, who gave up two more runs in the fourth at bat that increased the Venezuelan lead to 6-1. In the fourth inning, the Dutch got one run back, then had a productive fifth inning in which four runs were scored to equal the score and make it a new ballgame.

But in the sixth inning, Venezuela came back on top, scoring four runs off new pitcher Berry van Driel, who gave up another run in the seventh at bat that made it 11-6 for Venezuela.

In the eighth inning, David Bergman took over and held Venezuela scoreless. The righthander threw two strong innings in which he struckout three, walked none and gave up no hits. The game then started to turn around in Dutch favor when the squad rallied for five runs in the home of the eighth to tie the score again, 11-11. In the ninth inning, the Dutch team was productive again. The Dutch got the bases loaded, then Shaldimar Daantji scored from third base on a force play-grounder by Jonathan Schoop to short. But before the ball had arrived at the catcher, the speedy Daantji already had scored to end the game with the Dutch winning 12-11.

Today was a less warmer day with a more comfortable temperature, but also with several thunderstorms in the area. Except for some brief light rain, the Dutch team was able to play its game today without any problems what the weather was concerned. However, the team played a little sloppy, resulting in some unearned runs on the Venezuelan side.

On Friday and Saturday, the team will conduct two workouts, then start the Championship on Sunday against Taiwan. But before the event starts, Manager Brian Farley has to announce which two players will be cut from the roster.

In today's game, the starting line-up was as follows:
Mariekson Gregorius (SS, 1-for-3), Dwayne Kemp (LF, 2-for-3), Sidney de Jong (C, 2-for-2), Curt Smith (1B, 1-for-2), Jonathan Schoop (3B, 1-for-6), Sharlon Schoop (2B, 2-for-3), Bryan Engelhardt (DH, 0-for-3), Kalian Sams (CF, 2-for-4) and Danny Rombley (RF, 1-for-4).
During the game, the following changes were made:
Xander Bogaerts (1-for-3) took over at short for Gregorius, Bas Nooij (1-for-3) took over the catching for De Jong, Vince Rooi (1-for-2) replaced Smith at first base, Michael Duursma (1-for-2) became the new second baseman instead of Sharlon Schoop and Shawn Zarraga (1-for-2) entered the game as pinch-hitter (then designated hitter) for Engelhardt. In the outfield, Shaldimar Daantji replaced Kemp and moved into centerfield, with Sams moving to rightfield and Rombley to leftfield.

In the meantime, Cuba has added two exhibition victories. After winning 14-3 vs. Panama on Monday, the Cubans won 7-1 vs. Venezuela on Tuesday, highlighted by homeruns by Alfredo Despaigne and veteran Ariel Pestano. On Wednesday, Cuba defeated Panama again, this time winning 7-3. In that game, Cuba hit only seven basehits, including homeruns by Yosvani Alarcón and again Despaigne. Before coming to Panama, Cuba played a series of five games against Puerto Rico and won all five games.

Defending world champion USA on Thursday concluded a series of three exhibition games against Canada, which was played at the National Training Complex in Cary (North Carolina). The first game, which took seven innings, ended in an 1-1 tie with a homerun by Matt Clark accounting for the lone American run. On Wednesday, Team USA won 3-1 and this time it was a homerun by Marcus Knecht which produced the lone Canadian run. On Thursday, the teams played a 10-inning game, which was won 2-1 by the USA which scored its runs in the first and second inning. Canada scored its run in the fifth. The teams used the ninth and tenth inning to practice the international tie-break rule.

(September 29)
...Today's pitchers Nick Stuifbergen (2 1/3 inning), Arshwin Asjes (2 2/3), Berry van Driel (2) and David Bergman (2)...
(© Photos: Henk Seppen)