Team South wins All Star Game; Engelhardt HR-King again
Nederlands

VLEUTEN (Neth.) - Team South outhit Team North 15-4 on Sunday to win the 3rd All Star Game, 9-1. It was the second time that Team South won the game, which is played annually since 2010. Team South also won the first game, then Team North won last year.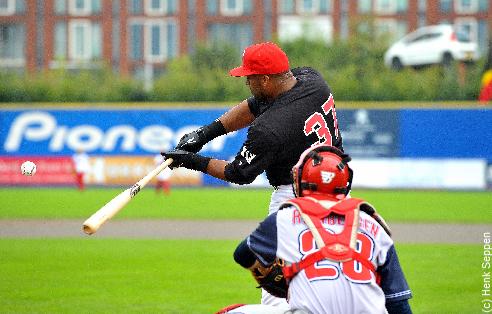 ...Homerun Contest Winner Bryan Engelhardt...
...Visible in the back is the car he won...
(© Photo: Henk Seppen)

Bryan Engelhardt again became the winner of the Homerun Contest, which was held before the start of the All Star Game. Engelhardt also won last year, after Percy Isenia had won in 2010.

Six players participated in the Homerun Contest. Jeffrey Arends, who hit seven homeruns, Wesley Connor and Bryan Engelhardt, who both hit five, qualified for the final. Rudy van Heydoorn (3), Quintin de Cuba (2) and Sidney de Jong (2) also participated. In the final round, Engelhardt hit 10 homeruns to beat Arends, who hit nine, while Connor hit five. Engelhardt also hit a Peugeot, which was located behind rightfield to win the car.

After Harm Jansen, chairman of organising club UVV, threw out the ceremonial first pitch, the game went underway. It was the second time that UVV organised the event, as it also hosted the All Star Game last year. The first Game was played at the site of ADO in The Hague. During the pre-game activities, UVV also officially retired the uniform number (30) of former catcher and later chairman of the club Tom Stamer.

Team South immediately struck off of starting pitcher David Bergman (Corendon Kinheim), the MVP of the Holland Series. With two outs, the righthander gave up singles to Danny Rombley (UVV) and Jeffrey Arends, who played for DOOR Neptunus until a month ago, when the two separated. Rombley and Arends then scored when Giovanni Samboe (UVV) followed with a triple.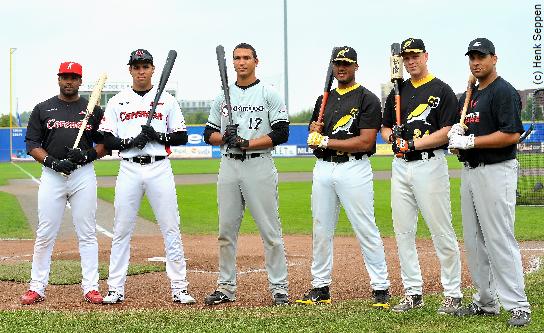 ...Participants Homerun Contest...
...Bryan Engelhardt, Quintin de Cuba, Rudy van Heydoorn,...
...Wesley Connor, Sidney de Jong & Jeffrey Arends...
(© Photo: Henk Seppen)

Team South added three runs in the fifth inning off of Ian Delemarre (L&D Amsterdam Pirates). Phil Ortez (AamigoO ADO Lakers) led off with a double, then Danny Rombley singled. A single by Jeffrey Arends then enabled Ortez to score. Next, the bases were loaded when Giovanni Samboe also singled. Delemarre then hit next batter Benjamin Dille (Neptunus) with a pitch to bring in another run and Anthony Vrolijk (Sparta-Feyenoord) followed with a sacrifice fly to make it 5-0.

After two scoreless innings off relievers Nick Veltkamp (Kinheim) and Jurrian Koks (Amsterdam), new pitcher Bayron Cornelissen (Vaessen Pioniers) gave up four more runs in the eighth inning. Lead-off hitter Shaldimar Daantji (Neptunus) reached on an error, then scored when Dwayne Kemp (Neptunus) followed with a triple. A homerun by Phil Ortez then made it 8-0. Hereafter, Danny Rombley walked and went on to score the ninth run for Team South on a single by Benjamin Dille.

Team North scored its lone run in the ninth inning off of Berry van Driel (Neptunus). He hit lead-off hitter and pinch-hitter Dirk van 't Klooster (Kinheim) with a pitch, who then moved on a grounder by Quintin de Cuba (Kinheim) and scored when an error followed on a single by Mervin Gario (Kinheim).

Sidney de Jong (Amsterdam) hit two of Team North's four basehits, including a double. The fourth basehit was hit by Jesse Aussems (Amsterdam) in the eighth inning.

Team South-starter Diegomar Markwell, who pitched the first two innings, was credited with the win. Jeffrey Arends, who was 4-for-5, scored twice and had an RBI, was named the game's Most Valuable Player.

(September 2)

...Team North...
Back Row: Hakkie Nieuwveen (Trainer), Hans Lemmink (Head Coach), Rob Cordemans, David Bergman, Linoy Croes,
Bas Nooij, Nick Veltkamp, Percy Isenia, Bas de Jong, Al Morales Gomes (Pitching Coach), Arshwin Asjes,
Sidney de Jong, Rudy Dirksen (Coach), Dirk van 't Klooster, Robert Klaver (Coach).
Front Row: Quintin de Cuba, Jesse Aussems, Jurrian Koks, Ian Delemarre, Zerzinho Croes, Mervin Gario,
Michael Duursma, Wesley Connor, Dennis Burgersdijk, Roelie Henrique, Bayron Cornelissen, Bryan Engelhardt

...Team South...
Back Row: Bat Boy, Dave Daniels (Head Coach), Wim Martinus (Coach), Gregory Gustina, Churandy La Cruz,
Kyle Ward, Jurjen van Zijl, Quinn Tramm, Diegomar Markwell, Orlando Yntema, Berry van Driel,
Rudy van Heydoorn, Kevin Heijstek, Frank Koene (Coach), Dino Anasagasti (Coach).
Front Row: Eric de Vries (Pitching Coach), Anthony Vrolijk, Jeff Delfina, Martijn Riphagen, Jirka Bliek, Jeffrey Arends,
Dwayne Kemp, Giovanni Samboe, Danny Rombley, Phil Ortez, Shaldimar Daantji, Benjamin Dille, Adrian Anthony

...Coaching Staff Team North...
Al Morales Gomes (Pitching Coach), Rudy Dirksen,
Stanley Engelhardt, Hans Lemmink (Head Coach),
Robert Klaver

...Coaching Staff Team South...
Dino Anasagasti, Wim Martinus,
Eric de Vries (Pitching Coach), Dave Daniels (Head Coach),
Frank Koene
(© All Photos: Henk Seppen)