Red Sox release Swen Huijer
Nederlands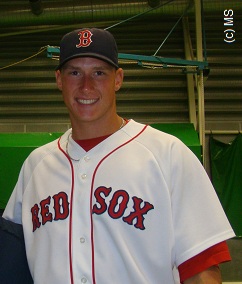 ...Swen Huijer...
(Photo: Marco Stoovelaar)

HOOFDDORP (Neth.) - Righthanded pitcher Swen Huijer has been released by the Boston Red Sox, just before the start of what would have been his fifth professional season. The almost 7 feet high pitcher, who turned 21 in November, will now make his debut in the Dutch big league this season and will join his former club Vaessen Pioniers after coming weekend. He is already placed on the active roster.

Huijer signed a contract in April 2008 and made his professional debut that year, throwing in eight games for the Rookie League-team of the Red Sox in the Gulf Coast League. In his first season, Huijer threw seven games in relief and was 3-1, striking out four batters in 16 innings, while giving up 15 basehits and five runs.

In the next season, Huijer appeared in 13 games as a reliever for the Gulf Coast Red Sox and was 1-1, while being used as a closer six times. In 27 innings, he struckout 20 batters, walked only one batter (he walked none in his first season) and gave up 24 hits and 14 runs.

In 2010, Huijer spent his third season with the Rookie League-team and this time threw in relief in 16 games. He was 5-2 and struckout 26 batters in 33 1/3 inning, giving up 41 basehits and 22 runs, while walking 10 batters.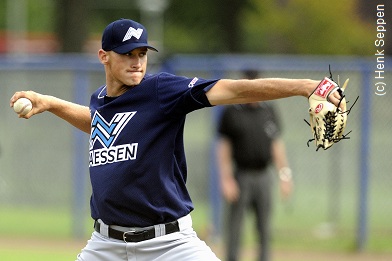 ...Swen Huijer in the Holland Series 2011...
(Photo: Marco Stoovelaar)

Last season, Huijer promoted to the Lowell Spinners, the Short-Season Single-A team of the BoSox. He threw 14 games in relief and was 2-2. In 40 2/3 inning, Huijer struckout 34 batters, walked 17 and gave up 32 basehits and 15 runs.

After he concluded his professional season last year, Huijer appeared in two games for Pioniers in the Holland Series against L&D Amsterdam Pirates. In 2 1/3 inning, he struckout two batters, walked two, gave up one hit, but also three runs.

Huijer never pitched in a regular season-game for Pioniers, so he will be a rookie in the Dutch big league this season. His brother Lars Huijer last year made his professional debut, throwing in five games of the Rookie League-team of the Seattle Mariners.

In March, Huijer was in Minor League Spring Training Camp with the Red Sox in Fort Myers (Florida). Earlier this week, Huijer was informed of his release.

(April 4)