Dutch champion wins on productive Opening Night
Nederlands




VLEUTEN / HOOFDDORP / ROTTERDAM / THE HAGUE (Neth.) - Dutch champion L&D Amsterdam Pirates started the new season on a chilly Thursday-evening with a 3-1 victory vs. UVV, while Corendon Kinheim nipped Vaessen Pioniers, 2-1. Two small scores, but it was a very productive evening in the other two games in which 41 runs were scored combined! DOOR Neptunus shutout Sparta-Feyenoord 20-0 and Mr. Cocker HCAW turned a 7-1 deficit into an 11-10 victory vs. AamigoO ADO Lakers.
---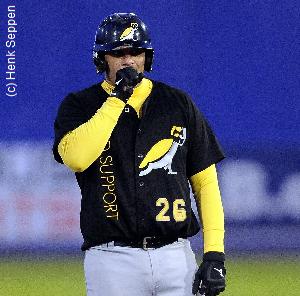 ...It was a cold evening...
...as Percy Isenia shows...
(© Photo: Henk Seppen)

UVV vs. L&D Amsterdam Pirates
At Vleuten, reigning champion L&D Amsterdam Pirates opened the season with a 3-1 win on solid pitching and timely hitting.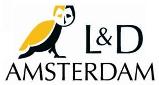 After being held to one runner in the first two innings, Pirates opened the score with two runs in the third bat. Bas Nooij led off with a single and advanced to third base on a double by Wesley Connor. With two outs, both scored on a single by Sidney de Jong.
Amsterdam-starter Rob Cordemans retired the first eight batters he saw, then gave up a 2-out single to Norbert Jongerius in the third, but then picked him off first base to end the inning. On this play, the ball was on the ground when Jongerius dove into first base after the play, but apparently Isenia had control of the ball when he made the tag.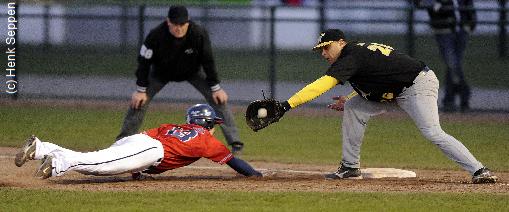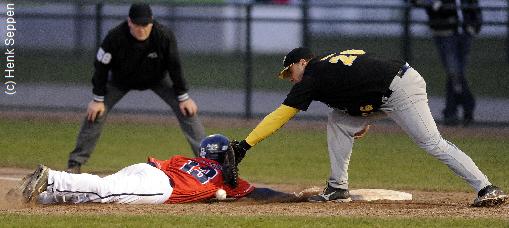 ...Out or safe?...
...Norbert Jongerius is picked off in 3rd inning...
(© Photos: Henk Seppen)

In the fourth inning, Austin Weymouth doubled with one out for UVV, but stranded at third base. In the sixth, UVV got one run back when Jirka Bliek led off with a single, moved on a sac-bunt by Norbert Jongerius and a grounder by pinch-hitter Brian Biezen and then scored on a double by Weymouth.

In the fourth inning, Percy Isenia and Kenny Berkenbosch singled with one out for Amsterdam, but a strikeout and force out ended the inning. Amsterdam then added an insurance run in the seventh inning when Wesley Connor homered with two outs to account for the first homerun of the 2012 season. Amsterdam left two runners in scoring position in the eighth inning and the bases loaded in the ninth, but the bullpen held onto the 2-run lead. In the eighth, off new pitcher Derek Tarapacki, Sidney de Jong reached on an error with one out and Vince Rooi singled, but then two grounders followed. In the ninth, Bas Nooij led off with a walk and Rachid Gerard singled. The two moved on a wild pitch, then the bases got loaded when Sidney de Jong was hit by a pitch with two outs, but again a grounder ended this scoring opportunity.

Rob Cordemans struckout eight batters and walked none in his first start of the season, needing 89 pitches. The veteran righthander allowed only four batters to reach base, all on a basehit. Nick Stuifbergen took over the pitching in the seventh and gave up one hit in two innings, then Jurrian Koks closed the game. He gave up a lead-off single to Stijn van der Meer, but then defense did the rest. Koks ended the inning and the game with a strikeout.

Standings & Schedule
Line Score, Box Score & Play-by-Play
---

Vaessen Pioniers vs. Corendon Kinheim
At Hoofddorp, Corendon Kinheim won its opener vs. Vaessen Pioniers 2-1 in a game that was decided in the eighth inning.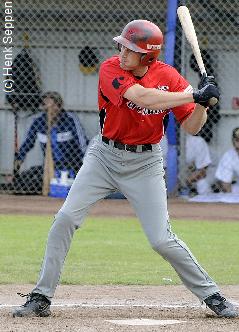 ...Dirk van 't Klooster...
...Gamewinning single...
(© Photo: Henk Seppen)

Kinheim opened the score in the first inning. Mervin Gario became the first player of the 2012 season to hit a basehit and score a run. At 7:32 PM, he singled off Pioniers-lefthander Mika de Lincel, then scored the first run seven minutes later on a 2-out single by Bryan Engelhardt.

Kinheim-starter David Bergman retired the first five batters he faced, but then gave up the tying run in the second at bat. With two outs, Norbert Lokhorst reached on an error (the first in the 2012 season), moved to the third when Kevin Dirksen followed with a single and then scored on a single by Michael Pluijmers, but Bergman then closed the inning with a strikeout.

In the next innings, the two starting pitchers kept each other in balance. De Lincel saw one player of Kinheim reach third base in the next four innings, before being relieved in the sixth inning. Bergman saw two players reach third base in his next four innings.

In the Kinheim-third, Renť Cremer singled, moved on a grounder and a wild pitch, but stranded at third base. In the Pionier-fifth, Michael Pluijmers led off with a double and advanced on a sac-bunt, but also was left behind. In the sixth, Mark Duursma led off for Pioniers with a walk, but he also stranded on third base, as Bergman struckout two of the next three batters.

Kinheim then re-took the lead in the eighth at bat. With one out, Mervin Gario walked, advanced on a failed pick-off and scored the go-ahead run when an outfield-error followed a single by Dirk van 't Klooster. In the home of the eighth, Pioniers might have had a chance of tying the score again. With one out, Mark Duursma singled and stole second, then tried to score on a 2-out single to second base by Mark-Jan Moorman, but was thrown out at the plate.

Standings & Schedule
Line Score, Box Score & Play-by-Play
---

DOOR Neptunus vs. Sparta-Feyenoord
At Rotterdam, DOOR Neptunus crushed Sparta-Feyenoord 20-0 in its opener of the season on 14 basehits.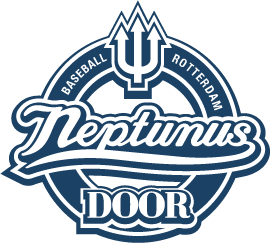 Sparta-Feyenoord outhit Neptunus 1-0 in the first two innings and left a runner on third base after Kevin van Nederpelt had led off the game with a double (the first extra basehit of the 2012 season). But half an hour later, it was a completely different story, as Neptunus had rallied for nine runs on seven hits in the home of the third inning to take a commanding lead. With one out, Mourik Huijser was hit by a pitch off starter Quinn Tramm, who then gave up a double to Shaldimar Daantji. The bases got loaded when no play was made on a grounder by Dwayne Kemp. Rafael Jozefa then singled in Neptunus' first run. With two outs, eight more runs were added. Jeffrey Arends (2-run), Lennart Koster and Rien Vernooij followed with RBI-singles, then Benjamin Dille hit an RBI-double. A passed ball and a balk then accounted for the next runs and a single by Shaldimar Daantji (his second hit this inning) made it 9-0.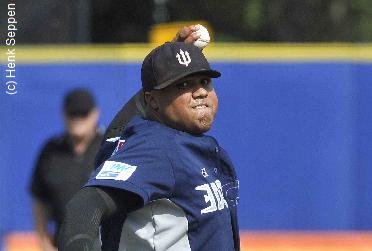 ...Diegomar Markwell...
...winning pitcher...
(© Photo: Henk Seppen)

Neptunus then left two runners in the fourth inning and new Sparta-Feyenoord pitcher Jurandy Girigori was supported with a double play in the fifth, but then Neptunus rallied for eleven runs in the sixth inning. 16 batters stepped up to the plate, who collected only five basehits, as the pitching contributed with seven free passes (five walks, two hit batter). It all started with a hit by pitch for RafaŽl Jozefa and then Raily Legito followed with a single. The two advanced on a wild pitch and scored on a single by Jeffrey Arends and a new rally was about to start. Later in the bat, Shaldimar Daantji draw a basesloaded walk and three runs were then scored on two errors on one play. Next, Jozefa walked and Legito hit his second single in the inning to bring in another run and also another pitcher, as infielder Anthony Vrolijk took over. But he walked the next two batters and hit the third one to bring in two more runs. A double by Benjamin Dille then accounted for two more runs and lifted the lead to 20-0.

And how did Sparta-Feyenoord do offensively? The team reached base only five times and got into scoring opportunities only twice. As mentioned, Kevin van Nederpelt stranded on third base in the first inning. Hereafter, Neptunus-starter Diegomar Markwell retired the next 10 batters in a row, before he gave up an one-out double to rookie Brian Raap in the fourth inning. Raap was the second and last player to get into scoring position for Sparta-Feyenoord. Another rookie, Theodore van Heijningen, singled in the fifth, but also was left behind.

RafaŽl Jozefa made his debut in a Neptunus-uniform by scoring three runs, as did Lennart Koster in his first game back for the Rotterdam-squad after having played for Mr. Cocker HCAW last season. Jeffrey Arends also scored three runs, but also had four runs batted in.

The 20 runs by Neptunus were the most in a game in an Opening Series (since 2001) since Mr. Cocker HCAW scored 17 on April 16, 2006 vs. Instant Holland Almere '90. Last year, on May 7, Neptunus also scored 20 runs in a game vs. Sparta-Feyenoord, winning 20-4. In the last 12 years, only two other teams scored 20 or more runs in a game, both in 2001. On June 3 of that year, Kinheim scored 25 vs. RCH and on July 14, Amsterdam Pirates scored 23 vs. ADO.

Standings & Schedule
Line Score, Box Score & Play-by-Play
---

AamigoO ADO Lakers vs. Mr. Cocker HCAW
At The Hague, Mr. Cocker HCAW won a crazy game in which it trailed 7-1 after two innings, but in the end turned around in an 11-10 victory. This meant that ADO's Head Coach Dave Daniels was left empty-handed in his debut against the club where he made his big league-debut as Head Coach in 1989. On the other hand, with this win, HCAW gave Rudy Dirksen a victory in his debuting game as Head Coach with the team and in the Dutch big league.

HCAW initially opened the score in the first at bat, but then gave up four to ADO in home part of the inning. ADO-starter Reggie Bomberg gave up an one-out single to Linoy Croes, who then stole second base, moved on a single by JuriŽn Overman and scored on a sac-fly by Randy Reiph. In ADO's first at bat, HCAW-lefthander Robin Schel gave up the tying run, but then a throwing error led to three more runs. Gregory Hassell led off with a single and was awarded second base on a balk (the first of the 2012 season). After Quensley Bazoer was hit by a pitch (yes, the first of the season), the two runners advanced on a flyout. Hassell then scored the tying run on a sac-fly by Phil Ortez. Next, Enrique Tromp walked and Ludwin Obispo followed with a grounder which would have ended the inning, but turned into a throwing error and gave ADO a 2-1 lead. Following singles by JaÔr Roseburg and Anthony Hooi then gave ADO a 4-1 lead.

ADO added three more runs in the second inning. Quensley Bazoer led off with a single and Evan Porter reached on an error with one out. Aldrich Isenia, who ran for Bazoer, then scored on a single by Enrique Tromp. Next, Ludwin Obispo walked and that led to the first pitching change of the season, as Leon Elshof took over for Robin Schel. He gave up a sac-fly to JaÔr Roseburg and an RBI-single to Anthony Hooi that lifted the lead to 7-1. In the next five innings, while having a high pitchcount of 91, Elshof gave up only four more basehits and three more runs, while retiring nine batters in a row from the third through sixth inning. Elshof was named as a possible starter for coming Sunday's game, but since he was used in relief tonight, American righthander Kyle Putnam now will be the most probable starter in Game 3. As the game suddenly turned around in the fourth inning, Elshof finished the evening as the winning pitcher.

In the fourth inning, HCAW staged a 6-run rally to tie the score! Randy Reiph led off with a walk and the bases got loaded with one out when Glenn Romney singled and pinch-hitter Jorin van Amstel also walked. Rookie Dylan de Mello then delivered a 2-run single, a sac-fly by another rookie, Barry Mastenbroek followed and Jasper Keijzer (also a rookie) then singled. Next, Linoy Croes, tripled in two runs and scored the tying run himself on a wild pitch.

HCAW then took an 8-7 lead in the sixth inning when Reiph reached on an error and scored on a sac-fly by Van Amstel. Two runs were added in the sixth. Mastenbroek walked with one out and Keijzer reached on an error, then the bases got loaded when Croes walked. A sac-fly by Overman then produced a run an so did a throwing error in a double-steal situation.

ADO got a run back in its sixth when Enrique Tromp reached on an error with two outs and scored on a double by Ludwin Obispo. HCAW added another run in the seventh when De Mello singled and scored on a single by Keijzer, but the team also left two runners in scoring position. The run proved to be important, as ADO was able to score twice in the home of the seventh. With one out, Gregory Hassell was hit by a pitch and then Aldrich Isenia doubled. A grounder by Phil Ortez and single by Evan Porter then narrowed the deficit to 11-10, but a strikeout ended the inning. And that also was the end of the game, as it was halted after seven innings due to the (new) 10:30 PM curfew-rule.

Standings & Schedule
Line Score, Box Score & Play-by-Play

(April 5)