Vince Rooi ambassador 100% Dope Free
Nederlands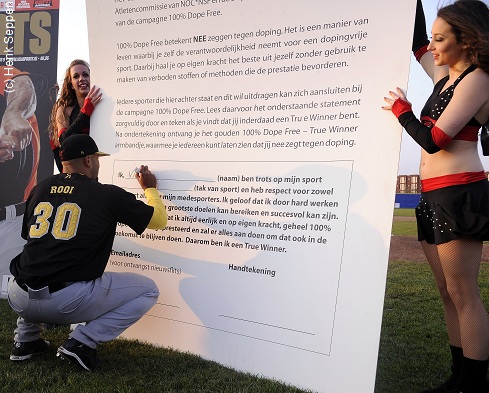 ...Vince Rooi signs his name to become ambassador...
(© Photo: Henk Seppen)

VLEUTEN (Neth.) - Vince Rooi of Dutch champion L&D Amsterdam Pirates and the world champion Dutch Baseball Team, is the newest ambassador of 100% Dope Free of the Dutch Anti-Doping Autority. Other ambassadors include speed skater Carl Verheijen, athlete Rutger Smith, gymnast Epke Zonderland, cyclist Marianne Vos and athlete Churandy Martina.

True Winners perform 100% Dope Free is the slogan of the Anti-Doping Anthority. In its campaign against doping, the authority states that the majority of athletes, young or old, at the top level or amateurs, play their sports with passion, character, pride and respect. But unfortunately, the accomplishments of these athletes sometimes get negative attention due to some dopingcases. This negative publicity is a thread for all sports and so a positive countertone is of utmost importance which is where 100% Dope Free stands for. 100% Dope Free means saying no to doping. It is a way of life in which you take responsability for a doping free sport and use your own strength to get the best from yourself to improve accomplisments without the use of illegal substances and methods.
Before the start of the new baseball season, shortly before the game between UVV and L&D Amsterdam Pirates at Vleuten, Vince Rooi officially signed his name to become the newest ambassador of 100& Dope Free.
(April 5)