Victories for top-4
Nederlands




AMSTERDAM / HAARLEM / VLEUTEN / ROTTERDAM (Neth.) - On Saturday, the current top-4 took more distance from the bottom-4 by winning their respective games. There was a fine performance by the rookie-duo of Ian Delemarre and Jerremyh Angela, who led L&D Amsterdam Pirates to an 8-2 win vs. Mr. Cocker HCAW. This was the highest score today, as the other top-4 teams won with much smaller scores. League-leader Corendon Kinheim won 3-1 vs. Sparta-Feyenoord, DOOR Neptunus was held to only three basehits, but won 5-1 vs. AamigoO ADO Lakers and Vaessen Pioniers won 4-1 vs. UVV.

Oh, for the record, today was the coldest May 5 in Dutch history in 21 years!
---

L&D Amsterdam Pirates vs. Mr. Cocker HCAW
At Amsterdam, rookies Ian Delemarre and Jerremyh Angela left a fine impression by allowing eight basehits and only two runs in an 8-2 victory of L&D Amsterdam Pirates vs. Mr. Cocker HCAW.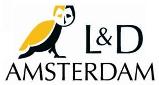 Starter Delemarre pitched seven innings in what was his big league-debut and Angela completed the game in what was his second big league-appearance after having made his debut earlier this season. Last season, both pitched for Pirates during the European Cup Tournament in Amsterdam, but never were part of the team during the regular season. The two rookies gave Amsterdam an important outing, as the team meets DOOR Neptunus again on Tuesday, then starts its next 3-game series again on Thursday. With this, the regular Amsterdam-rotation got a break in the action and can now focus on the next games.

...Ian Delemarre...

...Jerremyh Angela...
(© Photos: Henk Seppen)
Ian Delemarre began his big league-debut by striking out veteran player Glenn Romney, who made his big league-debut in 1995, the year in which Delemarre turned two! Delemarre went on to register three more strikeouts, including another one on Romney. With two outs in the first inning, the righthander gave up a double to Kody Hightower, but then a flyout ended the at bat.

Offensively, his teammates immediately supported Delemarre with three runs in their first at bat. With one out, starter Robin Schel (also a rookie) walked Björn Hato, who then stole second base and scored on a 2-out single by Percy Isenia. Singles by Kenny Berkenbosch and Vince Rooi then lifted the lead to 3-0.

The next run was added in the third inning when Björn Hato led off with a single, stole second and third base and then scored on another single by Kenny Berkenbosch.

Since giving up the double in the first inning, Delemarre retired nine of the next ten batters (walking one), before giving up a single to Dylan de Mello with two outs in the fourth at bat. A double by Jim Froberg then led to the first HCAW-run.

Amsterdam got the run back immediately in the home of the fourth off new pitcher Gijs van Els, who also made his big league-debut. But despite getting the bases loaded, the home team scored only once. Rashid Gerard and Jesse Aussems led off with walks, then the bases got loaded when Roelie Henrique singled. A single by Wesley Connor produced a run, but then Robin Schel struckout Björn Hato, got a flyout from Sidney de Jong and finished by striking out Percy Isenia, meaning three runners were left behind.

In the fifth inning, Amsterdam increased the lead to 7-1. Kenny Berkenbosch led off with a walk and scored when Vince Rooi followed with a double. Hereafter, American Kyle Putnam took over for Van Els, but gave up an one-out RBI-single to Jesse Aussems that made it 7-1.

HCAW scored its second run in the sixth at bat when, with one out, Kody Hightower, Randy Reiph and Dylan de Mello all singled. But then Pirates turned a double play to end the inning.

Ian Delemarre retired the side in the seventh and ended as he had started, with a strikeout on his 88th pitch of the day. In the eighth inning, he was relieved by Jerremyh Angela, who had made his debut on April 8, throwing 2/3 inning vs. UVV. He gave up a lead-off single to Glenn Romney, but then struckout Linoy Croes. A single by Kody Hightower (who was 3-for-4) followed, but two flyouts ended the at bat.

Amsterdam added another run in the home of the eighth when lead-off hitter Roelie Henrique reached on an error and scored on a following double by Wesley Connor, who was 3-for-5. In the top of the ninth, Angela (who is one year younger than Delemarre) retired the side to end the game.

Line Score, Box Score & Play-by-Play
Standings, Schedule & Scores
...Rookie-pitchers Ian Delemarre (left) and Jerremyh Angela (right) were guided excellently by veteran catcher Sidney de Jong...
(© Photos: Henk Seppen)
...Left: HCAW's debuting reliever Gijs van Els with rookie catcher Ken Rinkema...
...Right: Kody Hightower hit three of HCAW's eight basehits...
(© Photos: Alfred Cop Fotografie)
---

Corendon Kinheim vs. Sparta-Feyenoord
At Haarlem, Corendon Kinheim won only 3-1 vs. Sparta-Feyenoord and collected only six basehits off veteran pitcher Gregory Gustina, who went the distance.

As reported earlier, Kinheim has to do without Ramiro Balentina, who was hit in his face by a pitch last week. Luckily, Balentina doesn't need surgery and has no eye-damage, but will be out for at least six weeks. Besides that, Kinheim also has to do without powerhitter Bryan Engelhardt, who got suspended on Thursday-evening for his part in last week's bench-clearing vs. DOOR Neptunus. This followed four innings after Balentina was hit when Mervin Gario also was hit by a pitch. To make things even more worse for Kinheim, Gario also had to miss this weekend, as he was hospitalized with gallstones.

Kinheim opened the score in the second inning when Rachid Engelhardt led off with a single, stole second and third base, then scored when a throwing error followed.
Facing American pitcher Luke Sommer, Sparta-Feyenoord came alongside in the fifth inning. The lefthander retired the first 13 batters he faced in a row, then walked Brian Raap with one out in the fifth. After a flyout, a single by Emerson Paulo was followed by an error to put runners on first and third base. A single by Jarred Duin then led to the lone run of the Rotterdam-squad. This was the only inning in which Sparta-Feyenoord reached base. After Duin's single, the next 13 batters also were retired in order again!
But in the meantime, Kinheim was unable to take more distance. In the fifth, the team ran itself out of the inning. Rachid Engelhardt and Quintin de Cuba led off with singles, but then first was picked off and caught stealing near third base. De Cuba moved to second base on the play and stole third base moments later. But he then was eliminated on a comeback-grounder to Gustina by Niels van Weert.
Kinheim broke the 1-1 tie in the sixth inning and the same two players who were eliminated on the basepaths were involved. With one out, Engelhardt singled and De Cuba followed with a homerun that made it 3-1. And that was enough for Kinheim to win today's game.
Line Score, Box Score & Play-by-Play
Standings, Schedule & Scores
---

UVV vs. Vaessen Pioniers
At Vleuten, Vaessen Pioniers took an early 2-0 lead, held onto it, expanded it to 4-0 in the late innings and won 4-1 vs. UVV. The game started one hour later than scheduled. At the game time of 2 PM, it drizzled a little, but enough for Home Plate Umpire Henri van Heijningen not to start the game and postpone it for an hour. In the meantime, at the same time and with the same weather conditions, at the neighbouring field, the softball-team of UVV started its first game of a big league double-header against Tex Town Tigers. But a little over 3 PM, the baseball game also went underway.

In the first inning, Pioniers scored its first run off Orlando Yntema. With one out, Mark Duursma reached when Yntema made two errors on his grounder. Duursma advanced on a single by Gyenuar Lopez, then scored when Mark-Jan Moorman followed with a sacrifice fly.

The second run was added in the second inning. With one out, Zerzinho Croes singled, moved on a 2-out single by Mark Duursma and scored on a single by Gyenuar Lopez. Pioniers then got the bases loaded when Mark-Jan Moorman walked, but the three runners stranded as Dè Flanegin flied out.
Yntema then allowed only two batters to reach base in the next three innings, but gave up another run in the sixth. Michael Pluijmers led off with a single, advanced on a sac-bunt by Zerzinho Croes and scored from second base on a wild pitch, which was thrown while batter Michael Duursma struckout.
The fourth run was scored in the eighth inning off new pitcher Jeroen de Haas, who came on the inning before. With one out, Michael Duursma was hit by a pitch, moved on a failed pick-off and scored on a 2-out single by Gyenuar Lopez.
Pioniers-pitcher Joey Evans again had a good outing. Last week, he didn't got the chance to throw a complete game shutout, as he was relieved needing only one more out against L&D Amsterdam Pirates. Today, he appeared to go the distance again. In his first eight innings, the righthander gave up only two basehits and no runner of UVV was able to reach second base. Evans gave up his first basehit in the fourth when Giovannie Samboe singled with two outs, but he was eliminated trying to stretch it into a double. In the sixth, he gave up a 2-out bunt-single to Norbert Jongerius.
In the ninth inning, Evans walked Jongerius, then gave up a single to Austin Weymouth that brought the runner to third base. Evans then struckout Danny Rombley, but Samboe followed with a single that led to UVV's lone run. Bayron Cornelissen then was brought in to close the game. He struckout Ryan Murphy, walked Stijn van der Meer to load the bases, but finished by striking out Brennan Nijhof.
Line Score, Box Score & Play-by-Play
Standings, Schedule & Scores

...UVV's starter Orlando Yntema...

...Joey Evans delivers to Danny Rombley...
(© Photos: Frans van Elst)
---

DOOR Neptunus vs. AamigoO ADO Lakers
At Rotterdam, DOOR Neptunus trailed 1-0 in the fifth inning before turning the game its way and winning 5-1 vs. AamigoO ADO Lakers. Neptunus hit only three basehits, including two by Shaldimar Daantji.

Neptunus missed first baseman Jeffrey Arends, who was suspended for two games, due to arguing with the umpires a week earlier. And so, the Rotterdam-squad added rookie Gregory Trinidad from its Rookie Team to replace Arends at first base. He made his big league-debut in today's game.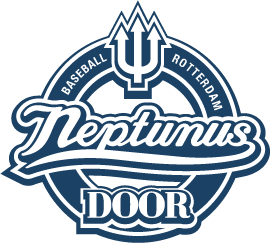 In the first inning, Neptunus-starter Kevin Heijstek gave up lead-off singles to Gregory Hassell and Ludwin Obispo. The two runners advanced on a sac-bunt by Phil Ortez. With two outs, Hassell scored the opening run when Rudy van Heydoorn reached on an error.
It was to be ADO's lone run in the game. After being retired in order in the second at bat, ADO reached base again in the third. Hassell led off with a walk, but then was caught stealing. Next, Obispo and Ortez singled and that was it for ADO Lakers. Ortez was the last player to reach base for ADO Lakers, as the last 20 batters were then retired in order! Heijstek retired 11, then relievers Jorian van Acker, Berry van Driel and Dushan Ruzic all added a perfect inning.
ADO's starter Ibrahim Redan held Neptunus to only one basehit in the first four innings. In the second inning, Lennart Koster led off with a single, but was forced out. Neptunus was then retired in order in the third and fourth inning, but then turned the game its way in the home of the fifth inning.
Adrian Anthony led off with a walk and moved on a sac-bunt by Gregory Trinidad. Redan then also walked Mourik Huijser. Anthony, who had advanced on a wild pitch, then scored the tying run when Shaldimar Daantji singled. Neptunus took a 2-1 lead when Huijser scored on a sac-fly by Dwayne Kemp, then Daantji scored moments later on a wild pitch.
Leading only 3-1 and having hit only two basehits, Neptunus added two runs in the eighth inning. Daantji led off with his second single, then Martijn Riphagen took over the pitching. With one out, Daantji scored when a throwing error was made on a grounder by Rafaël Jozefa, who ended up on third base and was able to score himself when an outfield-error followed.
Line Score, Box Score & Play-by-Play
Standings, Schedule & Scores
(May 5)