Dutch Team opens Florida-event with big win
Nederlands

ST. PETERSBURG, Florida (USA ) - The Dutch National Baseball Team opened the St. Petersburg International Baseball Series on Tuesday-evening with a big 17-5 victory against the Canadian National Junior Team. The game initially started wobbly for the Dutch, as its defense committed four errors in the first three innings. But then, the Dutch took charge of the game with an 8-run rally in the home of the third.

During last years World Championship in Panama, the senior-team of Canada was the lone squad that won from the Netherlands, which the of course captured the world title.

Before the game, St. Petersburg Mayor Bill Foster, who 'invented' the tournament, addressed the crowd, then the Ducth Team was honored for winning the World Championship last year.

The Under-18 National Team of Canada got on base quickly off Dutch starter Kevin Heijstek, as lead-off hitter Jason Robson reached when the ball went through the legs of short stop Vince Rooi. But moments later, Heijstek picked off Robson from first base and a flyout accounted for the second out. But then, the Canadians got another runner when Nathan DeSouza also reached on an error when Heijstek dropped the throw from first baseman Jeffrey Arends. Next batter Daniel Pinero then walked, but the Dutch escaped the inning unharmed as another flyout then accounted for the third out.

The Dutch Team, which was the home team, then failed to open the score in its first at bat. Dwayne Kemp led off with a triple, but was left at third base, as Canadian starter Ryan Kellogg (who turned 18 on February 4) struckout next batters Danny Rombley, Yurendell de Caster and Bryan Engelhardt.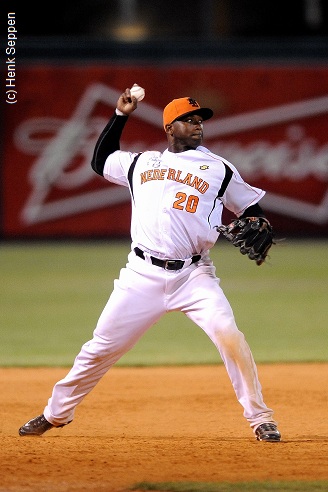 ...Yurendell de Caster => 2 homeruns...
(© Photo: Henk Seppen)

In the top of the second inning, the Dutch defense committed another error, this time by 2B Dwayne Kemp, but Canada this time stranded a runner at third base. The Dutch Team then appeared to open the score in the home of the second inning. Vince Rooi and Rafael Jozefa led off with walks, then Jeffrey Arends fouled out, but the bases got loaded when Bas Nooij followed with a basehit. But this time, all three runners were left behind, as Shaldimar Daantji became the fourth strikeout-victim of lefthander Kellogg and Dwayne Kemp flied out.

After Kemp accounted for the fourth Dutch error in the top of the third, the Dutch Team finally got on the board in the home of the third off new pitcher Cal Quantrill and broke open the game with an 8-run rally. Danny Rombley led off with an infield-hit, then Yurendell de Caster was hit by a pitch. Next, Bryan Engelhardt, the Homerun King of last season, hit the ball over the rightfield-fence for a 3-run homerun. The rally continued as Vince Rooi singled, then scored when Rafael Jozefa followed with a double. After two groundouts followed, the Dutch got another runner when Shaldimar Daantji was hit on his hand. After Steven Dressler had come in as new pitcher, Jozefa scored when Dwayne Kemp reached on an infield-hit. The bases got loaded when Danny Rombley, the tenth batter in the inning, walked. Two errors on a force play-grounder by Yurendell de Caster then cleared the bases and lifted the lead to 8-0, before a strikeout ended the long at bat.

The Canada National Junior Team (which is in Florida with 32 players on its roster and had eleven players in the batting order tonight) scored its first run in the fourth inning off new pitcher Tim Roodenburg, who made his National Team-debut. Daniel Pinero, who had reached on a fielder's choice, advanced to third on a single by Brett Siddall, then scored for Canada on another force play-grounder by Gareth Morgan.

In the home of the fourth inning, the Dutch Team was productive again. With one out, the team got the bases loaded when Rafael Jozefa was hit by a pitch, then Jeffrey Arends and Bas Nooij walked. Hereafter, former Major League-pitcher (of Dutch origin) and Canada's Pitching Coach Chris Reitsma came the to mound to make another pitching change, as Dayton Dawe became the fourth pitcher for the Maple Leafs. He was greeted with an RBI-single by Shaldimar Daantji that scored Jozefa, then an error on a force play-grounder by Dwayne Kemp led to two more runs and made it 11-1.

Lefthander Kyle Ward became the fourth Dutch pitcher in the top of the fifth inning. Ward, who also made his debut, started with a strikeout. The pitcher of Mr. Cocker HCAW retired the side, as after a groundout, he finished by striking out a pinch-hitter.

The Dutch added another run in the fifth when Yurendell de Caster led off with a long homerun to left-centerfield. The scoring continued after, with one out, Vince Rooi and Rafael Jozefa both singled, then advanced on a grounder. Next, Rooi scored on a wild pitch and Jozefa did the same when the third strike on Bas Nooij ended in another wild pitch. Pinch-hitter Roelie Henrique then walked, but the inning ended when Dwayne Kemp lined out.

In the top of the sixth inning, Dennis Burgersdijk made his pitching debut for the Dutch Team. With one out, he gave up a double and a bad-hop infield-hit, but then a line-out and fly-out followed.

In the sixth inning, the Dutch Team scored its fifteenth run of the game. With one out, Yurendell de Caster doubled to reach base for the fourth time, then advanced on a grounder by Bryan Engelhardt and scored on a wild pitch by new pitcher Michael Clouthier.

In the seventh inning, Canada scored four runs, which were all credited to rookie pitcher Steven van Groningen, who also made his debut. First thanks to a wild pitch, then a 2-run single by pinch-hitter Michael Belliveau followed. Hereafter, Orlando Yntema took over the pitching and gave up an RBI-single to Bryan Saucedo that made it 15-5, but then the third out followed. But as the international 10-run difference mercy-rule isn't used in this tournament, the game continued.

And so, the Dutch Team added two more runs in the home of the eighth when Yurendell de Caster hit a 2-run homerun (his second homer of the evening) to make it 17-5.

Also making their Orange-debut tonight were Quintin De Cuba and Gyenuar Lopez.

Oh, by the way, for some strange reason, the two umpires in today's game didn't reveal their names, as they asked to remain anonymous......

(March 6)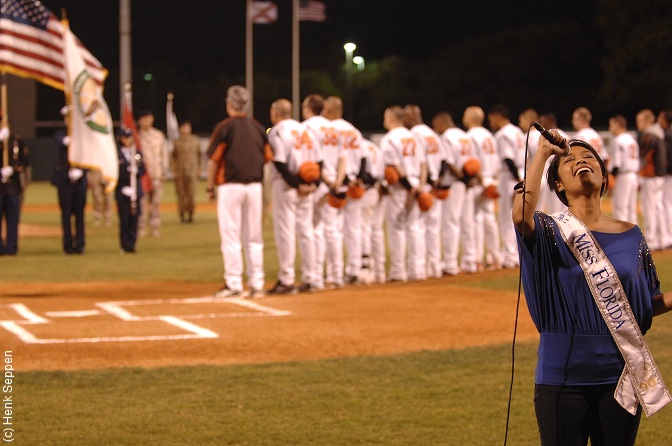 ...Miss Florida sings the National Anthem...
(© Photo: Henk Seppen)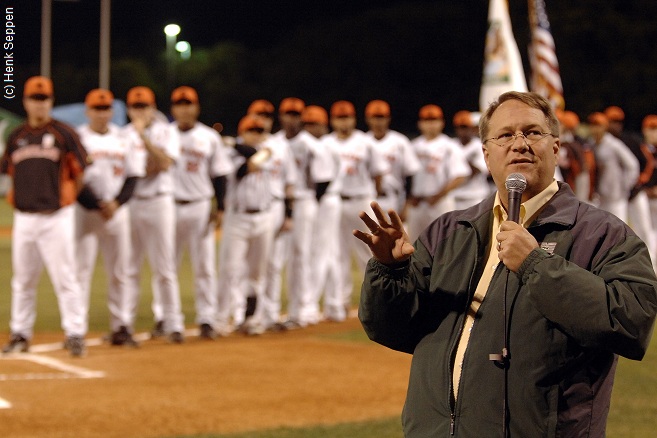 ...St. Petersburg Mayor Bill Foster opens the tournament...
(© Photo: Henk Seppen)