San Marino, Bologna open Italian Season with 4 wins
Nederlands







BOLOGNA / GODO DI RUSSI / GROSSETO / NETTUNO / NOVARA / PARMA / RIMINI (Italy) / SERRAVALLE (San Marino) - The season in the Italian Baseball League enters its second weekend on Friday-evening, April 6, after it opened a week ago.
Tonight, Unipol Bologna nipped Danesi Caffè Nettuno 3-2 in their series opener to remain unbeaten in four games. Bologna scored twice in the fourth inning, then Nettuno got one run back in the home half. Bologna then added a run in the fifth on a homerun by veteran Claudio Liverziani, who turned 37 last month.
Playing at home, T&A San Marino also remained unbeaten, but needed extra innings to secure their fourth victory, winning 3-2 vs. Grosseto in eleven innings. San Marino had taken a 2-0 lead in the second inning on a sac-fly by Simone Albanese and triple by Daniel Bittar. Grosseto then came alongside by scoring in the fifth and sixth inning, thanks to a grounder by Leonardo Aprili and single by Cuban Rolexis Molina. After Grosseto left the bases loaded in the eleventh inning, San Marino got runners on all bases with one out and won on a single by Venezuelan Marco Yepez.
Cariparma Parma won 7-2 vs. Elettra Energia Novara, which had taken a 2-0 lead in the first at bat. Parma answered with one run, then took the lead by scoring twice in the second inning on an error and a single by Matteo Ugolotti. Parma-starter Angel Salazar held Novara scoreless from here on and struckout seven in seven innings. For Parma, this was its first win of the season after being swept a week ago.
De Angelis Godo Knights opened its 3-game series vs. Telemarket Rimini with an 1-0 win on Friday. The lone run was scored in the sixth inning when Erick Epifano led off with a double, moved on a sac-bunt and scored on a single by Francesco Fuzzi.
---

Last week, in the opening series of the season, the teams played as follows:

At Novara, T&D San Marino opened with three victories vs. Elettra Energia Novara. On Friday, March 30, San Marino won 2-0, then the next day, the team won its double-header with much bigger scores, 14-4 and 20-0.
In the opener, San Marino scored its runs in the first and third inning, while starting pitcher Rodney Rodriguez struckout eleven batters in six innings. The next day, San Marino collected 17 basehits in the first game of the double-header, including three by Daniel Bittar, who had five RBI's and Francesco Imperiali.
In the last game of the series, San Marino hit 22 basehits in a 7-inning win. After not scoring in the first inning, San Marino scored in every other inning, including a 9-run rally in the seventh. Joseph Mazzuca went 5-for-6, scored four runs and had five RBI's.
Novara is led for the first time by Manager Mike Romano. The wellknown former player and later Manager, made his debut in Italian baseball in 1973 with Rimini. After last season, his 39th with the club, it came to a break with Rimini, but earlier this year, Romano agreed to coach at Novara this season.

Unipol Bologna won its 3-game series against Cariparma Parma. At Parma, in the opener, on Thursday, March 29, Bologna won 7-2 after trailing 1-0 in the first inning. The team scored three runs in the second at bat and then increased its lead in the next two innings. Three pitchers held Parma to only three hits, while Bologna collected eight.
The next day, playing at home, Bologna won 4-3. Parma again took the lead, this time 2-0 in the second inning, but Bologna came alongside in the third. After both teams scored a run in the fifth, Bologna broke the 3-3 tie in the eighth inning on a sacrifice fly by Japanese Takahiko Sato.
On Saturday, March 31, Bologna crushed Parma with a 20-2 score. Parma had taken the lead for the third time, scoring twice in the first inning, but Bologna then scored four runs in the second, six in the third and ten in the sixth at bat to win big.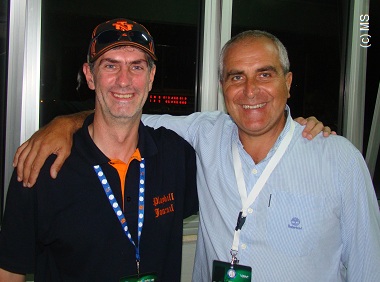 ...Grand Slam Webmaster Marco Stoovelaar...
...with Nettuno Manager Ruggero Bagialemani...
(© Photo: Marco Stoovelaar)
(photo made by Peter Bjarkman)

Playing at home, Telemarket Rimini won two of its three games against Danesi Caffè Nettuno. Rimini opened with a 4-2 win on Friday, then split its double-header the next day. Nettuno first won 7-6, then Rimini won the next game, 7-1.

In the opener on Friday, Mario Chiarini hit a 2-run homerun in the third inning and Maximiliano De Biase hit a solo-shot in the sixth at bat.

On Saturday, Rimini led 3-1 after three innings thanks to a 3-run homerun by Venezuelan Luis Maza, but Nettuno then rallied for five runs in the fifth inning. A 2-run single by Enno Retrosi first tied the score, then a single by American Raymond Sadler and 2-run single by Renato Imperiali gave Nettuno the lead. Rimini answered with two runs, but Nettuno hold onto the lead.

In the third game, 43 year old veteran lefthander Massimiliano Masin threw the last two innings in relief for Nettuno, which is managed by wellknown former National Team-player Ruggero Bagialemani.

At Grosseto, De Angelis Godo Knights won twice vs. Grosseto. On Friday, they scored four runs in the third and fourth at bat and went on to win 10-7 in a game in which both teams hit 15 basehits, including four by American catcher Christopher Grossman of Grosseto.
On Saturday, Grosseto won 11-3 after trailing 3-0 in the first inning. The team rallied for five runs in the third and then went on to increase its lead. Starting for Godo was righthander Ruderly Manuel, who last season played for Sparta-Feyenoord in the Dutch big league. In three innings, Manuel struckout three, walked five and gave up five hits and five (earned) runs. In the next game, Godo won 10-9 in 10 innings. Venezuelan Juan Miguel Gonzalez, who last season played in the Dutch big league for Mr. Cocker HCAW, went 5-for-12 (.417), scored twice and had five RBI's in his first three games for Godo.
(April 6)