Neptunus lone team to remain unbeaten
Nederlands




VLEUTEN / HOOFDDORP / ROTTERDAM / THE HAGUE (Neth.) - DOOR Neptunus is the first league-leader after the Opening Weekend of the Dutch big league, as the Rotterdam-squad won 13-3 vs. Sparta-Feyenoord to become the only team that remained unbeaten. Also today, all four home playing teams won their games.

L&D Amsterdam Pirates, Corendon Kinheim and Mr. Cocker HCAW, who also had won their first two games of the season, suffered a loss today.

At Vleuten, while leading 3-0, a 2-out error in the seventh inning proved to be very costly for Amsterdam, as opponent UVV came alongside, then went on to win 4-3 in 10 innings to give new Head Coach Frank Koene his first win in an UVV-uniform.

At The Hague, AamigoO ADO Lakers decided its game with a 3-run rally in the fourth to hand HCAW its first loss, 4-1, and gave new Head Coach Dave Daniels his first win of the season. Winning pitcher Thomas Macy threw a rare Opening Weekend complete game and struckout twelve.

At Hoofddorp, Kinheim failed to hold onto an early 6-0 lead, as Vaessen Pioniers rallied for five runs in the fifth and won its first game, 8-6.

At Rotterdam, after losing big in its first two games, Sparta-Feyenoord held a 3-1 lead in the sixth inning, but eventually suffered another big loss vs. Neptunus, 13-3.
---

DOOR Neptunus vs. Sparta-Feyenoord
At Rotterdam, DOOR Neptunus trailed 3-1 in the sixth inning, making it appeare that opponent Sparta-Feyenoord recovered from the two big blows in the previous two games in which it gave up 42 runs. But three at bats later, Neptunus had turned the game around to win 13-3 and register its third mercy-rule victory in a row. And so, Neptunus scored a total of 55 runs in their Opening Series of the 2012 season to set a new record. The previous high of runs scored in an Opening Series dates from 1998 and was also set by Neptunus, which then scored 49 runs in a 3-game series against PSV.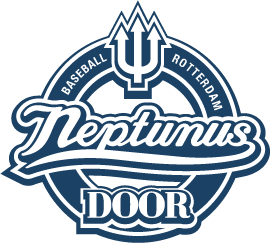 In today's game, the starting pitchers faced their former team. Starting for Neptunus was Bobby Carrington, who last season was 3-7 while pitching for Sparta-Feyenoord. Starting for Sparta-Feyenoord was veteran righthander Elton Koeiman, who played for Neptunus in 1996-1998. For Koeiman, who turns 39 next month, this was his first big league-game since 2008 when he also pitched for Sparta-Feyenoord.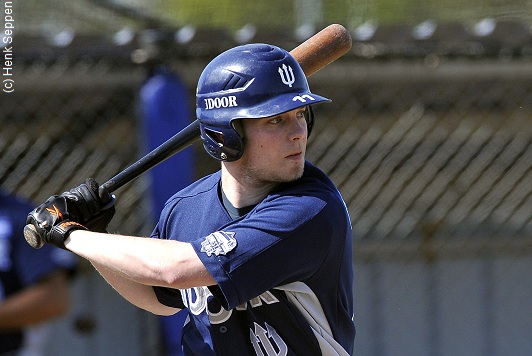 ...Benjamin Dille...
...4 Hits, 2 Runs, 5 times on base...
(© Photo: Henk Seppen)

Elton Koeiman last threw in the big league on June 29, 2008, when he pitched 1 2/3 inning in relief for Sparta-Feyenoord in a 10-0 loss vs. Kinheim. Amongst his teammates back then were Shaldimar Daantji, Percy Isenia, Eugene Henson, Tim Roodenburg and Rob Cordemans, to name a few. Nowadays, Daantji and Roodenburg play for Neptunus, Isenia and Cordemans play for Amsterdam Pirates and Henson has retired. But in his first big league-outing in almost four years, Koeiman did fine in his first five innings. He gave up only two basehits and allowed only two runners to get into scoring position. One of them scored a run in the first inning, but Koeiman was then supported with a 2-run homerun that gave his team the lead in the fourth. But the sixth inning proved one inning too much for the veteran, as he gave up five hits and four runs that turned the game around in favor of Neptunus.

Sparta-Feyenoord opened the score in the first inning. Carrington walked lead-off hitter Kevin van Nederpelt, who then advanced to third base on a following single by Anthony Vrolijk, who himself moved on the throw. Then an unnecessary out followed, as Van Nederpelt was eliminated in a rundown on a grounder to third base by Brian Raap. Vrolijk moved to third on the play then scored when a throwing error followed a stolen base by Raap, who himself would strand on third base.

Neptunus came alongside in the home of the first when Rafaël Jozefa walked, moved to third on a single by Raily Legito and scored on a sac-fly by Jeffrey Arends.

Sparta-Feyenoord re-took the lead in the fourth inning. Carrington hit lead-off hitter Michiel Ruiter with a pitch, then Churandy La Cruz followed with a 2-run homerun to make it 3-1. Siegert Flaneur then walked and Theodore van Heijningen singled with one out, which was followed by an outfield-error to put runners on second and third base, but a pop-fly and groundout ended this last scoring opportunity for Sparta-Feyenoord.

Neptunus had only three baserunners in the second through fifth inning, but then struck in the sixth. Raily Legito led off with a triple and scored on a grounder by Jeffrey Arends, who himself reached base safely as a throwing error was made. Arends advanced on a sac-bunt and passed ball, then scored the tying run on a wild pitch. With two outs, Benjamin Dille and Mourik Huijser singled to put runners on second and third base, then singles by Shaldimar Daantji and Dwayne Kemp gave Neptunus a 5-3 lead.

In the seventh inning, Reynaldo Sarmiento Claro took over the pitching for Sparta-Feyenoord and was supported with a double play, but then ran into problems in the eighth. He gave up consecutive singles to Rien Vernooij, Benjamin Dille and Mourik Huijser to load the bases, then Shaldimar Daantji followed with a 2-run double. An outfield-error on a sac-fly by Rafaël Jozefa and single by Raily Legito accounted for two more runs and Jeffrey Arends added a 2-run triple. Laurens Salcido Valdez was then brought in as new pitcher, but he gave up an RBI-single to Lennart Koster, walked Vernooij and gave up a single to Dille that produced the last run in this 8-run rally and made it a 13-3 mercy-rule score, ending the game. Dille was 4-for-5 and is in first place after the Opening Weekend with eight basehits, sharing the spot with teammates Daantji and Legito.

In the sixth inning, Tim Roodenburg took over the Neptunus-pitching and gave up one single in two innings, then Dushan Ruzic pitched the eighth, striking out two and earning a save.

Standings & Schedule
Line Score, Box Score & Play-by-Play
---

UVV vs. L&D Amsterdam Pirates
At Vleuten, L&D Amsterdam Pirates appeared to have a more or less 'comfortable' 3-0 lead vs. UVV in the seventh inning. But a change of pitching and a costly error turned the game around in favor of UVV, which went on to win its first game of the season in 10 innings, 4-3.

After Utrecht-Mayor Aleid Wolfsen had thrown the ceremonial first pitch, the game initially belonged to Amsterdam. In his first appearance for UVV, starter (and former Kinheim-hurler) Duko Jansen began with a strikeout and retired the side, but then saw Amsterdam open the score in the second inning. With two outs, Jansen walked Percy Isenia, then gave up a 2-run homerun to Kenny Berkenbosch.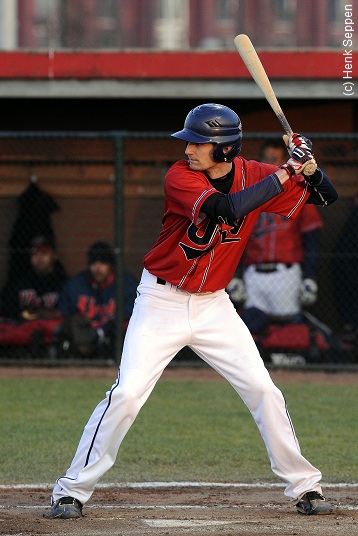 ...Stijn van der Meer...
...gamewinning single...
(© Photo: Henk Seppen)

In the next three innings, Jansen held Pirates scoreless and didn't gave away much. He retired the side in the third, gave up a 2-out single to Bas de Jong in the fourth and a lead-off double to Kenny Berkenbosch in the fifth. In the sixth, Amsterdam added a run. Rookie Jesse Aussems, who on Saturday singled in his first two big league at bats, led off the sixth with a single through the middle and moved to third on a double by Sidney de Jong. To set up a force play, Vince Rooi was walked intentionally and then Sedley Karel was brought in as new pitcher. He started with a strikeout, but then an error was made on a force play-grounder by Percy Isenia, enabling Aussems to score. But the bases were left loaded, as Kenny Berkenbosch flied out and Bas Nooij fouled out to end the inning.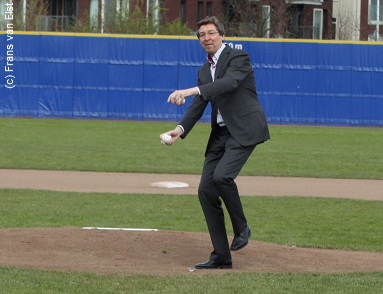 ...Mayor Aleid Wolfsen throws...
...first pitch to open season...
(© Photo: Frans van Elst)

In the seventh inning, Amsterdam stranded a runner at third base. With one out, Roelie Henrique walked, stole second and advanced on a passed ball, but then pinch-hitter Rachid Gerard struckout. Hereafter, Jeroen de Haas was brought in as new pitcher to face Sidney de Jong. De Haas pitched professionally the last four seasons in the organization of the Seattle Mariners, but was released in the off-season. The righthander got De Jong to groundout and ended the inning.

In the meantime, Amsterdam-starter Ben Grover did fine. The righthander was supported with a double play in the first inning, gave up only three basehits in six innings and allowed only two runners to get in scoring position. From the third through fifth inning, Grover retired nine of the ten batters he faced, including the last seven in a row. In the sixth, he gave up a lead-off single to Brian Biezen and walked Austin Weymouth, but then a groundout, pop-fly and strikeout followed.

And so, Amsterdam entered the bottom of the seventh inning with a 3-0 lead. The ball was handed to rookie Jerremyh Angela to make his debut in the big league in relief of starter Ben Grover, who had used 77 pitches. Angela initially started well with a flyout and strikeout, but then hit next batter Mitchel Koot. The inning then could have been over, but veteran short stop Vince Rooi committed a fielding error on a grounder by Jirka Bliek to put runners on first and second base. Brian Biezen then followed with a triple to put UVV within one run of Amsterdam. Angela was relieved by Nick Stuifbergen, who was greeted with an RBI-single by Austin Weymouth and so the game suddenly had a tie score.

UVV got its first two batters on base in the eighth, but then Stuifbergen struckout the next two batters and ended with a flyout.

In the Amsterdam-ninth, Bas Nooij was hit by a pitch with one out and moved on a grounder. Roelie Henrique was then walked intentionally and De Haas was relieved by Derek Tarapacki, who got pinch-hitter Wesley Connor to groundout and end the inning. In UVV's ninth, Stuifbergen retired the side, including two strikeouts, and so the game went into extra innings.

In the top of the tenth, the two tie-break runners for Amsterdam moved on a sac-bunt by Roelie Henrique. With first base open, Tarapacki pitched to Wesley Connor and struck him out, then walked Sidney de Jong intentionally to set up the force, but ended the inning by also striking out Vince Rooi. The bottom of the tenth had the same scenario, but with a different ending. The tie-break runners moved on a sac-bunt by Norbert Jongerius off new pitcher Jurrian Koks and Amsterdam also opted to pitch to the next batter with first base open. But rookie Stijn van der Meer singled through the middle, enabling Brian Biezen to score the winning run.

Standings & Schedule
Line Score, Box Score & Play-by-Play

...Ton Camue (right) accompanies UVV-icon Cees Hiele...

...Cees Hiele with Mayor Aleid Wolfsen...

...Former UVV-players Ton Camue (with cap) and...
...Tom Stamer (right) look on during the festivities..

...UVV-youthplayers enter the field...
...to welcome the players of Pirates and UVV...

...Amsterdam-players are introduced...

...and then the UVV-players are introduced...

...Mayor Aleid Wolfsen has a chat with youthplayers...

...Playing of the National Anthem...
(© Photos: Frans van Elst)
---

Vaessen Pioniers vs. Corendon Kinheim
At Hoofddorp, Vaessen Pioniers trailed 6-0 in the fifth inning, but then rallied for five runs and turned the game around in the seventh to win 8-6 and register its first win of the season.

In the first five innings, the Kinheim-offense answered the pitches of American starter Joey Evans well, connecting for eight hits and six runs. Evans initially started well by striking out two batters in the first inning, but then gave up back-to-back doubles with two outs to Rachid Engelhardt and Björn Henrichs that opened the score for Kinheim.

In the third, Kinheim rallied for three more runs to make it 4-0. With one out, Mervin Gario singled and Dirk van 't Klooster doubled. To set up a force play, Bryan Engelhardt was walked intentionally, but that decision didn't go the way Pioniers had wished for. Next batter Ramiro Balentina doubled to clear the bases and reached third base himself on the throw. Evans then followed with a strikeout and ended with a groundout, but the visitors had expanded their lead.
The fourth inning might have had more runs for Kinheim. With one out, Marvin Evangelista singled. Then, with two outs, Mervin Gario doubled, but while Evangelista was rounding third base, Gario also was on his way their and was thrown out to end the inning.
In the fifth, Kinheim took a more comfortable lead by adding two runs. Dirk van 't Klooster reached on an error and then Bryan Engelhardt (the league's Homerun King of last year) connected for his first homerun of the season and made it 6-0.
Kinheim-starter Nick Veltkamp saw Pioniers get the bases loaded with no outs in the second inning, but prevented runs. Dè Flanegin reached on an error and then Norbert Lokhorst and Jourick Blanco singled to load the bases. But then two flyouts and a groundout ended the at bat.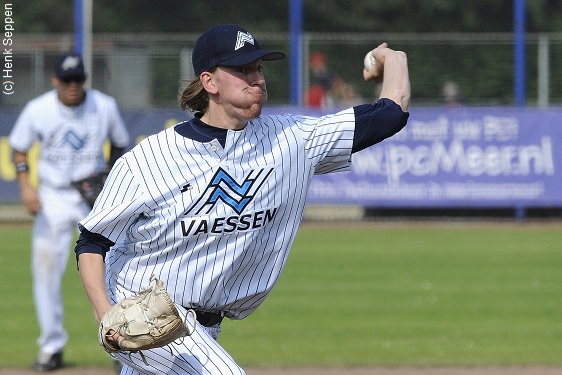 ...Jean-Paul Gulinck...
...save...
(© Photo: Henk Seppen)

After leaving a runner on second base in the fourth, Pioniers came back into the game with a 5-run rally in the fifth. With one out, Zerzinho Croes and Jefferson Muzo singled, then Gyenuar Lopez walked. A single by Mark Duursma then produced two runs and the bases were re-loaded when Norbert Lokhorst was hit by a pitch with two outs. Next, Jourick Blanco singled to bring in two more runs and that marked the end for Veltkamp. Rookie Jorn van Ingen took over, but he re-loaded the bases by hitting pinch-hitter Mark-Jan Moorman with a pitch, then walked next batter Michael Pluijmers to score a run and narrowed Pioniers' deficit to only 6-5. Dion Steijl, another rookie, was quickly brought in as new pitcher and he closed the inning with a flyout, so Pioniers left three runners.

In the top of the sixth, new Pioniers-pitcher Shane Gnade retired the side, then gave an one-out single to Dirk van 't Klooster in the seventh. Czech lefthander Jan Řeháček (who was the loser in relief on Thursday) then took over the pitching, struckout Bryan Engelhardt and saw Ramiro Balentina line out to end the inning.

Pioniers then took charge of the game in its seventh after having left two runners on base in their previous at bat. Jourick Blanco and Mark-Jan Moorman started with singles and so, Kinheim went to the bullpen again. Arshwin Asjes, who last year pitched for DOOR Neptunus, but was a member of the Pioniers-staff in 2010, was brought in as new pitcher. Everyone was then safe on a fielder's choice-sacrifice bunt by Michael Pluijmers, but as Asjes also commited a throwing error on the play, Blanco was able to score the tying run. Because of the error, both runners advanced and so a grounder by next hitter Zerzinho Croes gave Pioniers a 7-6 lead. With two outs, Gyenuar Lopez singled to bring in Pluijmers, but he then was eliminated himself in a rundown when the ball came back from the outfield.

There also was some crucial baserunning in the top of the eighth for Kinheim. Pinch-hitter Niels van Weert led off with a walk, then moved to third base when Rachid Engelhardt doubled. And so, Kinheim had runners on second and third with no outs. But then Van Weert was eliminated on an 1-2-5 throw on a comeback-grounder by Björn Henrichs and pinch-hitters René Cremer and Onno Jansen were retired to end this scoring opportunity for Kinheim. In the home of the eighth, Pioniers also failed to add more runs. Mark Duursma led off with a walk, then Norbert Lokhorst walked with one out and the bases got loaded when Skip Visser reached on an error. But an infield-fly and flyout then ended the inning.

In the top of the ninth, Jean-Paul Gulinck took the mound for Pioniers. The lefthander started by hitting former Pionier Mervin Gario and then walked Dirk van 't Klooster. Bryan Engelhardt then flied out and Gulinck followed by striking out Ramiro Balentina and Niels van Weert to end the game and earn a save.

Standings & Schedule
Line Score, Box Score & Play-by-Play
---

AamigoO ADO Lakers vs. Mr. Cocker HCAW
At The Hague, AamigoO ADO Lakers took the lead for the third time in their 3-game series vs. Mr. Cocker HCAW, but this time held onto it to win its first game of the season, 4-1.

While ADO Lakers had a 3-run fourth inning, a major role was played by starting pitcher Thomas Macy. In his debut-game in the Dutch big league, the American righthander went the distance, struckout 12 batters and gave up only four basehits. And so, Macy did something which wasn't seen in eight years, pitching a complete 9-inning game in a season's Opening Series! On April 10, 2004, two pitchers went the distance. On that day, lefthander Richard Orman threw a 9-inning 4-0 shutout for Hoofddorp Pioniers vs. Almere '90 and righthander Nick Stuifbergen pitched all nine innings in a 2-1 victory for Amsterdam Pirates against Neptunus.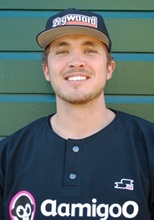 ...Thomas Macy...
...complete game...
(© Photo: ADO)

Macy did get several baserunners, but never really got into problems. In the first, he gave up an one-out single to Linoy Croes and walked Randy Reiph with two outs, but finished with a strikeout. In the third, he gave up a lead-off single to Barry Mastenbroek, who then moved on a sac-bunt and stolen base, but stranded there as Macy again ended with a strikeout. In the fourth, there was a runner on first base with two outs and Macy once more closed with a strikeout. The only inning in which the righthander got some problems was the fifth. In that at bat, he gave up HCAW's lone run, but at that moment, ADO was leading 4-0. Macy walked Jorin van Amstel and Barry Mastenbroek and loaded the bases by hitting Jasper Keijzer with a pitch. He was then supported with some fine defense. First, Linoy Croes grounded out, but that enabled Van Amstel to score. Next, Juriën Overman flied out to rightfield. Mastenbroek tagged up and tried to score, but he was eliminated at the plate on a nice throw by rightfielder Phil Ortez to complete a double play and end the inning.

In the sixth inning, Macy struckout the side, then was supported with another inning-ending double play in the seventh at bat. In the eighth, he struckout three more batters (and hit one) to bring his total to 12. In the ninth, Macy gave up a single with one out to Seb Visser, but then two flyouts followed, the last coming on his 123rd delivery in the game.

ADO opened the score in the first inning off another debuting American pitcher, Kyle Putnam. He gave up singles to Jaïr Roseburg and Ludwin Obispo and then uncorked a wild pitch. A sac-fly by Phil Ortez then accounted for the first run.

In the second and third inning, the HCAW-defense also made some fine plays, turning two double plays. In the second, the home team got the bases loaded with one out when Anthony Hooi and Remco Seitzinger singled and Irving Redan walked. But then Jaïr Roseburg lined into a double play to rookie short stop Barry Mastenbroek. In the third inning, Ludwin Obispo was hit by a pitch and advanced on a wild pitch, but then was eliminated at second base to complete a double play when next batter Phil Ortez flied out to leftfield.

ADO then rallied for three runs in the fourth inning. Evan Porter led off with a double and Gregory Hassell followed with a single. Next, Anthony Hooi also singled to bring in a run. A grounder by Remco Seitzinger and sac-fly by Irving Redan then led to two more runs and increased the lead to 4-0.

In the remaining four innings, ADO was held scoreless, hitting only one more basehit, while HCAW turned its third double play in the game, but couldn't connect effectively off of winning pitcher Thomas Macy.

Standings & Schedule
Line Score, Box Score & Play-by-Play

(April 8)