UVV wins big in The Hague
Nederlands



THE HAGUE / BUSSUM / AMSTERDAM (Neth.) - UVV handed AamigoO ADO Lakers its ninth loss in a row by winning big 12-2 on a rainy Tuesday-evening. The match-up between Mr. Cocker HCAW and Sparta-Feyenoord was halted after three innings due to rain, while the game between L&D Amsterdam Pirates and DOOR Neptunus didn't even start.
---

AamigoO ADO Lakers vs. UVV
At The Hague, UVV rallied for five runs in the first inning to take an early lead, but added only two more in the next six at bats, before staging another 5-run rally in the eighth to win 12-2.

In the first at bat, facing starting pitcher Reggie Bomberg, UVV set the tone by scoring five runs. With one out, Stijn van der Meer tripled and scored on a sac-fly by next batter Danny Rombley. But then, with two outs, four more runs followed. Giovannie Samboe walked and Ryan Murphy was hit by a pitch, then the bases got loaded when Brian Biezen singled. A single by Mitchel Koot then accounted for two runs and the bases got re-loaded when Jirka Bliek also was hit by a pitch. Shurty Tremus followed with a double that produced two more runs and made it a 5-0 score.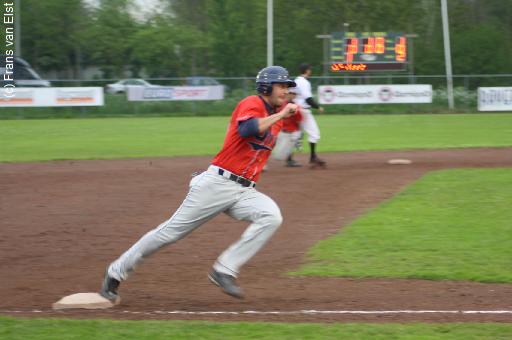 ...Ryan Murphy rounds 3rd base to score in 1st inning...
(© Photo: Frans van Elst)

Two runs were added with two outs in the second inning. Ryan Murphy and Brian Biezen then walked and Mitchel Koot singled in a run. After a brief rain delay, rookie Ricky Voorn took over the pitching for ADO Lakers and saw Jirka Bliek reach on an error, which led to the another run. But from here on, Voorn didn't gave up more runs in the next five innings. In the third inning, UVV left the bases loaded, then stranded a runner on second base in the fourth and fifth at bat.

The remaining five runs were scored in the eighth inning. And UVV did it again with two outs, meaning the team scored 11 of its 12 runs with two outs!

In the eighth, new pitcher Rick van der Post got two quick outs, but then ran into problems. He walked Mitchel Koot (who was 3-for-4) and gave up a single to Jirka Bliek. Next, Shurty Tremus doubled to bring in Koot and Austin Weymouth followed with another double that produced two runs. Stijn van der Meer (who was 4-for-6) then singled, which was followed by a wild pitch that enabled Weymouth to score. It wasn't over yet, as the bases got loaded when Danny Rombley walked and Giovannie Samboe was hit by a pitch. Van der Post then also hit Ryan Murphy to bring in another run. Third baseman Ludwin Obispo then took over the pitching and struckout Brian Biezen to end another long inning.

UVV-pitcher Jurjen van Zijl hit two batters in the first inning, but never ran into problems thereafter. After having pitched six hitless innings, Van Zijl gave up a lead-off single to Anthony Hooi in the seventh at bat. But then a force out and double play followed.

Trailing 12-0, ADO finally could do something back in the home of the eighth inning when Van Zijl gave up three consecutive basehits, which led to two runs. Pinch-hitter Jaïr Roseburg led off with a single, then Gregory Hassell followed with a double. The two scored when Ludwin Obispo singled and an error followed. Derek Tarapacki took over the pitching and closed the game.

Line Score, Box Score & Play-by-Play
Standings, Schedule & Scores

...Pitcher Jurjen van Zijl attempts a pick-off...

...Shurty Tremus connects...
(© Photos: Frans van Elst)
---
Mr. Cocker HCAW vs. Sparta-Feyenoord / L&D Amsterdam Pirates vs. DOOR Neptunus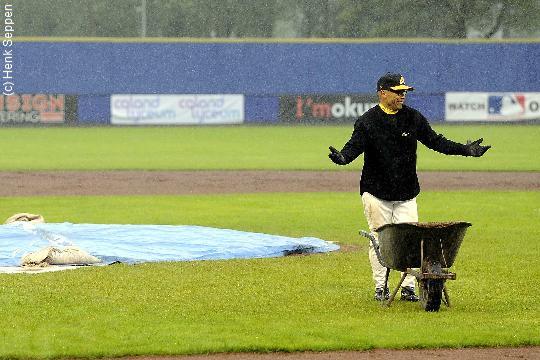 ...This signal by Amsterdam's 3B Coach Randell Hannah says it all...
(© Photo: Henk Seppen)

At Bussum, Mr. Cocker HCAW was leading 3-0 vs. Sparta-Feyenoord when the game was halted by rain after three innings. Shortly thereafter, the game was stopped definitively. While not yet confirmed, the game probably will be re-scheduled for Tuesday, May 15.

In the first inning, HCAW scored twice with two outs. Kody Hightower (fielder's choice) was awarded third base when pitcher Jurandy Girigori balked. He then scored on a double by Randy Reiph, who went to score himself on an error. The third run was added in the third inning when Reiph singled, moved to third on a single by Linoy Croes and scored on another Rotterdam-error.

HCAW's rookie starter Sander Helmendach was supported with two double plays and didn't gave up a basehits in the three innings he pitched.

But al these stats were erased by rain. The game already was interrupted briefly by rain in the home of the second inning, but after completion of the third at bat, it started to rain harder and that eventually led to the cancellation.

At Amsterdam, Home Plate Umpire Henri van Heijningen didn't start the game between L&D Amsterdam Pirates and DOOR Neptunus, as it rained at the scheduled starting time of 7:30 PM. Some 45 minutes later, the rain briefly stopped, but then started again and so, this game didn't even went underway. A new date has not yet been announced, but probably will be somewhere in June. Next Tuesday, May 15, both teams already have a game scheduled when they meet each other in Rotterdam. A week later, May 22, Pirates has to play a make-up games vs. Vaessen Pioniers. Tuesday, May 29 is no option, as both teams start the European Cup-tournament the next day, Neptunus at home in Rotterdam and Amsterdam in San Marino. And so, a week later, Tuesday, June 5 also will be no option, as Neptunus and Pirates then just have concluded these tournament. This means that the earliest possible date to make up tonight's game will be Tuesday, June 12, but that's up to the league's commissioner.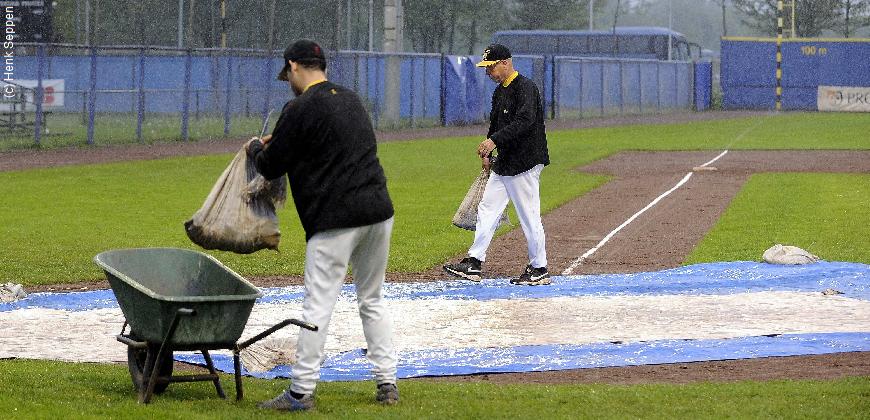 ...Amsterdam's Pitching Coach Al Morales and Head Coach Charles Urbanus did their best to prepare the field...
(© Photo: Henk Seppen)
(May 8)