Two big shutouts on rainy day
Nederlands




AMSTERDAM / BUSSUM / ROTTERDAM / THE HAGUE (Neth.) - On Thursday-evening, two more games rained out, but also two games got in the books. L&D Amsterdam Pirates shutout Sparta-Feyenoord 13-0, while UVV won 8-0 vs. Mr. Cocker HCAW in a rainshortened game.

The game between DOOR Neptunus and Vaessen Pioniers at Rotterdam and the game between AamigoO ADO Lakers vs. Corendon Kinheim in The Hague were cancelled due to rain earlier in the day.

Because of the cancellation of Kinheim's game, Amsterdam Pirates took sole possession of first place.

And so, five games have yet to be made up, while two others have no status yet. It will be busy days for some teams, especially for DOOR Neptunus, which is involved in three of these games.

Coming Tuesday, two make-up games are scheduled. ADO Lakers and Kinheim then will make up their cancelled game of tonight, while the match-up of HCAW vs. Sparta-Feyenoord is scheduled for the third time. On its original date (April 28), the game rained out, then last Tuesday, it was halted after three innings due to rain. Scheduled for Tuesday, May 22 is the game of Amsterdam vs. Pioniers, which rained out on April 28.

The cancelled games of Amsterdam vs. Neptunus (last Tuesday) and Neptunus vs. Pioniers (tonight) have not yet been re-scheduled. And that has to do with the upcoming European Cup Tournaments, which open on May 30. Participating teams Neptunus and Amsterdam already had their 3-game series moved up to be played ahead of the tournament, but now one of these games has rained out. When that game is re-scheduled for somewhere in June, the tonight cancelled game of Neptunus has to be played after that.

Besides these rain-outs, a final decision has yet to be announced of two other games. The opening game of Neptunus vs. Sparta-Feyenoord (April 5) was declared void, meaning it has to be replayed, but Neptunus appealed the decision. The other game without an official status at the moment is the match-up between Sparta-Feyenoord and HCAW of April 29, which was halted in the seventh inning by the umpires with HCAW leading 6-3.

So, we have some busy weeks ahead of us.
---
L&D Amsterdam Pirates vs. Sparta-Feyenoord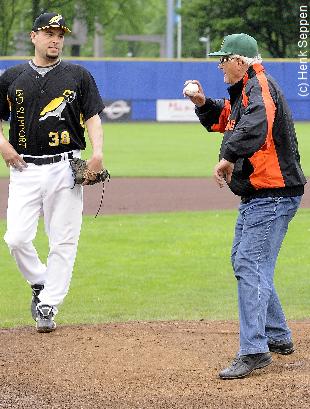 ...Mr. Pirates throws the first pitch...
(© Photo: Henk Seppen)

At Amsterdam, L&D Amsterdam Pirates struck early en route to a 13-0 shutout-win vs. Sparta-Feyenoord.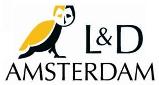 Before the game started, a ceremonial first pitch was thrown by 'Mr. Pirates' Loek Loevendie, who celebrated his 80th birthday on Wednesday. Loevendie made a special delivery, as he threw his first pitch in combination with starting pitcher Rob Cordemans, who completed the throw. In 1959, Loevendie was one of the founders of Amsterdam Pirates (which then was called Rap), went on to play and coach there, but turned his attention to the youth of the club soon thereafter. A few years after the club was founded, its first youth team captured the Dutch national title. Nowadays, Loevendie is still active as coach of a little league-team, which is the unbeaten leader in its league. Mr. Pirates, happy birthday!
The starting pitchers for both teams went the distance. Amsterdam's Rob Cordemans struckout eleven (increasing his career total to 1586) and gave up only six basehits. Cordemans, who is in his 19th season in the Dutch big league, lifted his season's record to 6-0. The lone inning in which Sparta-Feyenoord threatened to score was the fourth inning when it got the bases loaded. Anthony Vrolijk then led off with a single, Cordemans followed with two strikeouts, then gave up a single to Theodore van Heijningen (who was 3-for-3). Next, Cordemans walked Siegert Flaneur (his lone walk in the game). Jarred Duin then drove the ball to deep leftfield, but there Kenny Berkenbosch made a nice catch. Offensively, Berkenbosch also did his thing for Amsterdam, going 3-for-4 with a homerun, two runs scored and four RBI's.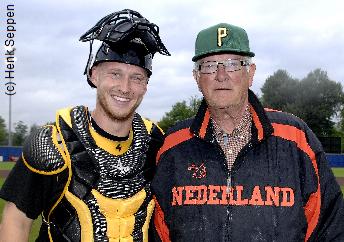 ...Loek Loevendie with Bas Nooij...
...who caught the first pitch...
(© Photo: Henk Seppen)

Amsterdam set the tone in this lobsided game in the first inning by scoring three runs. With one out and Roelie Henrique (fielder's choice) on first base, Sidney de Jong singled off Reynaldo Sarmiento Claro, who gave up 10 hits. Amsterdam then scored its first run when the runners were awarded the next base on a balk, one of four Sarmiento committed. After a groundout, De Jong scored on a single by Kenny Berkenbosch, who went on to score himself on a double by Bas Nooij.

Four runs were added in the second inning. Lead-off hitter Björn Hato was hit by a pitch and stole second base, then scored when Wesley Connor followed with a double. With one out, Sidney de Jong walked, another balk followed and with two outs, Berkenbosch homered to make it 7-0.

In the third inning, three more runs were scored. Bas Nooij walked and Rashid Gerard reached on an infield-hit. An error with two outs on a grounder by Roelie Henrique then led to a run and put runners on first and second base. Sarmiento then was charged with his fourth balk and Sidney de Jong followed with a 2-run single that made it 10-0.

In the fifth inning, Rashid Gerard singled and Wesley Connor reached on a fielder's choice, then Roelie Henrique homered to make it 13-0. Henrique, who never had homered in a regular season game in the big league, now has two this season, including a grand slam a few weeks ago.

In the bottom of the sixth inning, it started to rain, but not enough to stop the game and so it entered the seventh inning. Cordemans returned to the mound, gave up a lead-off single to Theodore van Heijningen, but then struckout the next three batters to end the game.

Line Score, Box Score & Play-by-Play
Standings, Schedule & Scores

...While it was a cloudy and rainy day,...
...there was nice sunset...

...Jason Leonora tries to break up a double...
...play, but Jesse Aussems completes it...
(© Photos: Henk Seppen)
---

Mr. Cocker HCAW vs. UVV
At Bussum, UVV broke a scoreless tie in the third inning and went on to win 8-0 vs. Mr. Cocker HCAW.

In the third inning, Jirka Bliek led off for UVV with a walk, then scored the first run when Brennan Nijhof followed with a double. Austin Weymouth then reached on a bunt-single that brought Nijhof to third and he went on to score on a sac-fly in foul territory by Danny Rombley.

Two runs were added in the next at bat. With two outs, the bases got loaded when Shurty Tremus walked, Jirka Bliek singled and Brennan Nijhof also walked. HCAW-starter Leon Elshof then gave up a single to Austin Weymouth that produced two runs.
In the fifth inning, Giovannie Samboe and Ryan Murphy hit back-to-back doubles with one out to increase the lead to 5-0. After a groundout, Gijs van Els took over the pitching, finished the bat and pitched a scoreless sixth inning.
In the meantime, UVV-pitcher Orlando Yntema retired the first six batters he faced, then got the bases loaded in the third inning. Yntema walked Seb Visser, who advanced on a sac-bunt by Ken Rinkema. With two outs, Glenn Romney (who last season played for UVV) also walked, then Zerzinho Croes singled to load the bases. But a grounder ended this scoring opportunity for the home team.
In the fourth inning, UVV turned a double play, then HCAW was retired in order in the fifth. In the sixth, with one out, Kody Hightower doubled, but was eliminated by Yntema at third base on a comeback-grounder by Randy Reiph, who was caught stealing moments later to end the inning.
UVV added a run in the seventh inning. Giovanni Samboe led off with a single, then Ryan Murphy walked. With one out, Glenn Romney took over the pitching. An missed fly ball then extended the at bat of Shurty Tremus, but Samboe was eliminated moments later trying to score. Murphy then advanced on a wild pitch and scored when Tremus singled.
In HCAW's seventh, Yntema closed with two strikeouts and so the eighth inning started. The bases were loaded when Austin Weymouth walked, Stijn van der Meer singled and Danny Rombley also walked. With one out, Ryan Murphy singled in two runs to make it 8-0, before a double play ended the inning.
The game was then interrupted by rain. It was then halted definitively, making it an 8-0 official final score, as all statistics of the top of the eighth inning will be included in the season's records.
Line Score, Box Score & Play-by-Play
Standings, Schedule & Scores
(May 10)