Dutch shutout Germany and qualify for Final Round
Nederlands

ROTTERDAM (Neth.) - On Day 4 of the European Championship, the Dutch Team shutout Germany 10-0 in 6 1/2 inning to regain possession of first place in Pool B and become the first team to qualify for the Final Round.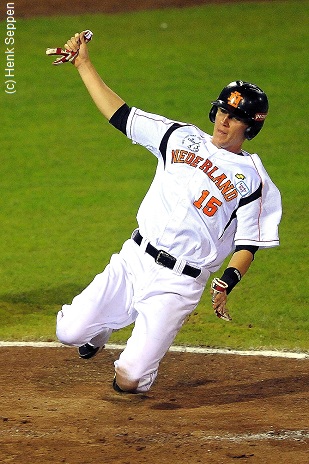 ...Nick Urbanus...
...single, double, triple...
...one run scored, 3 RBI's...
(© Photo: Henk Seppen)

On Tuesday, the Dutch squad closes the preliminary round against Great Britain in a match-up between the only two European countries that have captured a world title. Great Britain was the very first in 1938 and the Netherlands was the last in 2011. Next year, the World Baseball Classic will become the new championship-tournament.

For the Dutch Team, this was the day after the surprising loss against the Czech Republic, which was only the fourth loss during an European Championship since 2001. ,,The Czechs weren't better, we lost that game from ourselves'', Dutch Manager Brian Farley stated. ,,It has happened, it was a good warning for all of us, we now have to focus again on the next games''.

Tonight, Farley used the same starting line-up as he did in the previous two games against France and the Czechs, but he had switched Bryan Engelhardt and Kalian Sams in the number 4 and 5 slots. Farley gave the ball to Shairon Martis as his starting pitcher. This season, the righthander pitched for four different minor league-teams. He started the season in the organisation of the Pittsburgh Pirates, where he threw in Double-A and Triple-A, but then transferred to the Minnesota Twins, which also assigned him to their teams in Double-A and Triple-A. In a total 29 games, he started 21 and finished the season with an 11-6 record. Martis threw a No-Hitter in his Dutch Team-debut on March 10, 2006 during the World Baseball Classic against Panama.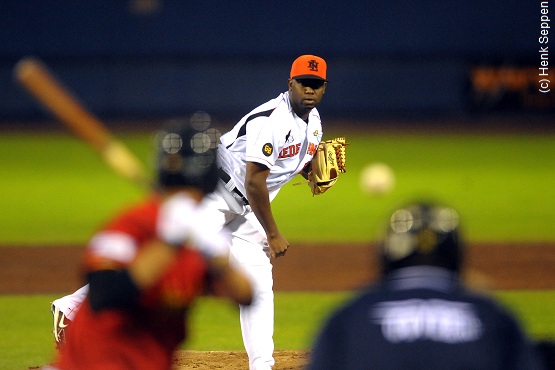 ...Winning pitcher Shairon Martis...
(© Photo: Henk Seppen)

On a cool evening in Rotterdam, Martis retired the first eight German batters he faced, then gave up two 2-out singles in the third, but that was followed by a force out. German starter Harry Glynne retired the first six batters he faced, but the Orange opened the score in the third at bat with two outs. First, a grounder by lead-off hitter Wesley Connor was misplayed, then Nick Urbanus singled with one out. Moments later, Urbanus was forced out on a grounder by Michael Duursma, but then scoring began. Hainley Statia drove the ball down the rightfield-line for a 2-run triple and after Curt Smith was hit by a pitch, Kalian Sams added an RBI-double to make it 3-0.

In the next at bat, the Dutch offense settled things for good by rallying for seven runs, highlighted by a 3-run double by Nick Urbanus and 3-run homerun by Kalian Sams. Quintin de Cuba reached on an error, Wesley Connor followed with an infield-hit and an error on a sac-bunt by Danny Rombley loaded the bases. That brought Nick Urbanus up to the plate and the 20-year old delivered again, as he drove the ball into deep leftfield for a baseclearing, 3-run double, which led to a pitching change. Moments later, Urbanus scored the next run on a single by Mark Duursma. Next, Hainley Statia was hit by a pitch, then Kalian Sams followed with a towering homerun into leftfield to lift the lead to 10-0.

Nick Urbanus, who singled in his first at bat in the third inning and hit a 3-run double in the fourth inning, followed with a triple with two outs in the fifth at bat, but this time, he stranded at third base. Kalian Sams also had three hits, as he added a single in the sixth inning, but also was left behind.

Martis gave up only three basehits in the six innings he pitched in which he also was supported with a double play that began at 2B Urbanus, who also made a nice defensive play the inning before. In the seventh inning, Germany added one more basehit off of Arshwin Asjes.

(September 10)

...National Anthems...

...Pitcher Shairon Martis...

...Kalian Sams connects...

...and hits his 2nd homerun of the tournament...

...Sams is greeted at home plate...

...Nick Urbanus started a double play...

...Wesley Connor dives back into first base...

...Arshwin Asjes and Curt Smith...
(© All Photos: Henk Seppen)