Didi Gregorius traded to Arizona via Cleveland
Nederlands



CINCINNATI, Ohio / CLEVELAND, Ohio / PHOENIX, Arizona (USA) - Mariekson 'Didi' Gregorius has been traded to the Arizona Diamondbacks in a deal that involved three teams and nine players.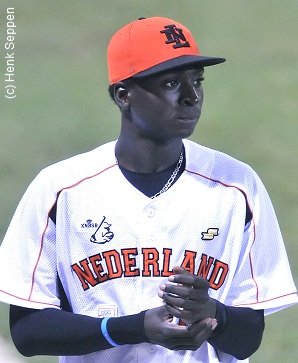 ...Mariekson 'Didi' Gregorius during the...
...2009 World Championship...
(© Photo: Henk Seppen)

On Tuesday, the Cincinnati Reds traded short stop Didi Gregorius and centerfielder Drew Stubbs to the Cleveland Indians for outfielder Shin-Soo Choo, infielder Jason Donald and approximately 3.5 million dollar. Moments later, the Indians traded Gregorius to the Arizona Diamondbacks with first baseman Lars Anderson and lefthanded pitcher Tony Sipp. In exchange, the Indians received three righthanded pitcher, Matt Albers, Trevor Bauer and Bryan Shaw.

22-year old Didi Gregorius, who is a short stop prospect, made his Major League-debut this season on September 5 against the Philadephia Phillies. In that game, he was the starting short stop, played the entire game and went 0-for-4. Gregorius went on to play in eight games for the Reds and batted .300 (6-for-20). He scored once and had two runs batted in. Defensively, he made eight putouts, had 10 assists and made no errors. Cincinnati went on to win the title in the National League Central Division. During the following National League Division Series against the San Francisco Giants, Gregorius was not on the 25-man roster of the Reds.

Gregorius, who was born in Amsterdam (Netherlands), signed a contract with the Reds on August 6, 2007. He then made his professional debut in 2008 playing in 31 games for the Rookie League-team of the Reds in Florida. The next year, the short stop promoted to Single-A Advanced, but also played 50 games in the Rookie League. In 2010, Gregorius played the entire season on the Single-A level (127 games), then played for Canberra Cavalry in the Australian Baseball League over the winter.

From 2011 on, the career of Gregorius quickly went upwards. In 2011, promoted during the season to Double-A, playing in 38 games for the Carolina Mudcats, where he batted .270. This year became a highlight-year for the short stop. He played in 81 games for Pensacola Blue Wahoos in Double-A and promoted to the Louisville Bats (Triple-A), where he played in 48 games and batted .243. The highlight then came when he was called up to the big league-team of the Reds and made his Major League-debut on September 5. After the season, Gregorius played for Peoria in the Arizona Fall League and batted .284.

It was reported that Gregorius was high on the wish-list of the Diamondbacks. During Spring Training he will compete for a spot on the Major League-roster with Willie Bloomquist and Cliff Pennington.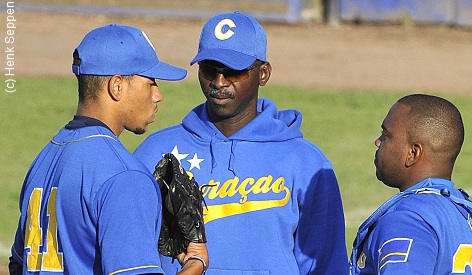 ...Didi Gregorius Sr. (center) as Pitching Coach...
...of Curaçao during the 2011 WPT...
(© Photo: Henk Seppen)

Gregorius' father Didi Gregorius played several seasons in the Dutch big league for Amsterdam Pirates. While their father pitched in Amsterdam, Mariekson and his brother Johnny Gregorius served as bat-boy, before moving to Curaçao. In 2011, Gregorius Sr., who is still pitching himself, was the Pitching Coach of the team of Curaçao that participated in the World Port Tournament.

In 2009, Gregorius made his debut in the Dutch National Baseball Team during the European Baseball Series against Italy. Hereafter, he went on to play in five games for the Orange squad during the following World Championship in the Netherlands and Italy. In the following year, Gregorius participated with the Dutch Team in the Intercontinental Cup in Taiwan, where the Dutch reached the final. Last year, Gregorius was a member of the successful Dutch Team that captured the World Championship-title in Panama City, beating Cuba in the final game. In that game, Gregorius made a crucial defensive play that contrubuted to the win. As Gregorius promoted to the Major League, he became unavailable to play for the Dutch Team in September during the European Championship. In total, Gregorius played in 33 official games for the Dutch National Team.

For the upcoming World Baseball Classic in March, Gregorius is one of the professional players who are eligible to play for the Dutch Team, which will play the First Round of the event in Taiwan.

(December 12)