Dutch Team shuts out Spain to reach Final!
Nederlands

ROTTERDAM (Neth.) - On a cold Friday-evening in Rotterdam, the Dutch Baseball Team shutout Spain 2-0 to become the second finalist of the European Championship. Minutes earlier, reigning champion Italy was the first to qualify after winning 3-0 against the Czech Republic. On Saturday, the Dutch and Italian teams will meet in the closing game of the Final Round, then will face each other for the 24th time in a final that will decide the Championship. Even when the Dutch should loose on Saturday, it would end up in a tie with either Spain or Germany and then the head-to-head result will be in favor of the Dutch to reach the Final.

Tonight was a must-win situation for the Dutch Team after the surprise loss earlier in the week against the Czechs, as the team took this loss with them to the Finale Round, because the Czechs also qualified. And so, the game against Spain became decisive for both countries in order to reach the Final. But it was all decided tonight, as both Italy and the Netherlands won, meaning they both clinched the Final. This was the lone scenario for both teams to reach the Final tonight. A win by Italy and a loss by the Dutch would have meant that Italy would qualify for the Final. But it also would have meant that the Dutch Team not only had to win on Saturday from Italy, but also that Germany would have to beat Spain in order to set up a 3-way tie which would then be decided by a statistical formula.

On Saturday, the result of the game between Italy and the Netherlands now will decide which team will be the home team in the Final.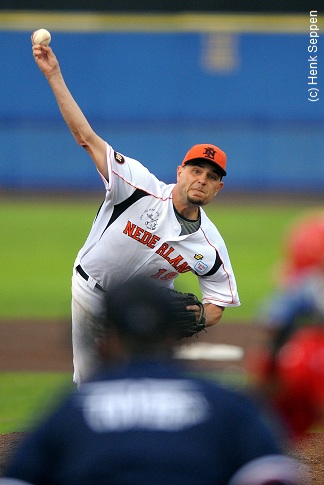 ...Dominating pitcher Rob Cordemans...
(© Photo: Henk Seppen)

Talking about decisions, tonight's game was decided right away in the first inning, as the Dutch Team then scored both runs. Spanish starter Ricardo Hernandez quickly retired the first two batters he faced, but then the lefthander walked Curt Smith and gave up a single to Kalian Sams, which was followed by an error to put runners at second and third base. Wesley Connor followed with another single that brought in Smith to give the Dutch an 1-0 lead. Next, Connor took off from first base towards second base. Hernandez reacted by throwing the ball to first base which led to Connor being caught in a rundown, but at that moment Sams took off towards home. Short stop Nestor Perez then opted to throw to home, but Sams already had scored the second run. The catcher missed the ball, enabling Connor to advance to third base, but he was left there, as a groundout followed.

Hereafter, Hernandez and Dutch starter Rob Cordemans didn't gave away much. The Dutch got on base a few times, getting two runners into scoring position in the second through sixth inning, while Cordemans dominated. The veteran righthander gave up a lead-off single to Daniel Martinez in the first inning, but then controlled the game thereafter, as he allowed only one more batter to reach base through the sixth inning. That happened in the second inning when he walked a batter with one out. But thereafter, Cordemans retired 15 batters in order. With one out in the seventh inning, Dewis Navarro (the brother of former Major League-catcher Dioner Navarro) singled to register the second Spanish basehit. But then a flyout followed and Cordemans finished with a strikeout, his ninth in seven innings. In the fourth inning, he was supported with some nice defensive plays by 1B Curt Smith and short stop Hainley Statia.

In the second Dutch inning, Danny Rombley walked, but was caught stealing after a pick-off. In the third, Hainley Statia singled with one out and Kalian Sams walked with two outs, but both stranded. In the fourth, Dwayne Kemp led off with a nice bunt-single, but then Rudy van Heydoorn grounded into a double play. In the fifth, Nick Urbanus reached on an error, but also was left behind.

From the seventh inning on, the game was on the line for both teams. After Cordemans had closed the top of the seventh with a strikeout, the Dutch Team came close in adding an insurance run. With two outs, Nick Urbanus singled. Next, Michael Duursma singled to the rightfield-line, enabling Urbanus to reach third base, but as the Spanish defense wasn't that successful in relaying the ball, Urbanus, after a brief hesitation, opted to go for home, but there, he was thrown out to end the inning.

In the eighth inning, Tom Stuifbergen took over for Cordemans and was greeted with a lead-off single by Javier Flores, who got into scoring position on a sac-bunt. Stuifbergen then threw an important strikeout and rightfielder Danny Rombley then made a spectacular diving catch for the final out and maybe the save of the game.

In the home of the eighth inning, lead-off hitter Hainley Statia reached on an error, colliding with the pitcher, who had taken over at first base. Statia was able to continue and moved on a grounder to second base, but was left there.

In the top of the ninth inning, Loek van Mil became the third Dutch pitcher. The longest player in professional baseball gave up singles to Franklin Tavarez and Francisco Figueroa to set up a suspenseful inning. Next, an infield-fly followed, but then the runners moved into scoring position on a grounder to second base. With the tying run now at second base, Van Mil closed the inning and the game by striking out Josť Luis Riera. And as Italy had shutout the Czechs minutes earlier, the win meant that the Dutch Team also was in the all-deciding Final, which will be played on Sunday-afternoon, starting at 1 PM in Rotterdam.

(September 14)

...Rob Cordemans struckout 9 and gave up only 2 hits...

...Danny Rombley is caught stealing in the 2nd inning...

...Nick Urbanus is tagged out at home in the 7th inning...

...2B Nick Urbanus retires a batter in the 9th inning...
(© All Photos: Henk Seppen)