No Amsterdam-award for Sidney de Jong
Nederlands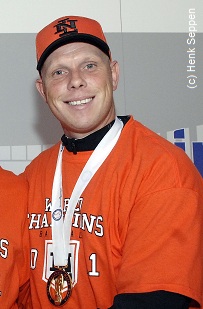 ...Sidney de Jong...
(© Photo: Henk Seppen)

AMSTERDAM (Neth.) - Mohamed Taha El Idrissi, who in February saved a man and a woman by diving into the water, was named Amsterdam-person of the Year 2011 on Sunday, January 15.
The Amsterdammer van het Jaar-event is organized annually by Het Parool-newspaper, the Stadsschouwburg Amsterdam and regional radio/tv-channel AT5. Ten common Amsterdam-citizens, who during the year delivered a positive contribution to the city, are nominated for the recognition. The public then can cast their votes. The winner got 18 percent of the more than 14.500 votes.

Sidney de Jong (who lives in the city of Almere), the captain of the Dutch Baseball Team that captured the world title and L&D Amsterdam Pirates, that won the Dutch championship title, was one of the nominees this year.
The other nominees were Pierre Ballings (director of music-theater Paradiso), Jules Tielens (psychiatrist, rockguitarist), Anita Groenink, Heleen Terwijn (founder IMC Weekendschool), Eva de Klerk (artist), Goli Abdurahman (doctor), Fikret Beydogan (butcher) and Robert Alberdingk Thijm & Norbert ter Hall (producers tv-series A'dam-E.V.A.).
Sylvana Simons hosted the event at the Stadsschouwburg in the Dutch capital.
By the way, only three of the nominees were born in Amsterdam: Sidney de Jong, Heleen Terwijn and Eva de Klerk.
(January 15)