ADO Lakers extends winning streak to four games
Nederlands




AMSTERDAM / BUSSUM / HAARLEM / ROTTERDAM (Neth.) - AamigoO ADO Lakers on Sunday won 6-5 vs. Sparta-Feyenoord to extend its winning streak to four games and move into the top-four of the Dutch big league. Corendon Kinheim took over first place by winning 11-1 vs. UVV, which played poorly defensively today, committing seven errors, including five by one player. Kinheim passed DOOR Neptunus, which lost its second game in two days to L&D Amsterdam Pirates, which again had dominating pitching and won 4-1. Vaessen Pioniers registered its second shutout in two days vs. Mr. Cocker HCAW, this time winning 4-0.
---

L&D Amsterdam Pirates vs. DOOR Neptunus
At Amsterdam, L&D Amsterdam Pirates again got dominating pitching on Sunday and held DOOR Neptunus to only five basehits to win 4-1. Three of these hits were hit off starter Ben Grover, who threw seven innings and allowed only four batters to reach base. Besides the three hits, the fourth reached on a walk in the sixth inning.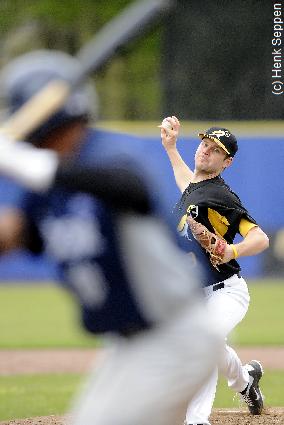 ...Winning pitcher Ben Grover...
...gave up only 3 hits...
(© Photo: Henk Seppen)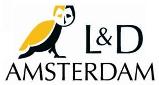 Rafaël Jozefa, who on Saturday hit three of his team's five hits, today accounted for two if his team's basehits. He hit his first with one out in the first inning, but then a double play followed. In the second inning, Rien Vernooij singled with two outs, but stranded at first base. Hereafter, Grover retired eight batters in a row, before he gave up the second single to Vernooij. This time, he advanced on a grounder by Benjamin Dille, but then he was picked off second base by Grover to end the inning.

In the sixth, Grover walked lead-off hitter Mourik Huijser, who moved on a sac-bunt by Shaldimar Daantji and a wild pitch, but two flyouts left him at third base.

Lefthander Rik Geestman then pitched the eighth inning for Amsterdam and retired the side in order. In the ninth, closer Jurrian Koks took over and gave up Neptunus' lone run. He walked lead-off hitter Shaldimar Daantji, who stole second base and moved to third on a grounder by Dwayne Kemp. Neptunus then avoided its second shutout-loss in a row, when Rafaël Jozefa hit his second single, enabling Daantji to score. Raily Legito also singled, but a double play then ended the game.

Amsterdam opened the score with two outs in the fourth inning off Bobby Carrington, who earlier in the week suffered from flu, but on Saturday, it was confirmed that he would start today. In the fourth, he started with a strikeout and flyout, but then gave up a single to Kenny Berkenbosch, hit Bas Nooij with a pitch and walked Jesse Aussems to load the bases. Carrington then also walked Björn Hato and Wesley Connor that gave Amsterdam a 2-0 lead. To prevent Amsterdam from scoring more runs, Carrington was relieved by Dushan Ruzic, who is Neptunus' closer and made a much earlier entrance today than anticipated. The Australian-Croation pitcher ended the Amsterdam thread by striking out Roelie Henrique.

In the fifth, Percy Isenia and pinch-hitter Sidney de Jong singled with two outs, but this time Ruzic struckout Bas Nooij to avoid more runs. But after retiring the side in the sixth and starting with two outs in the seventh, Ruzic did gave up two more runs in the seventh. Bas de Jong then singled and scored when Percy Isenia followed with a double. The latter then scored Amsterdam's fourth run when a grounder by Sidney de Jong was misplayed.

Standings, Schedule & Scores
Line Score, Box Score & Play-by-Play

...Neptunus-starter Bobby Carrington...

...Jos de Jong welcomes Kenny Berkenbosch after...
...scoring the first run in the 4th inning...
(© Photos: Henk Seppen)
---

Mr. Cocker HCAW vs. Vaessen Pioniers
At Bussum, Mr. Cocker HCAW reached base frequently vs. Vaessen Pioniers, but the Hoofddorp-opponent turned three double plays. And so, HCAW stranded eight runners, including five in scoring position, losing 4-0. Despite reaching the bases much more than HCAW, Pioniers scored only four runs, as HCAW turned two double plays and two players were caught stealing. Only one run was earned, as four of HCAW's six errors led to the other three runs. Pioniers left 10 runners, including five in scoring position.

Pioniers was off to a good start when Michael Duursma led off the game with a walk and Michael Pluijmers followed with a single. But then an infield-fly and double play followed.

In the next inning, Pioniers opened the score with two outs. Kevin Dirksen (fielder's choice plus error) was on second base with two outs when Zerzinho Croes singled. Moments later, Dirksen scored on a wild pitch from American starter Kyle Putnam.

The second run was added in the third inning, but Pioniers then also left the bases loaded, which they did four times on Saturday. Lead-off hitter Michael Pluijmers reached second base on two errors on his grounder, then scored on an one-single by Jourick Blanco. The latter was then forced out on a grounder by Norbert Lokhorst, then the bases got loaded when Mark-Jan Moorman was hit by a pitch and Kevin Dirksen walked. But another force play ended the at bat.

Two runs were then scored in the fourth. Again, an error was made on a lead-off grounder, this time by Jefferson Muzo, who then stole second base and scored on a following single by Michael Duursma, who later scored himself on a sac-fly by his brother Mark Duursma.

In the fifth, a Pionier-runner was caught stealing to end their at bat and in the sixth, another runner was caught stealing in a rundown after a pick-off. In the seventh, HCAW turned a double play to end the last scoring opportunity of Pioniers.

Pionier-starter Kevin Miner, who last year pitched for HCAW, held his former teammates to three basehits in the six innings he threw. In the second inning, he got the bases loaded when he hit Kevin Gerard, walked Glenn Romney and issued an one-out walk to Jim Froberg, but then the Pionier-defense turned a double play. In the fourth, Miner walked Linoy Croes (who last season played for Pioniers) and gave up a double to Kevin Gerard, but then he was supported with another double play. Croes appeared to score after a flyout, but was ruled out after an appeal-play at third base. In the sixth, Dylan de Mello led off for HCAW with a single, then tried to advance to third on a single by Croes, but was thrown out at third base. In the seventh, Shane Gnade took over for Miner, made a throwing error on a grounder by Seb Visser and was replaced again. New pitcher Dennis Buring then saw Pioniers turn its third double play of the afternoon. In the eighth, HCAW got runners on first and third base with two outs, but both stranded and so the Bussum-team was shutout.

Standings, Schedule & Scores
Line Score, Box Score & Play-by-Play
---

Corendon Kinheim vs. UVV
At Haarlem, Corendon Kinheim collected 13 basehits, but also was helped by the UVV-defense, that committed seven errors, to win 11-1 in an 8-inning contest.

UVV appeared to open the score in the first inning when it got the bases loaded with one out, but in the end they scored their lone run in the eighth at bat. Kinheim-starter Nick Veltkamp gave up a lead-off single to Norbert Jongerius, who was then moved into scoring position on a sac-bunt by Austin Weymouth. A walk for Danny Rombley and single by Ryan Murphy then loaded the bases, but Giovannie Samboe followed with a double play-grounder to end the at bat.

In the next six innings, UVV collected only three more basehits and never reached second base until the eighth.

Kinheim left three runners in its first at bat. With one out, Mervin Gario walked, but he was then thrown out at third base trying to advance on a single by Dirk van 't Klooster. Errors on grounders by Bryan Engelhardt and Ramiro Balentina then loaded the bases, but a force out ended the inning.
After UVV turned a double play in the third, Kinheim opened the score moments later. Bryan Engelhardt then walked, moved to third on a single by Ramiro Balentina and was able to score when an outfield-error followed.
Kinheim then broke open the game by scoring five runs in the fourth at bat off starter Duko Jansen, who pitched for Kinheim the last few years. Rachid Engelhardt led off with a double, then the bases got loaded when Onno Jansen singled and Remco Draijer walked. An error on a force play-grounder by René Cremer then led to a run. After Duko Jansen struckout the next batter, a single by Dirk van 't Klooster produced the next run and led to a pitching change. Sedley Karel took over and started with a strikeout, but then two errors by short stop Austin Weymouth led to three more runs. For Weymouth, it was his third error in the inning and fifth in the game to tie a big league-record.
In the fifth, Kinheim scored its next run on a 2-out single by Mervin Gario to make it 7-0. UVV then scored its lone run in the eighth off reliever Steven van Groningen. With one out, he hit Mitchel Koot (who replaced Weymouth in the fifth) with a pitch. The bases then got loaded when Danny Rombley singled and Ryan Murphy reached on an error. Van Groningen then also hit Giovannie Samboe with a pitch to bring in the run and was relieved by Jorn van Ingen, who then ended the at bat with a strikeout and flyout.
In the home of the eighth, Kinheim scored four runs off new pitcher Timo van Ancum to increase its lead to a 10-run difference to end the game. With two outs, Björn Henrichs singled in the first run, then Rachid Engelhardt doubled in the next two and scored the final run himself on a single by Onno Jansen.
Standings, Schedule & Scores
Line Score, Box Score & Play-by-Play
---
Sparta-Feyenoord vs. AamigoO ADO Lakers
At Rotterdam, AamigoO ADO Lakers won 6-5 vs. Sparta-Feyenoord to extend its winning streak to four games. It marks the longest winning streak for ADO in six years! In 2006, the team from The Hague won eight games in a row. That streak started on April 29 with an 1-0 win vs. Sparta-Feyenoord. The next day, ADO won 2-1 vs. the Rotterdam-squad, then followed with two wins vs. Amsterdam Pirates, Hoofddorp Pioniers and HCAW, before the streak ended. 2006 was the last year in which ADO qualified for the Play-Offs.

Again, Sparta-Feyenoord initially took the lead, but again ended up as the losing team. Sparta-Feyenoord's Head Coach Dino Anasagasti had adjusted his starting line-up and began with two surprise starters, as he put two pitchers in an infield-position. Gregory Gustina played at first base and Lenko Elisabeth at third base. Last season, Gustina got one at bat while playing for Sparta-Feyenoord.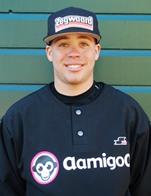 ...Reggie Bomberg...
...winning pitcher...
(© Photo: ADO Lakers)

Sparta-Feyenoord scored twice in the first at bat off starter Reggie Bomberg. Kevin van Nederpelt and Theodore van Heijningen led off with singles, then two errors and a grounder by Churandy La Cruz led to the runs.

ADO Lakers got one run back in the fifth inning. Starting pitcher Elton Koeiman had retired eight batters in a row from the first through third inning and gave up only one basehit in four innings, but now gave up a lead-off triple to Jaïr Roseburg in the fifth. He then scored on single by Remco Seitzinger, who was picked off moments later.
Sparta-Feyenoord increased its lead with two runs in the fifth. Gregory Gustina led off with a walk and moved on a sac-bunt by Lenko Elisabeth, then Jochem Pronk also walked. A single by Van Heijningen and a wild pitch then made it 4-1.
ADO Lakers then came alongside in the sixth. Evan Porter and Ludwin Obispo led off with singles and both scored when Phil Ortez followed with a double. An one-out double by Rudy van Heydoorn then tied the score. In the home of the sixth, Edison Bito led off with a walk, then Gregory Gustina singled with one out. For Gustina, this was his first big league-hit since going 2-for-4 in 2010. It was his sixth career basehit, as he also singled once in 2009, which then was his first basehit since hitting one in 2002 and 2003 while playing for PSV. But both Bito and Gustina stranded as baserunners.
ADO Lakers then took a 5-4 lead in the seventh. Irving Redan (fielder's choice) then scored on a basesloaded force play-grounder by Phil Ortez. An insurance run was then added in the eighth off new pitcher Jurandy Girigori. He loaded the bases by walking Van Heydoorn (lead-off), Seitzinger (with one out) and Redan (with two outs), then hit next batter Evan Porter, that made it 6-5.
Sparta-Feyenoord was able to score one more run in the ninth. Martijn Riphagen took over the pitching for Bomberg, but walked Siegert Flaneur, who then advanced on an error and a double play-grounder. Another error on a grounder by Theodore van Heijningen then enabled Flaneur to score. When Atnhony Vrolijk followed with a single, Riphagen was relieved by Rick van der Post, who struckout Churandy La Cruz to end the game and earn a save.
Standings, Schedule & Scores
Line Score, Box Score & Play-by-Play
(April 15)