Amsterdam, Kinheim win; Anasagasti to step down
Nederlands



ROTTERDAM / THE HAGUE / BUSSUM (Neth.) - On Tuesday, league-leaders L&D Amsterdam Pirates and Corendon Kinheim both won their game in the evening. The game between Mr. Cocker HCAW and Sparta-Feyenoord rained out for the third time and was re-scheduled for Tuesday, May 22.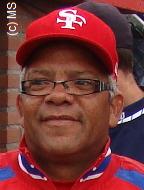 ...Dino Anasagasti...
(© Photo: Marco Stoovelaar)

But Tuesday also was the day that Dino Anasagasti announced he will step down as Head Coach of Sparta-Feyenoord after next Sunday's game, which is the third of the 3-game series against UVV, which opens on Thursday. After completion of that series, the season is halfway. Anasagasti informed his team and the club Tuesday-morning of his decision. His Assistant Coach Gershwin Hernandez also steps down. ,,This has nothing to do with the players, we knew we would play a minor role, losing is an experience, but I've reached my maximum'', Anasagasti said. A successor has not yet been named. Anasagasti was in his first full season as Head Coach of Sparta-Feyenoord after taking over for Luty Bernadina on July 13 of last year. Currently, Sparta-Feyenoord is in last place and won only one of the 15 games played so far.
---

DOOR Neptunus vs. L&D Amsterdam Pirates
At Rotterdamm, L&D Amsterdam Pirates got another fine outing from youngster Ian Delemarre, who this time held DOOR Neptunus to only four hits. The rookie went on to win his second game in his second start, as Amsterdam won 3-1 and extended its winning streak to seven games. For Neptunus, this was its first loss after having won seven in a row.

On Tuesday, it was announced that the game between Amsterdam and Neptunus which rained out last Tuesday, May 8 got a new make-up date. Initially, it was re-scheduled for Tuesday, June 5, but both Neptunus and Amsterdam objected against that date, as it came only two days after completion of the European Cup Tournaments that end on June 3. The next day, Amsterdam flies back home from Italy, so as both teams will need (and use) all available pitchers during the 5-day tournament, it was simply not possible to play on Tuesday-evening, as a new 3-game series starts on June 7. The game is now re-scheduled for Tuesday, June 26.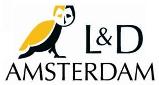 Amsterdam got on base quickly in the first inning off Bobby Carrington, as Sidney de Jong and Percy Isenia singled with two outs. But a flyout then left them behind.
Amsterdam opened the score in the third inning. Rashid Gerard led off with a walk and stole second base, then moved to third base when Wesley Connor grounded out. Gerard then beat the throw to home plate by first baseman Jeffrey Arends on a grounder by Roelie Henrique. Moments later, Henrique was picked off, then Sidney de Jong singled, but was forced out.
In the first inning, Ian Delemarre gave up a lead-off single to Dwayne Kemp, but then struckout RafaŽl Jozefa and saw Raily Legito ground into a double play. The righthander then retired the side in the second at bat, gave up a lead-off single to Benjamin Dille in the third, but he would strand on third base. In the fourth inning, Neptunus came alongside. RafaŽl Jozefa led off with a walk, the only one issued by Delemarre, then the bases got loaded with no outs when Raily Legito and Jeffrey Arends singled. But Neptunus scored only one run, which came on a double play-grounder by Lennart Koster and the inning then ended when Rien Vernooij lined out.
Amsterdam re-took the lead in the fifth inning. Wesley Connor led off with a double and, with one out, advanced to third base when Sidney de Jong flied out. An error on a grounder by Percy Isenia then resulted in the run and a 2-1 lead for Amsterdam.
In the sixth inning, Dushan Ruzic took over the pitching for Carrington, gave up an one-out single to Bas de Jong and hit next batter Jesse Aussems, but then was supported with an inning-ending double play.
Ian Delemarre retired the side in the fifth inning. In the next at bat, he began with a flyout and then was relieved by Rik Geestman, who got the next two outs.
Amsterdam added an insurance run in the seventh inning. Wesley Connor led off with a walk and stole second base, then moved on a grounder by Roelie Henrique. Ruzic then struckout Sidney de Jong, but Percy Isenia followed with a single that made it 3-1.
After completion of Amsterdam's seventh at bat, the game was delayed for 40 minutes by rain. When the game resumed, Geestman returned to the mound despite the long delay. He gave up an one-out single to Lennart Koster and a 2-out single to Benjamin Dille, but the inning ended when Urving Kemp's line drive was caught by short stop Vince Rooi.
In the top of the eighth inning, Bas de Jong hit his third single of the game, but was left behind. Neptunus got four more runners in its last two at bats off new pitcher Jurrian Koks. In the eighth, he walked RafaŽl Jozefa and Raily Legito with two outs, but then a grounded followed. In the ninth, Rien Vernooij singled with one out, but was forced out, then Koks ended the game with a strikeout.
Line Score, Box Score & Play-by-Play
Standings, Schedule & Scores
---

AamigoO ADO Lakers vs. Corendon Kinheim
At The Hague, Corendon Kinheim hit only four basehits, but won 7-3 vs. AamigoO ADO Lakers, which has now lost 12 games in a row. Besides hitting four basehits, 14 batters of Kinheim got on base thanks to free passes by the three ADO-hurlers, while three more reached on errors.

Kinheim set the tone by scoring four runs in the first inning. Renť Cremer led off with a single and stole second base. Mervin Gario was then hit by a pitch and the two runners advanced on a sac-bunt by Dirk van 't Klooster and the first run was scored on a grounder by Ramiro Balentina. A walk for Quintin de Cuba followed and when he stole second base, Gario scored. Rachid Engelhardt then also walked and he and De Cuba both scored on a triple by Remco Draijer.
After leaving the bases loaded in the third inning, Kinheim added a run in the fourth at bat when Mervin Gario reached second base on a throwing error with one out. He then scored when Dirk van 't Klooster followed with a single.
ADO was held hitless by Nick Veltkamp in the first three innings, but then scored its first run in the fourth. Phil Ortez led off with a walk and moved to third base on a single by Ludwin Obispo, who himself was thrown out when he tried to make it into a double. Rudy van Heydoorn then walked and Evan Porter followed with a single to bring in Ortez, but a strikeout and force out ended the at bat.
ADO turned a double play in the fifth inning, but then gave up Kinheim's sixth run in the sixth inning. Renť Cremer led off with a walk, which led to a pitching change. Martijn Riphagen took over for Reggie Bomberg, but he also walked Mervin Gario, who was forced out, but that brought Cremer to third base and he then scored on a sac-fly by Ramiro Balentina to make it 6-1.
In the home of the seventh inning, ADO scored its second run off Steven van Groningen, who took over for Nick Veltkamp. Tim Schaareman (fielder's choice) was on first base with one out when an error was made on a force out-grounder by Randy Ocilia, one of three new players on the ADO-roster, who made his debut tonight. Nurison Leonora, the second newcomer (who made his debut on May 5), then moved the runners with his sac-bunt and the bases got loaded when Gregory Hassell walked. The third new player is Tim Schaareman, who tonight played in his fifth big league-game. Van Groningen then also walked Phil Ortez to bring in a run and make it a 6-2 score. Dion Steijl was brought in as new pitcher and he ended the at bat with a strikeout for Ludwin Obispo, so three runners were left.
Kinheim added another run in the ninth inning. Quintin de Cuba led off with a walk and, after a pitching change, he went on to score on a single by Remco Draijer. ADO also scored one more run in its ninth off closer Pim Walsma, who walked Tim Schaareman, who then stole second base. Irving Redan took over as pinch-runner and scored on an one-out single by Nurison Leonora, his first in the big league. But a strikeout followed, meaning ADO was left empty-handed for the twelfth game in a row.
Line Score, Box Score & Play-by-Play
Standings, Schedule & Scores
(May 15)