Pioniers announces transfers; acquires Rombley, Rooi
Nederlands

HOOFDDORP (Neth.) - Dutch National Team-players Danny Rombley and Vince Rooi will play for Vaessen Pioniers next season, the club confirmed. Pioniers also announced other transfers, including short stop Michael Duursma heading for L&D Amsterdam Pirates.

Outfielder Danny Rombley joins Pioniers after having played for UVV the last two seasons. The former pro led UVV in hitting this season, finishing with a .359 (56-for-156) batting average. He also led the Utrecht-team in runs batted in (32), sharing the leaders' spot with Giovannie Samboe. Rombley, who homered once, was second in runs scored with 28, two behind team-leader Stijn van der Meer.
Infielder Vince Rooi appeared in only 22 games this season for L&D Amsterdam Pirates. Rooi played his last game on May 20, then underwent surgery in June to repair his injured shoulder. Since then, he is recovering and therefore he missed the European Cup and Final Four with Pirates, as well as the European Championship with the national team. Rooi batted .174 (12-for-69), scored 16 runs and had 10 RBI's.
Rombley and Rooi played professionally together in the organisation of the Montreal Expos from 1999 through 2004. Rombley then returned before the start of the 2005 season and went on to play for Kinheim. He then played for Neptunus in 2010, then moved to UVV, where he has played in his youth.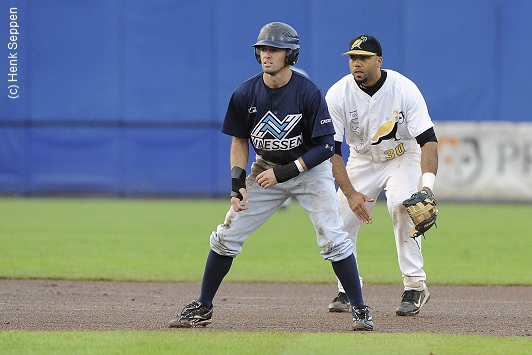 ...Changing places...
...Michael Duursma (left) and Vince Rooi...
(© Photo: Henk Seppen)

After Rombley returned to the Netherlands, Rooi remained in the organisation of the Expos, which then became the Washington Nationals. Rooi played in Double-A for the Nationals in 2005, then played in Single-A for the Pittsburgh Pirates in 2006, before being released. After having played for Kinheim in 2007 and 2008, Rooi joined Amsterdam in 2009.

Pioniers also acquired American closer Derek Tarapacki from UVV. This season, the righthander threw 27 games in relief, was 3-0 with seven saves and a 0.64 ERA, while striking out 59 batters in 42 innings and walking only seven.

Also joining Pioniers is RHP Joran Klarenbeek, who played for DSS this season after having pitched for HCAW in the big league the season before. Coming from Rotterdam Orioles is Chris Williams.

Short stop Michael Duursma will be one of the infielders of L&D Amsterdam Pirates in 2013. The National Team-player was second in hitting this season for Pioniers with a .333 average (48-for-144), trailing only Zerzinho Croes, who batted .349. Duursma also was second in runs scored with 30 (one behind Croes) and in runs batted in with 27 (one behind Jourick Blanco). As a lead-off batter, Duursma's 27 RBI's are a lot and he had a .465 on base percentage, which led the team.

Infielder Gyenuar Lopez also will not be with Pioniers next season, as he will play for DOOR Neptunus in the new season. Lopez played for ADO last year, before joining Pioniers for this season. Lopez batted .259 (35-for-135), scored 22 runs, had 16 RBI's and walked 29 times, only one behind team-leader Mark Duursma and two more than Michael Duursma. This means that Pioniers lost two of its prime batters when you look to walks, as Duursma and Lopez combined on 56 combined, which is a quarter of the team's total.

Lefthanded pitcher Jean-Paul Gulinck will pitch for Corendon Kinheim in 2013. This year, he appeared in 18 games as a reliever, was 2-1 with one save and struckout 24 batters in 21 1/3 inning, finishing with a 2.53 ERA.

While Pioniers announced the transfers of Duursma, Lopez and Gulinck, their new clubs Amsterdam Pirates, Neptunus and Kinheim have yet to confirm their comings. These clubs will announce their transfers at a later date. The transfer-period ends on November 1.

It was also announced that pitcher Joey Evans, 1B/DH Jourick Blanco and outfielder Norbert Lokhorst will not be with the team in the new season. Evans, who returned to the USA, led the team with a 9-2 win-loss record and 2.29 ERA. He also led with 101 strikeouts in 102 1/3 inning. This season, Blanco, who returned to Aruba, batted .298 (34-for-114), scored 18 runs, hit four homeruns and had 28 RBI's. Lokhorst, who retired, batted .283 (30-for-106) with 15 runs scored and 11 RBI's.

...Joran Klarenbeek...

...Gyenuar Lopez...

...Jean-Paul Gulinck...
(© Photos: Henk Seppen)
(October 15)