Rotterdam award for Diegomar Markwell
Nederlands

ROTTERDAM (Neth.) - Dutch National Team-pitcher Diegomar Markwell won the Rotterdam Sportstad Award for Male Athlete of the Year 2011 on Monday, January 16. The lefthanded pitcher of DOOR Neptunus received the most votes from the public that was able to cast its votes in the recent weeks since the announcement of the nominations for the annual awards.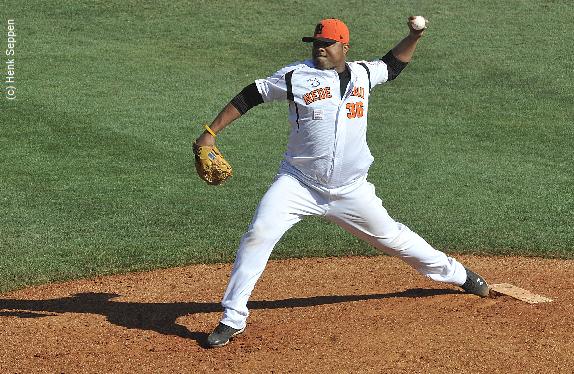 ...Diegomar Markwell...
(© Photo: Henk Seppen)

At the Nieuwe Luxor Theater in Rotterdam, Wilfried de Jong was the host of the awards evening where awards were handed out in seven categories.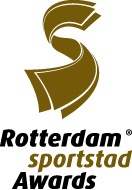 Diegomar Markwell was one of three nominees for the Male Athlete of the Year Award. The others being Sjoert Brink (bridge) and Jeroen Hertzberger (field hockey). Since the award was first handed out in 1986, it was won in 1990 and 1999 by Robert Eenhoorn, being the only other baseball-player to have won the award. Tonight, Eenhoorn was one of the presenters to hand out an award.
Baseball-player Jules Peters was nominated for the Talent of the Year Award, but didn't won. The award went to Laury Vogelzang (karate). Also nominated was Maud Megens (waterpolo).
Edith Bosch (judo) won the Female Athlete of the Year Award. The Sports Team of the Year (which was won a record six times by DOOR Neptunus since 1986) this year went to Rotterdam Volleyball.
The Rotterdam Coach of the Year is Marjolein van Unen (judo), the Volunteer of the Year is Nico Hof (korfball) and the Handicapped Sports Award went to Z&PC Rotterdam (swimming, waterpolo).
(January 16)