Former baseball-coach Wim Onderstal passed away
Nederlands
IN MEMORIAM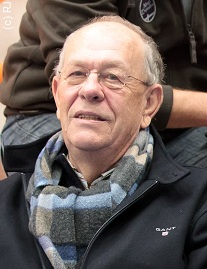 ...Wim Onderstal...
(1935 - 2012)
(© Photo: Rob Jelsma)

ROTTERDAM (Neth.) - Former baseball-player and coach and former soccer-keeper Wim Onderstal passed away at the age of 77 on Saturday, March 10 after a long illness. Onderstal guided four baseball-teams to the Dutch big league, captured a national championship with another and played in the main soccer squad of Feyenoord. Wim Onderstal passed away a month after celebrating his 77th birthday (he was born February 8, 1935 in Rotterdam).


...keeper...

At age 17 (in 1952), Wim Onderstal made his debut in the main squad of Feyenoord, but the 1956-1957 season was his rookie season as goaltender of the Rotterdam-based soccer club. In that season, he played in 26 games and appeared to become the primary keeper of the team, competing for the spot with Bram Panman and Teun van Pelt. After the 1957-1958 season, Feyenoord acquired Eddy Pieters Graafland from rival Ajax, who went on be the goaltender for Feyenoord in 356 games through 1970. Wim Onderstal left Feyenoord and went on play for NOAD, Holland Sport and Hermes DVS. In total, Onderstal played in 41 official games for Feyenoord.

Besides being a talented soccer-keeper, Onderstal also played baseball for Feyenoord, whom he later also coached. But he also played a major role as a coach at UVV. He led the team for the first time in 1976 and in that season it reached the final of the Dutch Cup-competition, losing only 2-1 to Haarlem Nicols. In 1977, Onderstal guided UVV to the championship of the First Division and thus promotion to the Dutch big league, returning in the highest division after several years. Onderstal then returned to Feyenoord and in 1979, he also led that team to the big league. However, a year later, the team relegated again, but Onderstal remained coach with the team.

In 1981, Wim Onderstal was the Head Coach of Neptunus, which then capured its first-ever national championship. Onderstal also coached the baseball-teams of ADO and PSV, whom he also led to the big league. He concluded his coaching career with PSV in 1988. During that season, he encountered difficulties with his knees, finished the season and decided to take a year off, but never returned. ,,I liked the year off and I've never missed it. I had other things on my mind, like my worn-out knees'', Onderstal said to the webmaster of Grand Slam * Stats & News in an interview in 1995.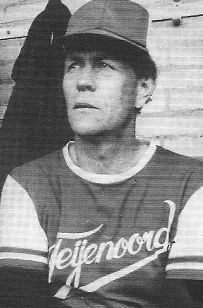 ...Feyenoord-coach...

Wim Onderstal started his baseball-career at age 19 (1954) when Feyenoord Baseball was founded. He played for 12 seasons with the club, climbing from the Fourth Division to the big league and then went on to coach the team. In those years, Feyenoord was a frontrunner in several ways, as in 1966 it was one of the first teams to have a training camp, traveling to Wiesbaden (Germany). In the 1995 interview Onderstal said: ,,In those days, every looked up very strange that a baseball-team went off for a training camp. We went to Wiesbaden to learn more about baseball from the American military who were stationed there. We also did strenghth training back then. We did a lot, on and off the field. What we've reached was that we promoted to the big league''.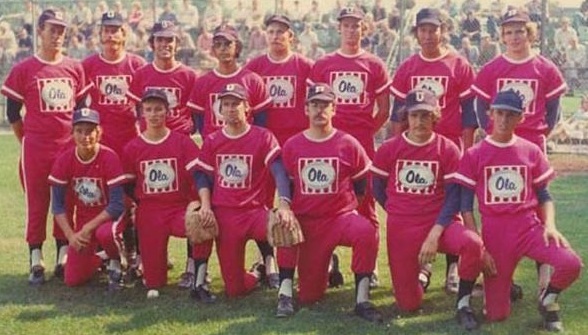 ...Wim Onderstal (standing at left) with the successful team of UVV in 1976...
(photo: UVV)

After the 1977-season, in which he led UVV to the big league, Onderstal was named Coach of the Year. In the seventies, he also assisted the National Team-manager Ernie Myers during practices, but while being ambitious, he rather coached teams at the clublevel. Amongst his highlights, Onderstal named a Perfect Game thrown by UVV-pitcher Ruud Kok against De Spartaan and the national championship with Neptunus.

After having been away from baseball for several years, Wim Onderstal (who wasn't the easiest coach for umpires) returned to the field as a spectator, visiting games of Neptunus and during the World Port Tournament. In 2010, he also visited the clinics of the first European Big League Tour of Rick van den Hurk.

(March 17)