Hall of Famer, former player/coach Henk Keulemans passed away
Nederlands
IN MEMORIAM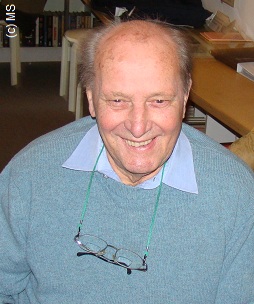 ...Henk Keulemans...
(1924 - 2012)

SCHAGEN (Neth.) - Hall of Famer and former National Team-player and coach Henk Keulemans passed away on Wednesday, November 7 at the age of 88. The memorial and cremation ceremony was held in private.

Keulemans, who was an icon of Dutch baseball in the fifties and sixties, started playing baseball when he was 12 years old. In an interview with the webmaster of Grand Slam * Stats & News in 1995, Keulemans looked back to the start of his career. ,,I played soccer at the site of EDO in Haarlem. A deciding baseball game between Schoten and AFC was played there and after my soccer-match, I went on looking. I immediately was fascinated by it and started to follow games, climbing over fences. Later, I started playing baseball on the street with Gé Hoogenbos and we both became members of SC Haarlem, where wellknown pitcher Roel de Mon played.'' At SC Haarlem, Keulemans and Hoogenbos played in the youth, but also participated in games of the third team of the club. When he was 16 years old (1940), he made his debut in the main squad as third baseman. Telling of his first game, Keulemans said: ,,Haarlem had won the championship and played the traditional game after the season against the 'rest of the country'. I remember that Cor Wilders (another pitching great in thos days - MS) was the pitcher for 'the rest'. I struck out three times.''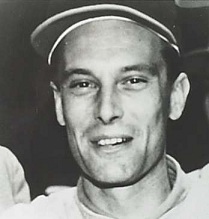 ...Henk Keulemans as player...

But it was the start of an impressive career. In 1943, Keulemans and De Mon went to Schoten, where he would play through 1965 and evolved into a very solid second baseman, speedy runner and good contact-hitter, but also did some of the pitching in his early days.

On August 1, 1948, in Antwerp, facing Belgium, Keulemans played his first if 53 international games for the Dutch National Team.

In the Fall of 1955, Keulemans was asked to coach the Dutch National Team during the upcoming European Championship the next year. In previous years, there was no official coach of the national squad, with players handling the coaching during the game themselves during the sparse games that were played in those years and with players being selected by a special commission.

After some thoughts, Keulemans accepted the position, but stated that he would do it only if could put himself in the line-up if necessary. Keulemans in the 1995 interview: ,,We didn't had that much good second basemen back then. I selected 40-year old Charles Urbanus for the Championship, but he hit well. Younger players weren't good enough in my opionion.''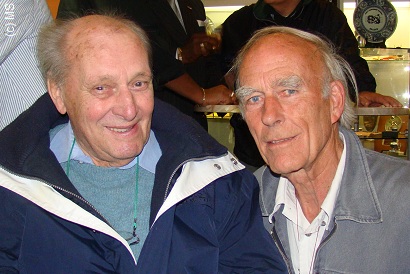 ...Henk Keulemans with former pitcher Jan Smidt...
...during a Hall of Fame induction in 2009...
(© Photo: Marco Stoovelaar)

And so, in 1956, Henk Keulemans was the first-ever manager of the Dutch National Baseball Team, when the squad participated for the first time in an European Championship. Keulemans held the position for three years and was very successful, as he led the national squad to European titles in 1956 (Rome, Italy), 1957 (Mannheim, Germany) and 1958 (Amsterdam, Netherlands). As winner of the 1956 and 1957 Championships, the Dutch Team represented Europe in the following Global World Series in Milwaukee and Detroit, respectively.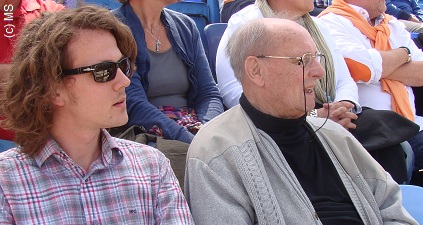 ...The last public appearance of Henk Keulemans...
...on July 15 of this year during the...
...Haarlem Baseball Week...
(© Photo: Marco Stoovelaar)

In the 1956 and 1957 Championships, he didn't played much himself, but during the 1958 Championship, Keulemans was the second baseman in all games. Charles Urbanus (uncle of current baseball coach Charles Urbanus - MS) was the assistant coach and when Keulemans reached base, he would give signals to him. ,,That wasn't a healthy situation'', Keulemans stated. ,,I wanted to play again myself, so I stopped''. After having led the Dutch Team as a playing/coach for three years, Keulemans focussed on playing only again. In 1961, he participated with the Dutch squad in the first Haarlem Baseball Week. He concluded his international career in 1963, then returned as manager one more time in 1964, when he led the squad for one game against Belgium. In February 1963, Keulemans received the Award of Merit of the Dutch Association.

In the meantime, Keulemans also had become a playing coach of Schoten, leading the team to the Dutch championship in 1960 and 1961 after having won the title already as a player with the team in 1947, 1956 and 1957.

Keulemans, who was known for his speed on the bases, led the highest Dutch baseball-league in runs scored in 1960 (15), 1961 (16) and 1962 (30). In 1953, he was the first player to be honored with a Most Valuable Player Award (then-called Best All-rounder). He was named MVP again after the 1960 season.

Keulemans, a short stop and later second baseman, played his last game on September 11, 1965 for Schoten. On that date, while being the coach, he put himself into the game against Sparta and that would be the last of his long and illustrious career. In 1966, he also completed his coaching career at Schoten.

Twenty years later, on July 13, 1985, Henk Keulemans belonged to the third group of players, coaches, officials and executives, representing the period of 1956-1977, that was elected into the Dutch Hall of Fame.

(November 18)

...Henk Keulemans surrounded by fellow Hall of Famers...
...Janke Nijdam, Wim Oosterhof, Dries de Zwaan,...
...Jan Dick Leurs, Nol Houtkamp and Hamilton Richardson...
...during the induction of Leurs on September 16, 2009...
(© Photo: Marco Stoovelaar)

...Henk Keulemans surrounded by Jan-Dick Leurs,...
...Hamilton Richardson, Simon Heemskerk and Bill Arce...
...during a reunion of former National Team-players...
...on July 13, 2010 in Haarlem...
(© Photo: Marco Stoovelaar)