Pioniers moves into second place
Nederlands




HOOFDDORP / BUSSUM / ROTTERDAM / THE HAGUE (Neth.) - Vaessen Pioniers got a great outing from Mika de Lincel on Thursday-evening, as the lefthander gave up only one hit in seven innings, but the bullpen almost spoiled his performance. In the end, Pioniers won 6-4 vs. winless Sparta-Feyenoord to move into second place. League-leader Corendon Kinheim shutout Mr. Cocker HCAW 12-0.

The other two scheduled games for tonight were canceled in the late afternoon, as the playing fields were unplayable due to rain during the day. And so, DOOR Neptunus vs. UVV and AamigoO ADO Lakers vs. L&D Amsterdam Pirates were both scrubbed. It is expected that these two games will be re-scheduled for next Tuesday, but a confirmation was not given yet on Thursday-evening. On Friday, it was confirmed that both games indeed were moved to coming Tuesday.
---

Vaessen Pioniers vs. Sparta-Feyenoord
At Hoofddorp, Mika de Lincel made his third start of the season for Vaessen Pioniers and it was his best so far. The lefthander retired the first eight batters in a row, then gave up a 2-out single in the third inning, but that would be the lone basehit he allowed in the seven innings he pitched. De Lincel struckout eight batters, walked only one and allowed only three batters to reach base. In the eighth inning, with Pioniers leading 5-0, he was relieved, but then the bullpen almost spoiled not only De Lincel's performance, but also the lead. In the end, Pioniers won 6-4 to move into second place.

On the other hand, Reynaldo Sarmiento Claro, who made his first start of the season for Sparta-Feyenoord, also did well, but needed some more assistance from his defense. The righthander gave up only three hits, but walked five, before being relieved with one out in the seventh inning.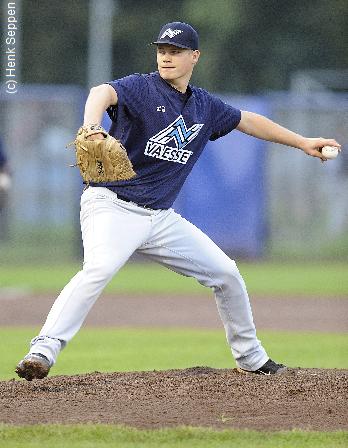 ...Mika de Lincel...
...8 strikeouts, 1 hit, 7 innings...
(© Photo: Henk Seppen)

Mika de Lincel retired the first eight batters he saw, including two with a strikeout. With two outs in the third, Jochem Pronk singled, but was forced out moments later to end the inning. De Lincel then retired the next seven batters, before walking Pronk with one out in the sixth. But then, De Lincel retired the next five batters again, including the last two with a strikeout to lift his total to eight.

After leaving a runner in the first inning, Pioniers got its first two batters on base in the next at bat. Mark-Jan Moorman walked and Dè Flanegin singled, but then a foul-out and two force outs followed. In the fourth inning, Pioniers got the bases loaded with no outs, but as was the case in previous games, the runscoring hit(s) didn't come. Jourick Blanco and Mark-Jan Moorman led off with singles, then Dè Flanegin was hit by a pitch to load the bases. But then Skip Visser (who did the catching today instead of Mark Duursma) grounded into a double play and Zerzinho Croes grounded out. In the sixth, Moorman and Flanegin walked with two outs, but were left and so, the score was still scoreless after six innings.

In the bottom of the seventh inning, Pioniers rallied for five runs to take an apparent comfortable lead. With one out, Jefferson Muzo walked and stole second base, then Reynaldo Sarmiento Claro was relieved by Quinn Tramm, who was the starting pitcher in the previous two Thursday-games. Tramm walked Michael Duursma, then got a force play-grounder from Michael Pluijmers, but walked Gyenuar Lopez, meaning Pioniers got the bases loaded again. It also marked the end for Tramm, who was replaced by Elton Koeiman, who is the scheduled starter for Sunday's Game 3. The veteran righthander started with a wild pitch that enabled Muzo to score the first run. He then gave up RBI-singles to Jourick Blanco and Mark-Jan Moorman, followed by a 2-run double by Dè Flanegin, that made it a 5-0 score.

With a 5-0 lead, Mika de Lincel, who had thrown exactly 100 pitches, was relieved in the top of the eighth inning. But the bullpen then gave up four runs and almost spoiled De Lincel's win-bid and the lead for Pioniers. First, Jan Řeháček took over, but the Czech lefthander walked Michiel Ruiter and Jarred Duin. He was quicky replaced by Jean-Paul Gulinck, another lefthander, but he loaded the bases by walking Siegert Flaneur. Sparta-Feyenoord then came completely back into the game. Jochem Pronk, who already had reached base twice, now singled and brought in two runs. A strikeout followed, but then a grounder by Theodore van Heijningen and single by Anthony Vrolijk brought in two more runs and narrowed the deficit to 5-4. The comeback ended when powerhitter Churandy La Cruz popped up.

In their eighth at bat, Pioniers added a much needed insurance run off new pitcher Jurandy Girigori to secure the win for De Lincel. With two outs, Michael Duursma walked, then advanced to third base on a failed pick-off by Girigori and scored when a fly by next batter Michael Pluijmers was dropped in leftfield. Bayron Cornelissen then threw the ninth inning for Pioniers. Initially, he saw lead-off hitter Edison Bito reach on an error, but then retired the next three batters to end the game and earn his first save of the season. And it was a real save, as it more than secured the first win of the season for De Lincel.

Standings, Schedule & Scores
Line Score, Box Score & Play-by-Play
---

Corendon Kinheim vs. Mr. Cocker HCAW
At Bussum, league-leader Corendon Kinheim took charge of the game in the first two at bats scoring a total of four runs on its way to a 12-0 shutout-win vs. Mr. Cocker HCAW.

In the first inning, HCAW-starter Leon Elshof began with a strikeout, but then hit next batter Mervin Gario with a pitch and walked Dirk van 't Klooster. A single by Bryan Engelhardt and sac-fly by Ramiro Balentina then gave Kinheim a quick 2-0 lead.

In the second inning, Remco Draijer doubled with one out and scored when René Cremer followed with a single. Following singles by Mervin Gario and Dirk van 't Klooster then made it 4-0.

Kinheim was held scoreless in the third, as HCAW turned a double play, but then added two more runs in the fourth at bat. With two outs, Van 't Klooster singled and then Bryan Engelhardt followed with his third homerun of the season in seven games. Two runs were scored again in the fifth inning. Quintin de Cuba led off with a single, then Rachid Engelhardt doubled. Next, De Cuba was eliminated in a rundown between third and home on a grounder to short by Niels van Weert. Hereafter, lefthander Robin Schel was brought in as new pitcher for HCAW, but he gave up a sac-fly to Remco Draijer, then threw a wild pitch, which lifted to the lead to 8-0.

HCAW turned another double play in the sixth, but then gave up four more runs (with two outs) in the seventh to give Kinheim a (more than) 10-run difference. Quintin de Cuba (3-for-3) led off with a single, but two outs followed. Remco Draijer then hit his second double of the game, leading to a run. A single by René Cremer (3-for-4) scored Draijer, then a double by Mervin Gario and triple by Dirk van 't Klooster (3-for-4) increased the lead to 12-0. Besides De Cuba, Cremer and Van 't Klooster, Bryan Engelhardt also collected three hits.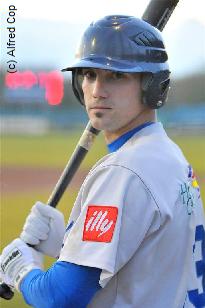 ...Kody Hightower...
...debut...
...single in 2nd at bat...
...two double plays...
(© Photo: Alfred Cop)

HCAW faced David Bergman, who again had a good outing. The righthander, who also started the first two Thursday-evening games, struckout 10 batters and gave up only four basehits to record his second win. In this season's opener, Bergman struckout six and gave up three hits in six innings to Vaessen Pioniers, but had a no-decision. Last week, he struckout eight and gave up five hits in seven innings vs. UVV to earn his first win.

In the second inning, Bergman gave up a lead-off single to Kevin Gerard, then an one out-single to Jim Froberg, but followed with two strikeouts. After being supported with a double play in the third, he gave up a lead-off single in the fourth to Kody Hightower, HCAW's newest addition, who made his debut tonight and as short stop participated in two double plays. Bergman again followed with two strikeouts, then gave up the second single to Froberg, but ended the inning by eliminating Hightower on the basepath towards third base.

In the fifth and sixth inning, Bergman retired the side and added four strikeouts to bring his total to ten. Rookie Dion Steijl threw the seventh (and final) inning for Kinheim. He hit Dylan de Mello with a pitch with one out, gave up the third single of the night to Froberg, but a foul-fly and strikeout ended the mercy-rule game.

Standings, Schedule & Scores
Line Score, Box Score & Play-by-Play
---

DOOR Neptunus vs. UVV & AamigoO ADO Lakers vs. L&D Amsterdam Pirates
At Rotterdam and The Hague, it had rained sometimes steadily during the day, but in the afternoon, the rain and clouds cleared and it appeared both games could be played as scheduled. It was reported that the fields appeared to be in good order, but both games were cancelled around five o'clock. At The Hague, the field even was locked when some members of Amsterdam arrived there and in Rotterdam, some members of UVV also had made the journey for nothing.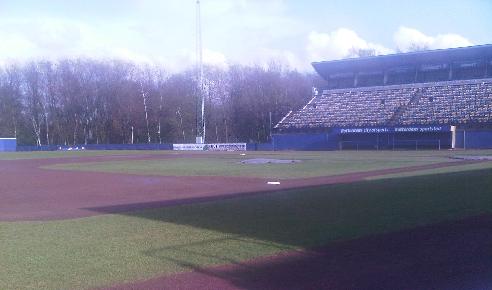 ...The field of the Neptunus Family Stadium appears fine, but...
...the pitching and catching-areas, as well as parts...
...of the infield were unplayable due to rain...

Neptunus and ADO Lakers both confirmed that the game was cancelled the late afternoon. Due to the rain, some areas of the playing field, especially around home plate and the mound, as well as some spots at first and third base, were unplayable.

While cancelled games normally are re-scheduled for the following Tuesday, this could not be confirmed on Thursday-evening, as a final decision was to be made on Friday at the KNBSB's Head Office. But as expected both games were moved to coming Tuesday, April 24.

Because of the cancellations, the starting rotations for the four teams involved has changed. Neptunus simply moved up the starts, meaning tonight's starter Diegomar Markwell now will start on Saturday, with the starter for that day, Kevin Heijstek, pitching on Sunday. For next Tuesday, Sunday's scheduled starter Bobby Carrington, will do the pitching.

Starting for UVV on Saturday will be righthander Orlando Yntema, who was the scheduled starter for tonight. Duko Jansen will keep his start for Sunday. A starter for Tuesday has not yet been named.

ADO Lakers and Amsterdam Pirates also kept part of their rotations intact. It was already announced in advance that American Thomas Macy might move from his Saturday-start to Sunday's at home and that will indeed be the case. Starting on Saturday is Ibrahim Redan, who scheduled to start tonight. Reggie Bomberg remains the number three starter and will throw on Tuesday. However, ADO's rotation might have to be adjusted again, as Redan might face a suspension. He was ejected on April 7 after an exchange of words after hitting a batter vs. Mr. Cocker HCAW and that case was reviewed tonight.

Amsterdam sticks with Rob Cordemans on Saturday, but moved tonight's starter Jos de Jong to Sunday for Game 2, meaning Ben Grover will throw on Tuesday.

(April 19-20)