Kinheim takes 3-0 lead in Holland Series
Nederlands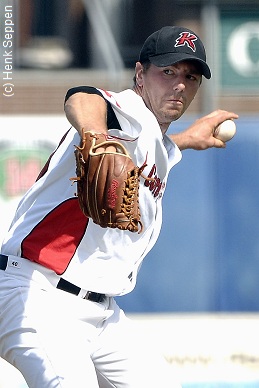 ...Winning pitcher Luke Sommer...
(© Photo: Henk Seppen)

HAARLEM (Neth.) - Thanks to a 4-run rally, Corendon Kinheim took an early lead on Saturday in the second inning en route to a 7-3 win vs. DOOR Neptunus to win the third game of the Holland Series and take a commanding 3-0 lead. Game 4 will be played on Tuesday-evening and Kinheim is now one win away from completing a surprising end of the season. Neptunus needs to win all remaining four games to win the title.

Neptunus took an 1-0 lead in the second inning. With one out, Lennart Koster struckout, but reached on a throwing error, then moved to third base when a single by Mourik Huijser was followed by another error. But then Koster was eliminated at home trying to score on a grounder to second base by Shaldimar Daantji. Huijser, who moved to third base on the play, then scored moments later on a single by Urving Kemp.

Kinheim reacted with a 4-run rally in the home half of the second inning off starting pitcher Tim Roodenburg. With one out, Quintin de Cuba walked, then the bases got loaded when Roy Seltenrijch and Niels van Weert singled. The bases were then cleared when Remco Draijer followed with a triple to give Kinheim a 3-1 lead. Next, René Cremer was hit by a pitch, but Dirk van 't Klooster followed with a single to bring in Draijer and make it 4-1. The bases were then left loaded when two outs followed, but Kinheim (again) had taken the lead.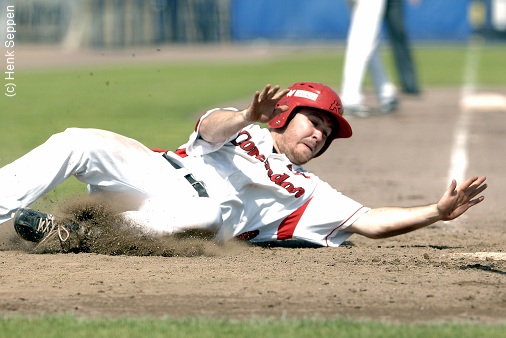 ...Niels van Weert scores for Kinheim...
(© Photo: Henk Seppen)

In the fourth inning, Kinheim added another run. René Cremer led off with a double, advanced on a single by Dirk van 't Klooster and scored on a wild pitch by Dushan Ruzic, who took over the pitching for Tim Roodenburg in the third inning.

After Adrian Anthony lined into a double play in the Neptunus' fifth, the Rotterdam-squad got back into the game in the sixth at bat. Kinheim-starter Luke Sommer then walked lead-off batter Benjamin Dille and gave up a double to Raily Legito, but the first was thrown out at the plate, trying to score. Dwayne Kemp then grounded out, but Rien Vernooij followed with a double and Lennart Koster singled to bring in two runs and narrow the deficit to 5-3.

Kinheim then left two runners in the sixth and another runner in the seventh in which Bryan Engelhardt was ejected after arguing a called strikeout. Kinheim then took more distance by scoring twice in the eighth inning. Niels van Weert led off with a double and scored on a following single by Remco Draijer, who then scored himself on an one-out single by Dirk van 't Klooster to make it 7-3.

Kinheim outhit Neptunus 14-9, led by Dirk van 't Klooster, who was 4-for-5.

(August 19)
...Lennart Koster is tagged out at home by catcher Ramiro Balentina in the 2nd inning...
(© Photos: Henk Seppen)