Kinheim sweeps Neptunus and captures Championship-title
Nederlands

HAARLEM (Neth.) - On Tuesday-evening, Corendon Kinheim led 3-0 after six innings, added a 5-run rally in the eighth and went on to win 9-2 to win its fourth game and complete a 4-game sweep against DOOR Neptunus and capture the Dutch Championship-title in one of the most remarkable season endings in history.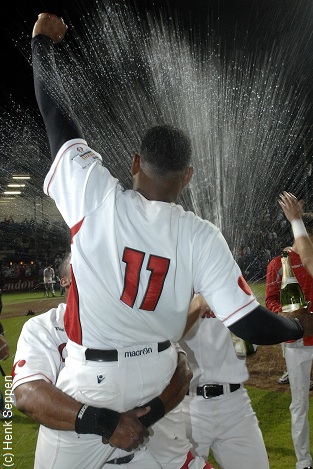 ...Ramiro Balentina is showered...
...in champaign...
(© Photo: Henk Seppen)

For Kinheim, this was its fifth title in club-history and they won it one after the day the club celebrated its 77th anniversary. The team last won the title in 2007. Afterwards, former Head Coach Eelco Jansen joined the players who celebrated the title. After the first round in the Play-Offs, Jansen was replaced as Head Coach by Hans Lemmink and since then didn't visit a game of Kinheim. But tonight, Jansen attended the game and became part of the celebrations.

Kinheim set the tone for the game by opening the score right away in the first at bat when Neptunus-starter Diegomar Markwell gave up an one-out homerun to Dirk van 't Klooster.

The home team then added two runs in the fourth to make it a 3-0 score. Mervin Gario led off with a double and then Bryan Engelhardt followed with a 2-run homerun.

In the meantime, Kinheim-starter David Bergman had another strong outing, just as he had in the Series-opener. The righthander retired the first 12 batters he faced, striking out eight of them. In the fifth, Bergman gave up two singles, but with runners at first and third, two flyouts ended the at bat. He then retired the side again in the sixth. In the seventh, Bergman began with two more outs, then gave up a homerun to Rien Vernooij, but followed with his 12th strikeout.

...Players jump on Arshwin Asjes...
...after the final out...
(© Photo: Henk Seppen)

Kinheim, which played without RenÚ Cremer (minor foot fracture), got the run back in the home of the seventh inning. Markwell hit lead-off batter Quintin de Cuba and was then relieved by Jorian van Acker. De Cuba then advanced on a sac-bunt by Roy Seltenrijch and Bj÷rn Henrichs walked, which brought in Berry van Driel to relief Van Acker. Van Driel was greeted with a single by Remco Draijer that scored De Cuba. After Draijer and Henrichs advanced on a grounder by Niels van Weert, Dirk van 't Klooster was walked intentionally and Kinheim then left the bases loaded when Mervin Gario flied out.

Neptunus made it another 2-run difference when it scored again in the top of the eighth inning. With one out, Shaldimar Daantji singled and then scored on a 2-out double by Adrian Anthony, but that would be the last run this season for the Rotterdam-squad.

Kinheim made it clear that it wanted to end the season tonight, as it rallied for five more runs in the bottom of the eighth to take a comfortable 9-2 lead. In the eighth, Kinheim hit only two basehits, but also got some support from the Neptunian-defense which committed two errors. And so, both Kinheim and Neptunus contributed to this game being the last of the 2012 season. In the eighth, Bryan Engelhardt led off with a walk and stole second base. Next, Ramiro Balentina's fly to rightfield was dropped to put runners on second and third base. Quintin de Cuba was then walked intentionally to load the bases and set up a force play. It marked the end for Berry van Driel, who was relieved by Dushan Ruzic. But the Australian closer again wasn't successful, as Kinheim would go on to score five runs, which, by the way, were all unearned. First, Engelhardt was forced out at home on a grounder by Roy Seltenrijch, but then Bj÷rn Henrichs singled in a run and Remco Draijer followed with a sacrifice fly. A throwing error by Ruzic himself on a grounder by Niels van Weert led to the next two runs and a single by Dirk van 't Klooster accounted for the fifth run.

Kinheim-starter David Bergman went on to strikeout 13 batters in eight innings, gave up only five basehits and won his second game, resulting in him being named the Series Most Valuable Player.

In the ninth inning, Arshwin Asjes took over for Bergman. He gave up an one-out single to Dwayne Kemp, but then struckout Rien Vernooij. Next, a grounder by Lennart Koster ended the game and the season. The championship celebration could start.

(August 21)

...Neptunus' Head Coach Jan Collins...
...discusses with HP Umpire Henri van Heijningen...

...Neptunus' 3B Coach Wim Martinus...
...sees Kinheim celebrate the championship...

...Injured RenÚ Cremer congratulates...
...winning pitcher and MVP David Bergman...

...Former Head Coach Eelco Jansen...
...embraces David Bergman...

...An emotional Eelco Jansen...
...joins the celebrations...

...Head Coach Hans Lemmink is...
...congratulated by Wim Martinus...
...Kinheim celebrates the championship...
(© All Photos: Henk Seppen)