Rick van den Hurk obtained by Cleveland Indians
Nederlands
DUNEDIN, Florida / GOODYEAR, Arizona (USA) - Rick van den Hurk has started a new chapter in his professional career, as he will continue it with the Cleveland Indians after being put on waivers by the Toronto Blue Jays. The Indians claimed the 26-year old righthander on Wednesday, March 21 and was put on its 40-man active Major League-roster.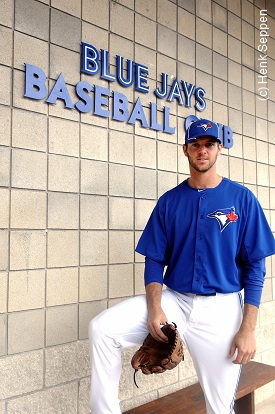 ...Rick van den Hurk appeared...
...in only 4 games for Toronto...
(photo: Henk Seppen)

For Rick van den Hurk, Cleveland is his third club in less than two months. First, on February 3, he was released by the Baltimore Orioles. After several clubs showed interest, including the Indians, he then signed on February 22 a non-guaranteed split Major League-contract as a Free Agent with the Toronto Blue Jays, with whom he started Spring Training for the upcoming season. But on March 21, Van den Hurk was put on waivers again, just like before the start of last season.

Last year, in late March, shortly before the start of the new season, the Orioles put Van den Hurk on waivers. Van den Hurk then cleared waivers, meaning no other teams were interested, and the Orioles kept him in the organisation, but outrighted him to Triple-A.

When a player is put on waivers, any team may claim him. If more than one team claims the player, the team with the weakest record in the player's league gets preference.

When a team claims a player off waivers, the team that put him on waivers (so, his former team) may choose one of the following options:
- arrange a trade with the claiming team for that player within two business days
- rescind the request and keep the player on its own Major League-roster, effectively canceling the waiver
- do nothing and allow the claiming team to assume the player's existing contract, pay the waiving team a waiver fee and place the player on its own active roster.

If no team claims a player off waivers after three business days, the player has cleared waivers and may be assigned to a minor league team, traded or released.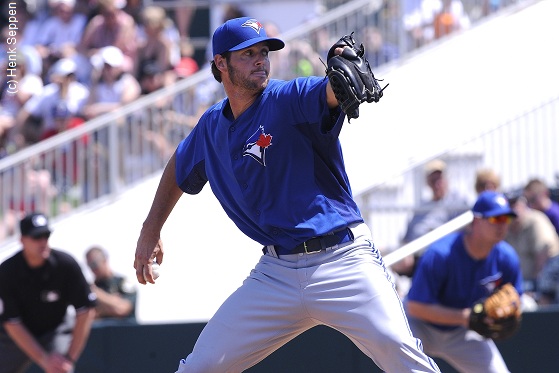 ...On March 13, Rick van den Hurk throws vs. the Minnesota Twins...
(photo: Henk Seppen)

Rick van den Hurk signed his first professional contract on November 14, 2002 with the Florida Marlins. With the Marlins, he made his Major League-debut on April 10, 2007 against the Milwaukee Brewers. On July 31, 2010, he was traded by the Marlins to the Baltimore Orioles.

In 2003, he played in his first professional season, pitching in 11 games for the Rookie League-team of the Marlins. After moving through the system and being promoted to Single-A, Double-A and Triple-A, he made his Major League-debut in 2007. After making his big league-debut in that year, Van den Hurk appeared in 18 games with the Marlins that season, starting 17 of them and was 4-6 with 82 strikeouts in 81 2/3 inning. In 2008, he pitched in only four games for the Marlins (all as a starter), was 1-1 and struckout 20 in 14 innings, while walking 10 batters. The next year, Van den Hurk threw 11 games (all starts) for the Marlins and this time was 3-2 with 49 strikeouts in 58 2/3 inning. In 2010, he threw in two games (both in relief, 0-0) for Florida, before being traded to the Orioles. In the remainder of the season, he was used in seven games by the O's (one as a starter), was 0-1 and struckout 17 in 16 1/3 inning. Last season, after being outrighted to the Triple-A team, he returned to the big league-roster of the Orioles in September and threw in four games (two as a starter). The righthander was 0-0 and struckout seven batters in nine innings. In total, Rick van den Hurk pitched in 46 Major League-games (35 starts), was 8-10 and struckout 176 batters in 181 innings, while walking 95. He gave up 199 basehits, including 33 homeruns.

Last season, he played the majority for the Norfolk Tides, the Triple-A team of the Orioles. He threw in 26 games (all starts), was 9-13 and struckout 108 batters in 154 1/3 inning, while giving up 141 basehits and walking 40. Coming season will be his tenth as a professional player.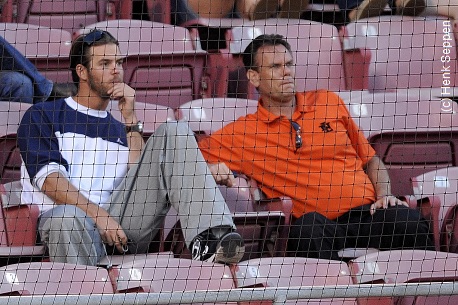 ...Rick van den Hurk met with Robert Eenhoorn...
...during the St. Petersburg International Baseball Series...
(photo: Henk Seppen)

The Indians plan to put Van den Hurk in the bullpen for a relief role. Currently, relievers Chris Perez and Rafael Perez are coming back from injuries, but it is questionable if they will be ready for Opening Day. With Van den Hurk, the Indians added more depth to its bullpen. The Indians used several relievers during Spring Training, but Frank Herrmann and Nick Hagadone and now Van den Hurk are the only relievers who are on the 40-man roster. Van den Hurk is out of Minor League-options. This means that when he not makes the 25-man roster, he has to be released. As a player has to be put on an active 40-man roster when claimed off waivers, the Indians had to make room for Van den Hurk, so lefthander Kelvin De La Cruz was designated for assignment.

During Spring Training, Rick van den Hurk appeared in four games of the Blue Jays in the Grapefruit League in Florida. He threw 6 1/3 innings in which he struckout three, walked six, gave up 10 hit and has a 9.95 ERA.

Van den Hurk made his first appearance on March 6 when he pitched one inning against the Philadelphia Phillies. He walked two, gave up three hits and three earned runs and was credited with the loss. On March 9, he threw two innings vs. the Houston Astros, followed by two innings on March 13 vs. the Minnesota Twins and 1 1/3 inning on March 17 vs. the Philadelphia Phillies.

Van den Hurk left Toronto's Spring Training-camp in Dunedin (Florida) on Wednesday to travel to Goodyear (Arizona), where the Indians are preparing for the new season.

(March 22)