Big win for Amsterdam
Nederlands




BUSSUM / HOOFDDORP / THE HAGUE / ROTTERDAM (Neth.) - L&D Amsterdam Pirates on Sunday won big vs. AamigoO ADO Lakers, 17-7 in seven innings, on 14 hits, including the second homerun in the weekend by Bas Nooij and the first of the season by Bas de Jong.

DOOR Neptunus won 4-1 vs. UVV, but led only 2-1 in the fifth inning.

After winning big on Saturday, Vaessen Pioniers today nipped Sparta-Feyenoord, 3-2. Pioniers trailed 2-0 in the sixth, then scored three unearned runs in their half of the at bat.

The game between Mr. Cocker HCAW and Corendon Kinheim rained out and was re-scheduled for Tuesday-evening. Kinheim moved today's starter Nick Veltkamp to Tuesday, while HCAW named Dennis Burgersdijk as its starter, instead of Kyle Putnam, who was scheduled to start today.
---

AamigoO ADO Lakers vs. L&D Amsterdam Pirates
At The Hague, L&D Amsterdam Pirates held a 14-1 lead in the fourth inning, but then gave up six runs in the next three at bats that ended the 10-run lead. But in the top of the seventh, Amsterdam scored three more runs to end the game after seven innings with a 10-run difference after all.

After collecting 11 basehits on Saturday, Amsterdam today registered 14, including two more homeruns. Bas de Jong and Kenny Berkenbosch hit three basehits each.

Amsterdam hit its first five basehits off starter Thomas Macy, who walked six batters, gave up eleven runs and struckout two in somewhat over one inning! In his previous two starts, Macy had struckout 24 batters and gave up only eight hits in 16 innings. He opened the season with a complete game-victory (12 strikeouts, 4 hits) vs. Mr. Cocker HCAW, then pitched seven innings (12 strikeouts, 4 hits) vs. Sparta-Feyenoord the next week, but got a no-decision. But today, the American faced a completely different team with a much stronger offense.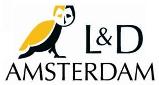 Pirates struck with seven unearned runs in the first at bat. Macy walked lead-off hitter Wesley Connor, then an error followed on a grounder by Roelie Henrique. Walks for Vince Rooi and Sidney de Jong then led to the first run. Macy followed with a struckout for Bas de Jong, but then an error was made on a force play-grounder by Percy Isenia, which could have been the third out when no errors were made. Instead, the base remained loaded and a run was scored. The next two runs were scored when Macy also walked Kenny Berkenbosch and Bas Nooij. Rookie Jesse Aussems followed with a runscoring single and then a grounder by Connor and wild pitch increased the lead to 7-0.
In the second inning, Macy gave up consecutive basehits to Sidney de Jong, Bas de Jong, Percy Isenia (double) and Kenny Berkenbosch. Isenia's double led to a run, then Macy accounted for the next two himself via two wild pitches. After giving up the hit to Berkenbosch, third baseman Ludwin Obispo took over the pitching and later gave up an RBI-single to Connor that made it 11-0. In the third inning, Sidney de Jong led off with a single, then Bas de Jong homered to give Amsterdam a 13-0 lead.
Amsterdam-starter Jos de Jong saw the first two ADO-batters reach base in the first inning. A hit by JaÔr Roseburg ended in an error, then Ludwin Obispo singled. With one out and runners on first and third, De Jong attempted to pick-off Obispo, who was getting into a rundown, but then Roseburg was eliminated instead when he was off third base. In the second, De Jong gave up a lead-off double to Enrique Tromp, but he stranded on third base. ADO then scored its first run in the third inning when Obispo singled and went on to score on a sac-fly by Rudy van Heydoorn.
Amsterdam added its next run in the fourth when Vince Rooi doubled with one out and scored on a 2-out single by Bas de Jong. But then ADO Lakers started to do someting back, scoring two runs in each of the next three innings. In the fourth, Enrique Tromp and Anthony Hooi led off with singles and a sac-fly by JaÔr Roseburg and single by Ludwin Obispo then led to the two runs. In the fifth, Evan Porter homered with one out, then Tromp walked, advanced on a double by Aldrich Isenia and scored on a grounder by Gino Hersilia.
In the sixth inning, Jurrian Koks took over the pitching, but also gave up two runs. Roseburg reached on an error and went on to score on a wild pitch, while Phil Ortez reached on a fielder's choice and scored on a single by Evan Porter.
ADO had narrowed the deficit to 14-7, but in the top of the seventh inning, Amsterdam regained a 10-run difference lead. After ADO had turned a double play, Percy Isenia and Kenny Berkenbosch singled, then Bas Nooij hit his second homerun in two days to make it 17-7. In the home of the seventh, Koks retired the side to end the game.
Line Score, Box Score & Play-by-Play
Standings, Schedule & Scores
---

DOOR Neptunus vs. UVV
At Rotterdam, DOOR Neptunus won 4-1 vs. UVV, but led only 2-1 in the fifth inning.

Both teams left runners in the first at bat. For UVV, Austin Weymouth and Danny Rombley singled with one out, but then Neptunus-starter Kevin Heijstek struckout Ryan Murphy and got a force play-grounder from Giovannie Samboe. UVV's starter Duko Jansen walked RafaŽl Jozefa with one out and saw Raily Legito reach on an error, but then two flyouts followed.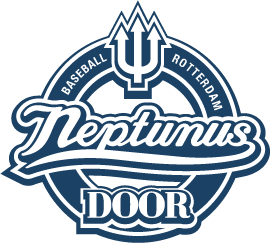 Neptunus then opened the score in the second inning. Rien Vernooij led off with a walk, moved to third on a single by Benjamin Dille and scored when Adrian Anthony grounded into a double play.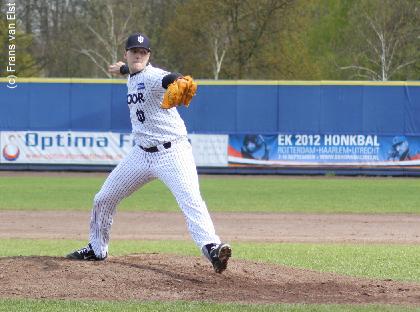 ...Winning pitcher Kevin Heijstek...
(© Photo: Frans van Elst)

The home team doubled its lead in the third at bat. Jansen walked lead-off hitter RafaŽl Jozefa, then hit Raily Legito with a pitch. The two advanced on a wild pitch and Jozefa scored the second run on an one-out grounder by Lennart Koster.

UVV got one run back in the fourth inning, but also ran itself out of the inning. First, Heijstek hit Giovannie Samboe with a pitch, then gave up a single to Stijn van der Meer. The two moved into scoring position on a sac-bunt by Jirka Bliek. But then Samboe was eliminated when Shurty Tremus grounded the ball back to Heijstek. Samboe got into a rundown and was declared out when he ran outside the running lane. Van der Meer and Tremus moved up a base on the play, then the first scored when Heijstek threw a wild pitch, but Tremus stranded on third base.

In the home of the fourth, Neptunus took more distance by scoring twice. With one out, RafaŽl Jozefa walked and Raily Legito reached on an error. Kyle Ward was brought in as new pitcher, but he was greeted with a single by Jeffrey Arends, that scored Jozefa. A 2-out single by Rien Vernooij then made it 4-1.

But hereafter, Neptunus added only one more basehit in the next three innings. Ward retired the side in the sixth and gave up an one-out single to Legito in the seventh. In the eighth, new pitcher Derek Tarapacki struckout the side.

After giving up the run in the fourth inning, Kevin Heijstek retired the side in the fifth and sixth inning. Tim Roodenburg then took over and pitched the next two innings. He walked two batters and hit another, but gave up no runs. Berry van Driel closed the game, retired the side in the ninth and earned a save.

Line Score, Box Score & Play-by-Play
Standings, Schedule & Scores

...Reliever Tim Roodenburg delivers...

...UVV-starter Duko Jansen...
(© Photos: Frans van Elst)
---

Vaessen Pioniers vs. Sparta-Feyenoord
At Hoofddorp, Vaessen Pioniers trailed 2-0 in the sixth inning vs. Sparta-Feyenoord, but then scored three unearned runs in the home half to win 3-2.

In the first five innings, Sparta-Feyenoord hit three basehits off starter Kevin Miner, who struckout eight batters in this span. In the first inning, he gave up a 2-out single to Anthony Vrolijk, but he was left at first base. Miner then retired the side in the second and third inning. In the fourth, he gave up one-out singles to Vrolijk and Michiel Ruiter. The two moved on a passed ball, but then Miner struckout Brian Raap and Churandy La Cruz flied out.

In the sixth, Sparta-Feyenoord scored twice with two outs. Vrolijk then walked and Ruiter singled. A single by Brian Raap then enabled Vrolijk to score, while Ruiter moved to third base, but also was able to score when a throwing error from the outfield followed. Next, Miner hit Churandy La Cruz with a pitch, but a groundout then ended the inning.
Pioniers reached base several times, but Sparta-Feyenoord turned two double plays and so the home team was unable to score. Trailing 2-0, they did score in the sixth, thanks to two errors. Michael Pluijmers led off with a single, then an error was made on a force play-grounder by Gyenuar Lopez. The bases were loaded when Elton Koeiman walked Mark Duursma, but followed with a strikeout for Norbert Lokhorst. Next, a pop-fly on foul territory by Mark-Jan Moorman was missed by 3B Siegert Flaneur, meaning Moorman's at bat was extended. He then delivered a 2-run single that tied the score. Kevin Dirksen followed with another single that enabled Duursma to score and give Pioniers a 3-2 lead. A double play ended the inning and also the scoring, as both teams didn't score in the remainder of the game.
Elton Koeiman was supported with a fourth double play in the seventh, while Pioniers got some assistance from a baserunner. Swen Huijer became the new pitcher for Pioniers in the eighth and got two quick outs. But then Michiel Ruiter reached on an error and was awarded second base on a balk. Next, Brian Raap singled behind second base where short stop Michael Duursma fielded the ball. Ruiter overran third base, got into a rundown, was eliminated and so the inning ended. Bayron Cornelissen retired the side in the ninth, including two strikeouts to earn a save.
After having used several pitchers in other positions then pitching, today Quinn Tramm played in leftfield from the seventh inning on.
Line Score, Box Score & Play-by-Play
Standings, Schedule & Scores

...Anthony Vrolijk dives back safely to first base...
...1B Mark-Jan Moorman receives the ball...
...Umpire Rutger Druijve judges the situation...

...HP Umpire Johan Brandsma looses his balance when...
...3B Michael Pluijmers tries to catch a foulball...
...Pitcher Swen Huijer (right) jumps out of the way...
...Catcher Mark Duursma looks on...
(© Photos: www.reni-foto.nl)
(April 22)