Amsterdam Pirates extends winning streak
Nederlands


HOOFDDORP / BUSSUM (Neth.) - League-leader L&D Amsterdam Pirates on Tuesday-evening won 6-2 vs. Vaessen Pioniers to extend its winning streak to eleven games.

Troubled Sparta-Feyenoord, with a new coach and four new players, took a 2-0 lead in the first inning vs. Mr. Cocker HCAW, but that was it, as the team lost another mercy-rule game with 12-2.
---

Vaessen Pioniers vs. L&D Amsterdam Pirates
At Hoofddorp, L&D Amsterdam Pirates played another solid game to beat Vaessen Pioniers 6-2 and extend its winning streak to eleven games. Amsterdam played errorless ball and now has committed only one error in its last seven games (which is a total of 57 innings). In its last eight games, Amsterdam gave up only nine runs, while scoring 69 themselves. In the last weeks, Amsterdam climb to the top of the offensive list and now leads the league with a .283 batting average. The team also leads with an 1.61 ERA and .981 fielding average, as the team committed only 16 errors in 196 innings.

On Tuesday-evening, Head Coach Charles Urbanus handed the ball again to rookie Ian Delemarre, who threw five innings and earned his third win in three starts. A rookie also started for Pioniers, as Dennis Buring, who had three relief-appearances, made his first start of the season. Pioniers' Head Coach Robert Klaver only saw the first inning of Buring's start, as he was ejected in the second inning after arguing a check-swing with Home Plate Umpire Fred Groenewegen.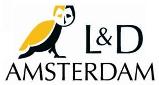 Amsterdam, which played without veterans Kenny Berkenbosch and Vince Rooi tonight, opened the score in the second inning by scoring two runs. With one out, Bas Nooij walked and Jesse Aussems singled. A following single by Rashid Gerard then produced the first run. The bases then got loaded when Björn Hato reached on an error and a sac-fly by Wesley Connor made it 2-0.
Amsterdam added a run in the fourth off new pitcher Shane Gnade. Jesse Aussems and Rashid Gerard walked and advanced on a wild pitch, then the first scored on a grounder by Wesley Connor.
Pioniers brought the tension back in the game by scoring in the fifth and sixth inning to narrow the deficit to 3-2. In the fifth inning, Michael Duursma led off with a single, advanced on a wild pitch and then scored on a single by Mark-Jan Moorman.
In the sixth, off new pitcher and rookie Jerremyh Angela, Pioniers scored its next run. Skip Visser was hit by a pitch, then Michael Duursma and Gyenuar Lopez singled to bring in a run. Hereafter, Rik Geestman was brought in to take over for Angela and walked Dè Flanegin intentionally to set up a force play. But Pioniers left the bases loaded, as Mark-Jan Moorman flied out.
Pirates then scored an important insurance run in the seventh inning off Jan Řeháček. With one out, Sidney de Jong walked and stole second, then scored when Bas de Jong singled with two outs to make it 4-2.
In the meantime, Pioniers failed to score, leaving several runners. As mentioned, the team left the bases loaded in the sixth, but also stranded two runners in the second, third, fourth and fifth at bat. In total, Pioniers left eleven runners in the game and now leads the league with 191.
Amsterdam then took a decisive 6-2 lead by adding two runs in the ninth inning off former pro Swen Huijer. With one out, Sidney de Jong and Percy Isenia singled, then Bas de Jong was walked intentionally. But a sac-fly by Bas Nooij and single by Jesse Aussems then accounted for the two runs.
Pioniers outhit Pirates 10-8. After six innings, Pioniers had nine basehits, while Pirates had only three, but led 3-2.
Line Score, Box Score & Play-by-Play
Standings, Schedule & Scores
---

Mr. Cocker HCAW vs. Sparta-Feyenoord
At Bussum, troubled Sparta-Feyenoord, with a new coach and four new players, took a 2-0 lead in the first inning vs. Mr. Cocker HCAW, but that was it, as the team lost another mercy-rule game with 12-2.

Sparta-Feyenoord, which said goodbye to Head Coach Dino Anasagasti after Sunday's game, was led tonight by Gershwin Hernandez. He was Anasagasti's assistant and also stepped down, but helped out tonight as interim Head Coach. The team arrived with eleven players in Bussum and added a twelfth shortly before the game. That twelfth player was Marwin Kleinmoedig, who is the Head Coach of the Rookie Team of Sparta-Feyenoord and only was to be in Bussum to be an on-looker. Kleinmoedig last played for Sparta-Feyenoord in the big league in 2006 and played his last full season three years ago in a lower team. Since then, he only played in a handfull of games for the third squad of Sparta-Feyenoord and its Rookie Team. Also added for tonight's game were Reangelo Castillo, Glimphor Rifaela and Laurens Salcido Valdez, who all play in the Rookie Team. Last season, Rifaela played in 22 games for the big league-team, but Castillo made his debut.

Initially, Sparta-Feyenoord was off to a good start, scoring twice off lefthander Robin Schel. Kevin van Nederpelt and Jarred Duin led off with singles, then a double-steal situation led to the first run. With one out, Duin moved to third on a wild pitch, then scored the second run on a grounder by Gregory Gustina, the lefthanded pitcher who tonight was the first baseman.
But as happened before this season, Sparta-Feyenoord's lead was shortlived, as HCAW answered with a 6-run rally in its first at bat to decide the game. Starter Quinn Tramm gave up singles to Jasper Keijzer and Ken Rinkema, who was then forced out on a grounder by Kody Hightower. A single by Linoy Croes then gave HCAW its first run and a double-steal led to a 2-2 score. Following basehits by Kevin Gerard, Dylan de Mello, Jim Froberg (double) and Seb Visser then made it a 5-2 score and the sixth run was added when Visser was caught stealing, but Froberg was able to score on the throw.
HCAW left the bases loaded in the third inning, but then added two runs in the fourth, which were both scored on a fielding error. In this inning, Laurens Salcido Valdez took over the pitching for Tramm. A homerun by Kody Hightower in the fifth inning lifted the lead to 9-2. The 10-run difference was reached in the sixth when three runs were scored. A single by Hightower produced the first run, then Linoy Croes accounted for the second one when he was hit by a pitch with the bases loaded. A sac-fly in foul territpry made it 12-2.
After Sparta-Feyenoord registered two basehits in the first inning, it added only one more in the remainder of the game, which was a 2-out single by Marwin Kleinmoedig in the second inning. For Kleinmoedig, this was his first big league basehit since he went 2-for-4 on September 4, 2006 in the final game of the season vs. DOOR Neptunus.
Line Score, Box Score & Play-by-Play
Standings, Schedule & Scores

...Kody Hightower homered for HCAW...

...Linoy Croes is hit by a pitch...
...Third baseman Seb Visser makes a nice barehanded play for HCAW...
(© All Photos: Alfred Cop Fotografie)
(May 22)