Loek van Mil signs with Reds
Nederlands

CINCINNATI, Ohio (USA) - Dutch professional pitcher Loek van Mil has signed a contract with the Cincinnati Reds, the club announced on Friday. The signing already occured on December 14, but the official announcement came a week later.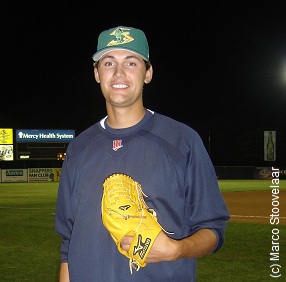 ...Loek van Mil in Single-A...
...with Beloit Snappers in 2008...
(© Photo: Marco Stoovelaar)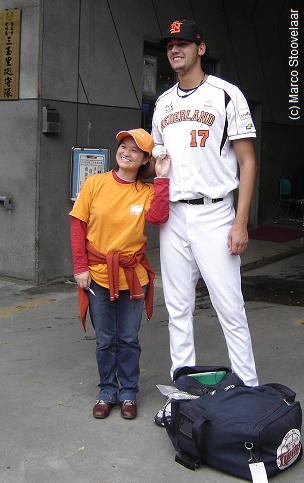 ...Loek van Mil during the World...
...Championship 2007 in Taiwan...
(© Photo: Marco Stoovelaar)

With his 7' 2" height, Van Mil is longest player in professional baseball since he made his debut in 2006 in the organization of the Minnesotw Twins. In that year, he appeared in 10 games for the Rookie League-Team of the Twins and was 1-2 with 24 strikeouts in 43 2/3 inning.

After another season in Rookie League, the 28-year old Van Mil promoted to Single-A in 2008 and pitched in 28 games as a reliever for the Beloit Snappers. There, he was 2-2 with three saves and struckout 42 batters and was selected for the annual All Star Game in the Midwest League.

In 2009, another promotion followed, as Van Mil moved from Single-A to Double-A during the season, which he initially began on the disabled list. A year later, Van Mil started initially in Single-A, promoted again to Double-A, but also was traded to the Los Angeles Angels of Anaheim, where he completed the season in Double-A. Last year, Van Mil pitched the entire season in Double-A for Arkansas Travelers. There, he made his first professional start as a pitcher since having started eight games in the 2006 season. With Arkansas, Van Mil was 3-5 with 46 strikeouts in 66 1/3 inning.

This season, Van Mil promoted to Triple-A. He started with the Double-A team of the Angels, then was traded to the Cleveland Indians, where he initially also was assigned to its Double-A team. Later in the season, he promoted to the Columbus Clippers, the Triple-A team of the Indians (a few years ago, Columbus served as the Triple-A team of the New York Yankees). With Columbus, Van Mil pitched in six games and was 0-0.

In seven professional seasons, the righthander pitched in 182 games and is 12-16 with nine saves. In 320 innings, he struckout 239 batters.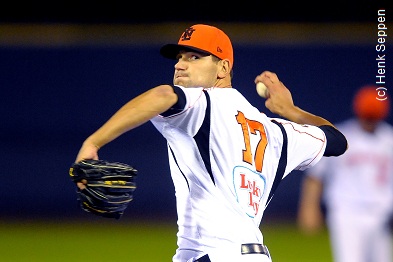 ...Loek van Mil during the 2012...
...European Championship...
(© Photo: Henk Seppen)

After completion of the 2012 season, Van Mil became a Minor League Free Agent and was signed by the Cincinnati Reds. At the moment, Van Mil is not on the 40-man roster, but almost surely will be a non-roster invitee for the upcoming Spring Training in February.

In 2007, Loek van Mil made his debut in the Dutch National Baseball Team in an exhibtion game, then participated with the squad in the World Championship in Taiwan. In 2008, he was on the roster for the Dutch Team for the Olympic Games in Beijing (China), pitched in an exhibition game, but then, two days before the event started, was removed from the roster due to an injury. The injury also left him not eligible to pitch for the Team during the World Baseball Classic. In September of this year, Van Mil returned into an orange jersey, pitching three games for the Dutch during the European Championship, where the squad won the silver medal. Van Mil is on the memberlist of L&D Amsterdam Pirates.

(December 22)