Former baseball-umpire/executive Fred van Leeuwen passed away
Nederlands
IN MEMORIAM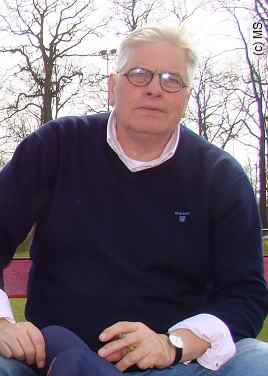 ...Fred van Leeuwen...
(1944 - 2012)
(© Photo: Marco Stoovelaar)

WORMERMEER (Neth.) - Former baseball-umpire and passionate baseball and softball-lover Fred van Leeuwen has passed away on Thursday, March 22 at the age of 67. The memorial service was held on Friday, March 30 in Zaandam-Zuid and was followed by the funeral service in the afternoon in Krommenie. For his many merrits in our sports, Fred received a Royal Decoration in the Order of Orange Nassau.

Fred van Leeuwen, with his characteristic big smile and small sigar, was a more than enthusiastic supporter of both baseball and softball. Not only what the clubs were concerned where he was associated with, but also what his son Frank and daughter Nancy was concerned. Wherever they played, Fred was at their side watching and supporting their games and often became active himself with the club.

Between 1981 and 1991, Fred was a baseball umpire. First starting in the Noord-Holland region, but since 1983, he led games in national competitions. In 1989 and 1990, he served as a member of the board (umpire affairs) in the Noord-Holland region, as well as being the chairman of their umpire committee.

It all started at Cromtigers in Krommenie, where Fred became the chairman of the board and was the team manager of the baseball team. Fred became a member of the board in 1980 and from 1989 through July 2005, he served 16 years as the club's chairman. Fred also played softball at Cromtigers, where he was named a Member of Merit for his many activities within the club. Later, when son Frank moved on to play in the Dutch big league, Fred followed him and served as team manager of several teams Frank played for, including Amsterdam Pirates and Almere Magpies. But also when Frank played for big leaguers RCH and Sparta-Feyenoord and First Divisionist Sparks Haarlem, Fred assisted the team. Fred van Leeuwen also was the team manager of the softball-team of Sparks Haarlem in the nineties, when his daughter Nancy played there in the big league, winning the European Cup.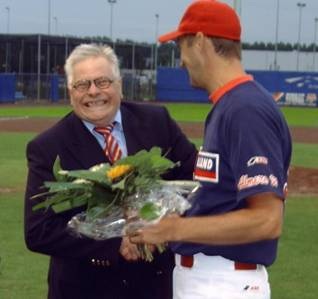 ...As Almere's chairman, Fred van Leeuwen,...
...with his characteristic big smile...
...honors player René Rijst...
...when he retires...

Cromtigers was his first love, but Almere surely became his second. In December 2006, Fred van Leeuwen became the chairman of the board at Almere '90 (which is Almere Magpies) after already serving there as team manager of the baseball-team. During the member council in July 2010, Van Leeuwen announced he was not up for a new 4-year term as chairman and stepped down after leading the club for four (sometimes difficult) years. Fred would remain active for Almere as he was to become involved with the Topbaseball section of the club. However, shortly thereafter, Fred underwent a routine hip-replacement operation, but after completion of it, he was stricken by a cerebral infarct, was in critical condition for some period, lost his speech and ended up in a wheelchair. The news of Fred's unexpected severe condition struck the baseball world hard, as he was known for his jovial, humoristic and always friendly character. Fred's condition improved somewhat thereafter, but last year, unfortunately, he encountered an additional severe illness.

During Fred's tenure as chairman at Almere, the club had financial problems and relegated from the big league (2007). Fred's motto in those years was 'Never give up' and he always remained positive. Almere's financial situation improved, the baseball team earned the right to promote back to the big league in 2009, but initially wasn't granted a license due to its troubled financial situation. Thanks to Fred van Leeuwen, who didn't gave up, the license was handed out to Almere, which therefore played in the Dutch big league in 2010 and kept top baseball in the city of Almere. Unfortunately, the club didn't succeed in keeping that status, as the Foundation Magpies didn't get the unconditional full support of the Municipality of Almere, as well of its clubmembers. Especially the last fact, disappointed Fred a lot. But his energy and passion formed the base for a solid team, which currently plays in the second highest league.

Fred always kept his 'never give up' and positive attitude, as well as his characteristic big smile, even during his recovery-period the last year-and-a-half. Last year, when he attended baseball-games of Amsterdam Pirates and Almere, his smile and humor was back and his love for the sports kept intact. Fred's driven and warm personality, which he shared with a lot of us, will surely be missed.

His many friends wish his wife Nel, his son Frank, daughter Nancy, grandchildren and family lots of strength. Fred will never be forgotten.

(March 23)