Marwin Kleinmoedig coaches Sparta-Feyenoord on Thursday; 2 players quit
Nederlands

ROTTERDAM (Neth.) - Marwin Kleinmoedig will lead the team of Sparta-Feyenoord on Thursday-evening in the opener of the 3-game series vs. DOOR Neptunus. Kleinmoedig takes over for Gershwin Hernandez, who filled in as interim Head Coach last Tuesday, after Dino Anasagasti stepped down after Sunday's game.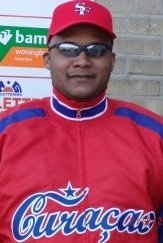 ...Marwin Kleinmoedig...

Kleinmoedig might continue as new Head Coach after Thursday's game, but that could not yet be confirmed on Wednesday. Kleinmoedig will be the lone coach of the team on Thursday.

It was confirmed that catcher Brian Raap and infielder Siegert Flaneur have handed in their uniform and will not play for the team anymore in the remainder of the season. On Wednesday-evening and on Thursday, more talks will follow, including a team-meeting. Last Tuesday-evening, three players from the Rookie Team were added to the roster for the game at Mr. Cocker HCAW, while Kleinmoedig himself also played in the game and hit one of the three basehits of Sparta-Feyenoord. Initially, Kleinmoedig only would be in Bussum to look on in preparation of Thursday's game.
This season, Kleinmoedig coaches the Rookie Team of Sparta-Feyenoord, which currently is in last place in the Rookie League with an 1-11 record.
Kleinmoedig has big league-experience as a player, as he played briefly in the highest Dutch league between 2001 and 2006 for Sparta-Feyenoord in 45 games.
At the moment, Sparta-Feyenoord is in last place in the big league with an 1-18 record. The team only won on May 6 when it beat Corendon Kinheim 6-1.
(May 23)