Amsterdam moves into tie for first place
Nederlands




HAARLEM / AMSTERDAM / BUSSUM / VLEUTEN (Neth.) - Both DOOR Neptunus and L&D Amsterdam Pirates struck early on Thursday-evening and went on to win their games. Neptunus defeated league-leader Corendon Kinheim, 9-4, Amsterdam won big vs. Vaessen Pioniers, 10-1. With these results, Amsterdam moved into a tie with Kinheim for the top spot in the Dutch big league.

In the afternoon, it sometimes rained hard today and more rain was expected for some areas towards the evening, but the fields in the stadiums in Haarlem and Amsterdam remained playable and so these games could be played as scheduled. However, the match-ups between Mr. Cocker HCAW vs. Sparta-Feyenoord at Bussum and UVV vs. AamigoO ADO Lakers at Vleuten both rained out and were re-scheduled for next Tuesday, May 1. As a result, UVV confirmed that it had adjusted its pitching rotation. The other three teams also might have changes in their rotations for the upcoming days, but they were not announced yet.
---

Corendon Kinheim vs. DOOR Neptunus
At Haarlem, DOOR Neptunus led 6-3 vs. Corendon Kinheim after three innings when the game was suspended temporarily. In the first inning, Home Plate Umpire Johan Brandsma was hit on his throat, just under his mask, by a foul ball of the bat of Rien Vernooij on the 18th delivery in the game by David Bergman. Initially, Brandsma continued the game, but was bothered by his injury in the next at bats. But after completion of the third inning, the veteran umpire was adviced not to continue and left the game, with 3B Umpire Mario Blaauw taking over behind the plate. Out of precaution, Brandsma went to the hospital, but there, luckily no serious injuries were diagnozed.
Johan, all the best!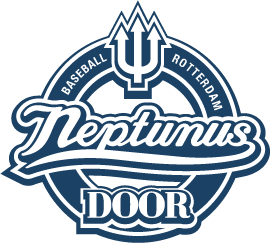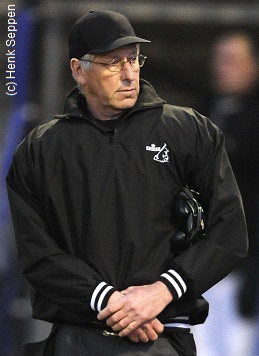 ...HP Umpire Johan Brandsma...
(© Photo: Henk Seppen)

DOOR Neptunus led 4-0 already after having played some seven minutes in the first inning. Kinheim-starter David Bergman gave up a lead-off single to Dwayne Kemp, who then stole second base, and walked next batter RafaŽl Jozefa (who last season played for Kinheim). Next, Raily Legito grounded the ball back to Bergman, but he made a throwing error towards second base for the force out, enabling Kemp to score the first run. Hereafter, Jeffrey Arends followed with a 3-run homerun to give Neptunus a quick 4-0 lead. Three outs followed, but Neptunus had dealt the first blow.

After Kinheim turned a double play in the top of the second inning, they got three runs back in the home of the second at bat. Bryan Engelhardt led off with a double and scored on a following single by Ramiro Balentina. A 2-run homerun by Quintin de Cuba then made it 4-3, before Neptunus-starter Diegomar Markwell struckout the next two batters and picked off Remco Draijer after he had singled.

In the third inning, Neptunus added two runs when RafaŽl Jozefa reached on an error and veteran Raily Legito homered. Hereafter, David Bergman was in control and retired 11 of the next 13 batters and gave up only more basehit. In the seventh inning, he started with two more outs, making it 13 out of 15 batters, but then he was relieved when Dwayne Kemp reached on an error. Rookie Dion Steijl took over and ended the inning by striking out RafaŽl Jozefa.

On the other hand, Diegomar Markwell, who struckout nine batters, dominated after he gave the homerun in the second inning until he faced Quintin de Cuba again in the seventh inning. In between, the lefthander retired 13 of the 17 batters he faced and didn't gave up a basehit from the third through sixth, but walked two batters in the fourth. In the seventh inning, De Cuba faced Markwell for the third time in this game and again homered to narrow the deficit to 6-4.

Neptunus took more distance in the eighth inning by scoring two runs off new pitcher Pim Walsma. With one out, Jeffrey Arends walked and Benjamin Dille singled. Next, Rien Vernooij also singled to bring in Arends, but Dille, who also was waved home, was thrown out at the plate. Moments later, Vernooij advanced to third base on a single by Lennart Koster, which brought in new pitcher Arshwin Asjes. A passed ball then enabled Vernooij to increase the lead to 8-4. In the ninth at bat, Neptunus made it 9-4 when Dwayne Kemp homered with one out.

Line Score, Box Score & Play-by-Play
Standings, Schedule & Scores
---

L&D Amsterdam Pirates vs. Vaessen Pioniers
At Amsterdam, L&D Amsterdam Pirates struck with seven runs vs. Vaessen Pioniers in the first at bat to take a decisive lead. After four innings, the home team led 10-1, but failed to add the lone needed run to end the game prematurely with a 10-run difference, meaning the game went nine innings.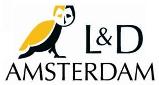 After Pioniers was retired in order in its first inning, Pirates rallied for seven runs with two outs in the home part of the at bat. Wesley Connor led off with a walk and stole second base. Pioniers-starter Mika de Lincel then struckout BjŲrn Hato, but followed with a walk for Vince Rooi. Next, Connor was forced out on a grounder by Sidney de Jong. But hereafter, the rally started and seven consecutive players reached base. Percy Isenia, Kenny Berkenbosch and Bas Nooij all singled to bring in three runs and then the bases got loaded when Jesse Aussems walked. Roelie Henrique then hit the first pitch he saw from De Lincel over the leftfield fence for a grand slam homerun to give Pirates a 7-0 lead. For Henrique, this was his first big league-homerun in the regular season, since making his debut in the highest division in 2010. For the record, Henrique hit his first homerun in his 90th big league-game, in his 346th at bat and in his 401st plate appearance. Last year, Henrique did hit a 2-run homerun in the opener of the Holland Series against......Pioniers.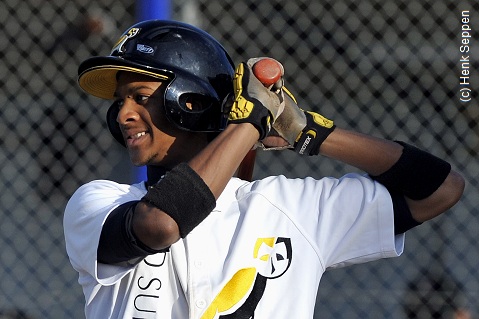 ...Roelie Henrique...
...grand slam homerun...
(© Photo: Henk Seppen)

And so, Amsterdam had set the tone, but was unable to get a 10-run difference in the remainder of the game.

Pioniers scored its lone run in the second inning when Mark-Jan Moorman homered with one out. Amsterdam-starter Rob Cordemans then followed with two strikeouts. In the third, he gave up a 2-out single to Michael Duursma, who stranded. In the fourth, Gyenuar Lopez led off for Pioniers with a single, but then Pirates turned a double play. Moorman and Kevin Dirksen followed with two singles, but again Cordemans ended the at bat with a strikeout. From here on, he retired seven batters in a row, before being relieved after six innings. The veteran righthander, who is now 4-0, struckout six batters, meaning he now has 1566 in his impressive career and needs only five to tie Craig McGinnis for third place on the all-time list.

Amsterdam added two runs in the third inning. Kenny Berkenbosch led off with a double and Bas Nooij walked. Dennis Buring was then brought in as new pitcher, but gave up a single to Jesse Aussems that loaded the bases. Roelie Henrique's grounder then ended in a force out, but also enabled Berkenbosch to score. In an attempt to make a double play, a throwing error followed and so Nooij was also able to score and make it 9-1.

In the fourth inning, Sidney de Jong led off with a single and scored on a 2-out double by Kenny Berkenbosch (3-for-4), but this would be Amsterdam's last run in the game.

In the last four innings, seven more Amsterdam-batters reached base, but all stranded. Six of these players walked, while only Wesley Connor singled in the seventh inning. In total, the four Pioniers-pitchers issued 12 walks to Amsterdam, which added nine basehits.

Facing new pitcher Rik Geestman in the seventh, Pioniers got two baserunners. Mark-Jan Moorman led off with a single, then Geestman struckout the next two batters, but the lefthander then gave up a double to Zerzinho Croes. A grounder ended the at bat, leaving runners on second and third base. In the eighth, Pioniers reached base three times, but a force out and double play prevented runs. In the ninth, closer Jurrian Koks retired the side, including the last two batters with a strikeout, to end the game.

Line Score, Box Score & Play-by-Play
Standings, Schedule & Scores

(April 26)