Neptunus hands Cordemans first loss
Nederlands



AMSTERDAM / HAARLEM / VLEUTEN (Neth.) - DOOR Neptunus won 1-0 vs. league-leader L&D Amsterdam Pirates which resulted in the first loss of the season for pitcher Rob Cordemans. And that also meant that the veteran righthander still needs one win to become the winningest pitcher in Dutch baseball hisrtoy.

The other two make-up games tonight also ended in shutouts. Corendon Kinheim won 10-0 in seven innings vs. Sparta-Feyenoord, while UVV won 5-0 vs. Vaessen Pioniers.

With tonight's make-up games, the season is almost back on track again, except for one game. And that's the game between DOOR Neptunus and Sparta-Feyenoord. The story of this game is well-told. It was played on April 5 (Opening Day), but was declared void, as Adonis Kemp coached at first base while being suspended. Neptunus got two points subtracted, appealed the decision, but still awaits answer from the Dutch Federation. It was initially re-scheduled for June 12, but then was removed from the schedule to make room for two make-up games.
---
L&D Amsterdam Pirates vs. DOOR Neptunus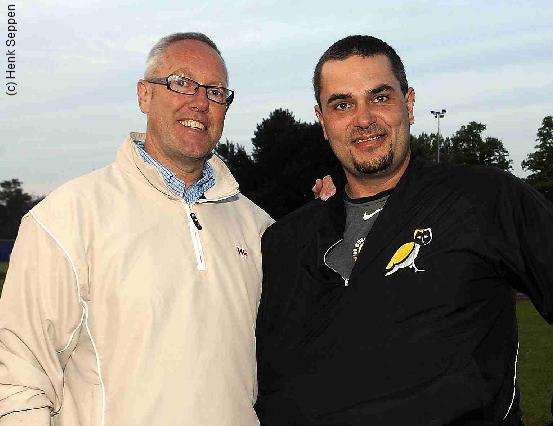 ...The two all-time winningest pitchers meet after the game...
...Bart Volkerijk and Rob Cordemans both won 150 games...
(© Photo: Henk Seppen)

At Amsterdam, almost 400 spectators witnessed a very attractive game which could have end in history. Starting against the team where he had made his big league-debut in 1994, Amsterdam-starter Rob Cordemans was after his 151st career win, which would give him the all-time win record. But in the end, he was credited with his first loss of the season, thanks to a crucial sixth inning. With the win, Neptunus ended Amsterdam's 10-game winning streak and became the second team to qualify for the Play-Offs, joining Amsterdam Pirates.

Bart Volkerijk, the former pitcher of ADO, who held the all-time record of 150 career victories since 1996, was in attendance tonight to witness the performance of Cordemans, with whom he shares the record since two weeks. Cordemans next try to win his 151st big league-game almost surely will come next Sunday in the final game of the 3-game series vs. Sparta-Feyenoord, as both he and Head Coach Charles Urbanus confirmed that the righthander then will make his next start. Also attending tonight's game was former international and Sparta-outfielder Hamilton Richardson.

Amsterdam outhit Neptunus 9-4 and Cordemans simply earned the win tonight, as he struckout 12 batters and gave up only four hits in the eight innings he pitched. In the first inning, the first three batters of Neptunus were called out on strikes. Cordemans struckout seven of the first nine batters he faced and retired the first 12 batters in a row, before giving a lead-off single to Dwayne Kemp in the fifth inning. But Cordemans simply didn't get enough offensive support from his teammates, as Neptunus-starter Tim Roodenburg also did a fine job for the Rotterdam-squad and gave up only three hits in the first five innings.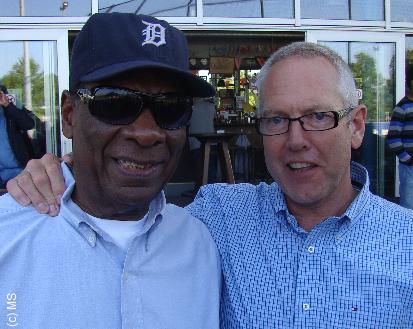 ...Hamilton Richardson and Bart Volkerijk...
(© Photo: Marco Stoovelaar)

And so, the first five innings were a pitching duel, which saw some nice plays. But it all was decided in the sixth at bat. For Neptunus Lennart Koster led off and reached when short stop BjŲrn Hato made an error on his grounder. Cordemans then struckout the next two batters, but Adrian Anthony followed with a single. A basehit by RafaŽl Jozefa then enabled Koster to score what would be the lone run in the game.

In the bottom of the sixth inning, Amsterdam appeared to come back immediately. BjŲrn Hato led off with a single and advanced to second base when Roodenburg threw the ball passed first base in a pick-off attempt. Next, Wesley Connor drove the ball into deep leftfield. However, Hato stayed close to second base, but might have scored when he would have taken a bigger lead, as Connor ended up with a double. Hato moved to third base, while Connor overran second base and was tagged out on a throw by leftfielder RafaŽl Jozefa. Moments later, Hato was picked off third base by catcher Lennart Koster in a close call, which was argued by Head Coach Charles Urbanus. But the play ended what might have become a productive rally for Amsterdam. Roelie Henrique followed with a single, then Sidney de Jong walked, but the inning ended when Roodenburg struckout Percy Isenia.

In the ninth inning, off closer Dushan Ruzic, who took over for Neptunus in the eighth inning, Amsterdam got another chance of coming alongside. With one out, Percy Isenia and Bas de Jong singled, but then Kenny Berkenbosch grounded into a nice game-ending double play.

Line Score, Box Score & Play-by-Play
Standings, Schedule & Scores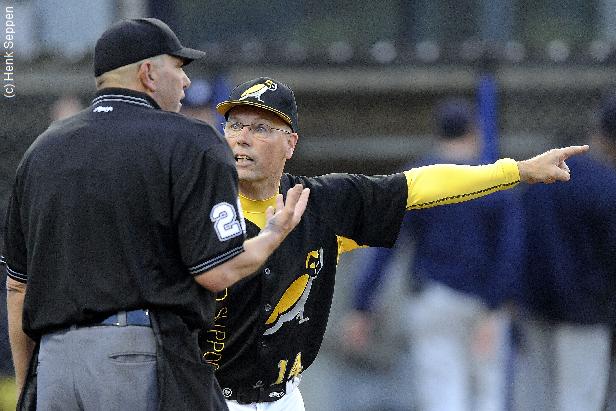 ...Amsterdam's Head Coach Charles Urbanus argues with Home Plate Umpire...
...Henri van Heijningen in the eighth inning...
(© Photo: Henk Seppen)
---

Corendon Kinheim vs. Sparta-Feyenoord
At Haarlem, Kinheim collected 12 basehits, including three by Roy Seltenrijch, in its 7-inning 10-0 shutout vs. Sparta-Feyenoord, which hit only two basehits. Both hits were registered off Luke Sommer, who won his ninth game of the season and coming weekend can become the second 10-game winner, after Diegomar Markwell (Neptunus) became the first last weekend.

After leaving two runners behind in the first inning, Kinheim scored its first run in the second at bat when Quintin de Cuba led off with a walk and scored when Seltenrijch followed with a double, but the Haarlem-squad again left two runners. In the third, Dirk van 't Klooster led off with a walk and scored on a sac-fly by Quintin de Cuba to make it 2-0.

Three runs were added in the fifth inning. Mervin Gario and Dirk van 't Klooster (bunt) began with singles, then an error brought the first to third base. Next, Bryan Engelhardt, who was back in the line-up after sitting down a second long suspension, also single to bring in a run. A double by De Cuba led to the next run, while Ramiro Balentina (who had walked) scored on an error to make it 5-0.

The 10-run difference was reached in the seventh inning when Kinheim rallied for five runs. With one out, De Cuba was hit by a pitch and Seltenrijch singled, then a force play-grounder by Rachid Engelhardt produced a run. A triple by Remco Draijer, double by Renť Cremer and triple by Mervin Gario followed, making it a 9-0 score. Moments later, Gario scored the tenth run on a wild pitch to end the game.

Luke Sommer retired the first 10 batters he faced, before giving up a single to Emerson Paula. Anthony Vrolijk followed with another single, but these would be the only two by Sparta-Feyenoord in this game. Two flyouts ended the inning. Sommer then also retired the side in the fifth and sixth. The lefthander was then relieved by Steven van Groningen, who walked two batters and saw another reach on an error, but held Sparta-Feyenoord scoreless.

Line Score, Box Score & Play-by-Play
Standings, Schedule & Scores
---

UVV vs. Vaessen Pioniers
At Vleuten, UVV shutout Pioniers 5-0, despite being outhit 9-5. With this, UVV registered another important victory, as it is still in the race to qualify for the Play-Offs. And as Kinheim won again vs. Sparta-Feyenoord, UVV is now focusing on Pioniers, whom it beat in two of the last three games played. In the earlier 3-game series of the season, Pioniers had won twice, so overall both teams have now won three games against each other. But the run average, which is the next tie-breaker when two teams are tied (runs scored x 100 divided by runs against), in these six games is in favor of UVV. Both teams have six games left in the regular season. In the upcoming 3-games series that opens on Thursday, UVV meets Mr. Cocker HCAW, while Pioniers faced DOOR Neptunus.

Tonight, UVV opened the score in the third inning. Mitchel Koot was hit by a pitch and Jeff Delfina walked, then both advanced on a sac-bunt by Austin Weymouth. A single by Stijn van der Meer and a sac-fly by Danny Rombley then made it 2-0.

UVV added a run in the fourth inning when Rodney Michel led off with a double off starter Swen Huijer, who was then relieved by Jan Rehacek. With one out, Brennan Nijhof walked, as did Jeff Delfina with two outs. Another walk followed, this time for Austin Weymouth to bring in a run, but then a grounder followed, leaving the bases loaded.

In the fifth, UVV made it 5-0, thanks to a double by Rodney Michel and a hit by pitch for Mitchel Koot with the bases loaded, but again three runners stranded.

Pioniers collected eight basehits off starter Jurjen van Zijl, but left 10 runners in the game, included the bases loaded in the third at bat.

Line Score, Box Score & Play-by-Play
Standings, Schedule & Scores

(June 26)