Rabbits in Final European Little League Championship!
Nederlands
KUTNO (Poland) - The Dutch Little League-baseball team of Kennemerland Rabbits has qualified for the all-deciding final in the European Little League Championship in the Polish town of Kutno! In a suspese-filled semi-final on Thursday-afternoon, the team turned around a deficit into a victory and defeated the Italian representative 8-6 on a walk-off homerun!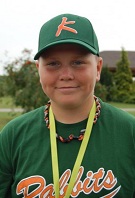 ...Donny Kuijper...
...walk-off homerun...

The Italian team from Lazio (Rome region) initially took a 3-0 lead, but the Dutch Team came alongside in the third at bat. The Italians then re-took the lead and began the sixth (and last) inning with a 5-3 lead. In this at bat, Lazio added a run to make it 6-3, meaning thus Kennemerland faced a 3-run deficit in its final at bat.

In the bottom of the sixth inning, the suspense was building. Via basehits, Kennemerland narrowed the deficit to 6-5. Then, with runners on first and second base, Donny Kuijper drilled a pitch over the fence for a 3-run, walk-off, homerun, as he belted the Dutch Team to an 8-6 victory and a spot in the final

Friday-afternoon, starting at 3 PM, Dutch champion Kennemerland faces the (American) squad of Ramstein, which is the German champion.

The winner of the event qualifies for the famous Little League World Series in Williamport (Pennsylvania), USA.

(July 26)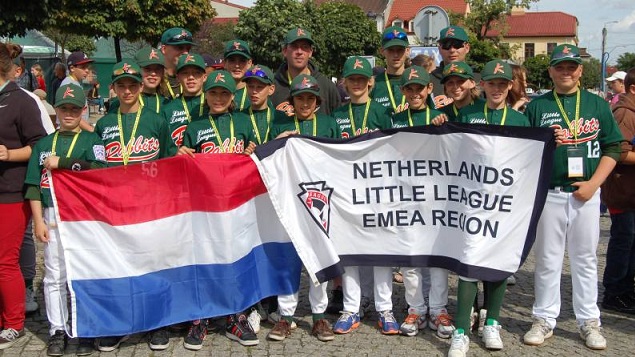 ...The team during the Opening Ceremony...