Kinheim nips Neptunus
Nederlands




ROTTERDAM / HOOFDDORP / BUSSUM / THE HAGUE (Neth.) - Corendon Kinheim nipped DOOR Neptunus 2-1 to take sole possession again of first place on a rainy, cloudy and windy Saturday-afternoon. Because of the weather conditions, especially in the center and western part of the country, today's three other scheduled games rained out.

The games of Mr. Cocker HCAW vs. Sparta-Feyenoord in Bussum and AamigoO ADO Lakers vs. UVV in The Hague were both re-scheduled for Tuesday, May 8. The match-up between Vaessen Pioniers and L&D Amsterdam Pirates in Hoofddorp was moved to Tuesday, May 22, as Pirates has three games scheduled vs. DOOR Neptunus on the coming three Tuesday-evenings. Initially, these games were scheduled for March 29-31 and April 1 to be played before the official Opening Weekend of the new season. However, the early dates and cold weather conditions in March led to the decision that the games were moved to three repective Tuesday-evenings from May 1 on. The games have to be played on these dates to make room towards the end of May and beginning of June when both Pirates and Neptunus participate in the European Cup-tournaments.

Because of the cancellations on Saturday and also last Thursday, the starting rotations again have changed for some teams for the upcoming games.

Oh, more rain is expected for Saturday-night and on Sunday....
---

DOOR Neptunus vs. Corendon Kinheim
At Rotterdam, and error and wild pitch led to the two runs Corendon Kinheim scored, but the Haarlem-squad held onto the lead and won 2-1 vs. DOOR Neptunus to take sole possession again of first place in the big league.

Neptunus-starter Kevin Heijstek was supported with two double plays in the first and second inning and retired the side in the third, but then gave up a run in the fourth at bat. Mervin Gario led off with a walk and stole second base, then Dirk van 't Klooster flied out. Next, an error was made on a grounder by Bryan Engelhardt that enabled Gario to open the score.

In the fifth inning, Kinheim got close to its next run. RenÚ Cremer led off with a walk and stole second base, then moved on a sac-bunt by Bj÷rn Henrichs, but stranded on third base, as a strikeout and flyout followed.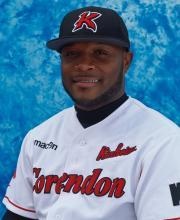 ...Mervin Gario...
...2 hits, 2 runs...
...11-game hitting streak...
(© Photo: Kinheim)

Kinheim then did double its lead in the sixth inning. Again Mervin Gario reached base (he did so four times this game) and went on to also score Kinheim's second run. He led off with a single and again stole second base. With one out, Gario moved to third base when Bryan Engelhardt flied out, then scored when Heijstek threw a wild pitch.

In the seventh inning, Neptunus turned its third double play, then was able to get one run back. In the previous six innings, Kinheim-starter Luke Sommer had given up only four basehits and walked none, while the Haarlem-defense also had turned two double plays. In the bottom of the seventh, Jeffrey Arends led off with a single, then an error followed on a sac-bunt by Benjamin Dille. The two runners then advanced on a sac-bunt by Rien Vernooij. Hereafter, Kinheim's Head Coach Eelco Jansen made a daring move. Leading only 2-0 and with runners on second and third and one out, he replaced Sommer with Steven van Groningen, who had pitched only 3 2/3 inning so far this season. He gave up a sac-fly to Lennart Koster that made it 2-1, then walked pinch-hitter Adrian Anthony. Jansen then decided to bring in Pim Walsma, who closed the inning by striking out Shaldimar Daantji, leaving two runners behind.

Kinheim then could have taken more distance in the top of the eighth inning when it got the bases loaded with two outs off new pitcher Dushan Ruzic. With one out, Remco Draijer singled, moved on a passed ball and stole third base. Next, Mervin Gario was pitched around and walked. Dirk van 't Klooster, Kinheim's leading hitter then flied out (he was 0-for-4 today). Neptunus then opted not to pitch to powerhitter Bryan Engelhardt and walked him intentionally to load the bases. And that worked, as the inning then ended when Quintin de Cuba popped up.

But Kinheim held on to the minimal lead. In the bottom of the eighth, Walsma got two quick outs, then walked Raily Legito. But moments later, Walsma picked off Legito, who then was caught stealing. In the ninth, Arshwin Asjes retired the side and earned his fourth save of the season.

Raily Legito today went 0-for-3, meaning his 10-game hitting streak from the start of the season ended. Kinheim's Mervin Gario went 2-for-2 (with two walks) to extend his hitting streak to eleven, which is now the longest so far this season.

Line Score, Box Score & Play-by-Play
Standings, Schedule & Scores

(April 28)