Cartoonist Dik Bruynesteyn passed away
Nederlands
IN MEMORIAM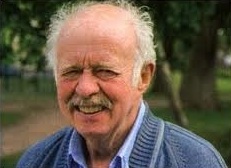 ...Dik Bruynesteyn...
(1927 - 2012)

HOORN (Neth.) - Wellknown Dutch cartoonist Dik Bruynesteyn has passed away on April 28 at the age of 84 after a brief illness.

Bruynesteyn, who was born as Dick Bruijnesteijn in Rotterdam on July 7, 1927, was famous for his sports cartoons. His first drawing was published in 1947 in the newspaper Dagblad van het Noorden. A year later, Bruynesteyn, who always signed his drawings with 'Dik', he became the sports cartoonist of the Haagsche Courant and Het Vrije Volk newspapers, succeeding another wellknown cartoonist, Bob Uschi. In the seventies and eighties, his most famous cartoon Appie Happie about a soccer-team was published in several national newspapers.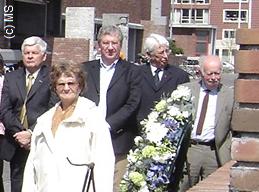 ...In 2008, Dik Bruynesteyn (right)...
...attended the May 4 Memorial Day...
...at the Olympic Stadium...
...in Amsterdam...
(© Photo: Marco Stoovelaar)

Bruynesteyn also was a frequent guest in the TV-show NOS Studio Sport where he often made cartoons during big events, such as an European or World Championship Soccer.

Bruynesteyn made cartoons of politicians, welknown figures, bust most of his cartoons were about sports, especially soccer and cycling. But he also made cartoons of other sports, including baseball. In the fifties, Bruynesteyn made several cartoons of Dutch baseball players, who then were playing for the Dutch National Baseball Team and participated in the European Championship in Rome.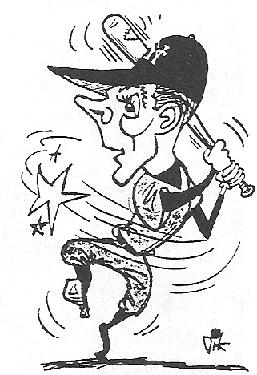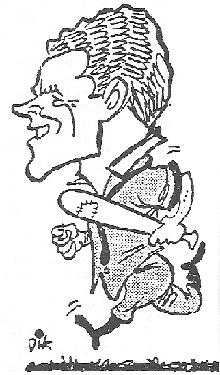 ...Cartoons Dik Bruynesteyn made of Dutch baseball players...
...Han Urbanus and Frans Klooster...

Bruynesteyn also made a special cartoon of the famous poem 'Casey at the Bat', which can be seen in the Netherlands Baseball and Softball Museum.

In 1993, Dik Bruynesteyn granted special permission to Marco Stoovelaar (the webmaster of Grand Slam * Stats & News) to use his cartoons as illustrations in Marco's Baseball Guide of that year.

(April 30)