Chilly opening tournaments
Nederlands



BUSSUM / ROTTERDAM / VLEUTEN (Neth.) - On a chilly Friday-evening, the first games were played on the three tournament that include big league-teams. After some nice, warm days, the temperature dropped considerably, as it was only 46 degrees Fahrenheit (8 Celsius) on a cloudy Friday-evening.
---

In Memoriam Charles Urbanus Sr. Tournament
At Bussum, organisor Mr. Cocker HCAW trailed 2-0 in the fifth inning, but then scored three runs to win 3-2 vs. Dutch champion L&D Amsterdam Pirates. The home team hit only two basehits off starter Rob Cordemans in four innings, but then rallied for three runs in the fifth off reliever Jurrian Koks.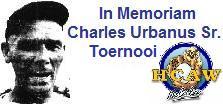 Amsterdam had taken a 2-0 lead in the fourth inning off rookie Sander Helmendach, who gave up three basehits in four innings. Reliever Leon Elshof gave up an additional hit in the top of the fifth and became the winning pitcher.

Amsterdam threatened to open the score right away in the first inning, but then left three runners behind. HCAW-starter Sander Helmendach hit lead-off batter Wesley Connor, then walked Sidney de Jong with one out and loaded the bases with two outs when he also hit Bas de Jong with a pitch. But the inning ended when Percy Isenia flied out.

Helmendach then retired six of the next seven batters, but then ran into problems in he fourth at bat. Bas de Jong and Percy Isenia led off with singles, then the bases got loaded when Kenny Berkenbosch was hit by a pitch. Next, Bas Nooij singled to bring in two runs and give Amsterdam a 2-0 lead. But three flyouts then ended the inning.

In the fifth inning, Leon Elshof took over the pitching for HCAW and gave up a lead-off single to Sidney de Jong, but this time a flyout and double play followed.

HCAW, which has several young players (and rookies) on its roster, had no answers to the pitches of Amsterdam-starter Rob Cordemans. The veteran righthander retired the first eleven batters he faced, including six with a strikeout. With two outs in the fourth inning, Cordemans gave up singles to JuriŽn Overman and Randy Reiph, but the two were left behind.

In the home of the fifth, Jurrian Koks took over for Cordemans and started with two outs. Dylan de Mello then singled and Barry Mastenbroek was hit by a pitch. Next, Jasper Keijzer singled to bring in De Mello and narrow the deficit to 2-1. A grounder by Linoy Croes was then misplayed and enabled Mastenbroek and Keijzer both to score and give HCAW a 3-2 lead.
---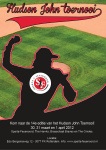 Hudson John Tournament
At Rotterdam, host Sparta-Feyenoord also started with a win, beating Orioles 6-3 in a 6-inning game. Sparta-Feyenoord trailed 3-1 in the fourth inning, but then came alongside thanks to an error and a single by Jarred Duin.

The home team then took a 4-3 lead in the fifth at bat on a fielder's choice grounder by Jochem Pronk and added two runs in the sixth on a single by Klaas Baldee and grounder by Churandy La Cruz. Winning pitcher Quinn Tramm gave up three hits in five innings.

(more later)
---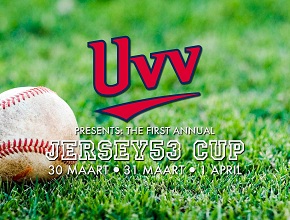 Jersey53 Cup
At Vleuten, organisor UVV faced Kotlarka Praha from the Czech Republic and was left empty-handed, losing 7-6. The home team initially led, thanks to good pitching by starter Orlando Yntema, but after a pitching change, the Czechs suddenly rallied for seven runs in one inning to turn the game around.

(more later)

(March 30)