ADO, Sparta-Feyenoord, Neptunus lead in tournaments
Nederlands



BUSSUM / ROTTERDAM / VLEUTEN (Neth.) - AamigoO ADO Lakers, Sparta-Feyenoord and DOOR Neptunus are the leaders after Day 2 of the three tournaments this weekend in which big league-teams are participating. The games to be played on Sunday will decide the final rankings in all three events.
---

In Memoriam Charles Urbanus Sr. Tournament
At Bussum, three of the five games played today ended in a tie score, including both games played by Vaessen Pioniers.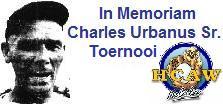 Organisor Mr. Cocker HCAW, which opened the tournament on Friday-evening with a come-from-behind 3-2 win vs. L&D Amsterdam Pirates, opened Day 2 with a scoreless tie against Robur '58, which is playing in the second highest division and participates for the first time in the event.

Robur got the most scoring opportunities in this game, but failed to score. The team from Apeldoorn got 11 baserunners, but stranded six in scoring position. HCAW had only three baserunners and got into scoring position only twice.

HCAW-starter Robin Schel gave up an one-out single in to Jildert Gaastra in the first inning. The runner then advanced on a failed pick-off and a grounder, but stranded at third base. In the second at bat, Schel walked lead-off hitter Benjamin Jansen. After a strikeout and stolen base, Dion Comenencia singled to put runners at the corners. But then Comenencia was caught stealing. Schel followed with another walk for Mitch Vis, but ended with a strikeout.

In the third inning, new pitcher Bob Klaarenbeek walked two batters, but picked off one of them, while the other was left behind. Robur then got the bases loaded with no outs in the fourth inning. A single, walk and error on a sac-bunt put three runners on base, but then Klaarenbeek struckout the next two batters and a grounder ended the at bat.

In the fifth, Robur threatened again when it got its first two batters on base. Jildert Gaastra led off with a walk and Thijs Brand followed with a single. But after the two had advanced on a sac-bunt, two outs followed.

Mathijs Naujoks went the distance for Robur and gave up only two hits. After having retired the first eight batters in a row, Naujoks gave up an infield-hit to Barry Mastenbroek, who advanced on an error, but was left at second base as a strikeout ended the at bat. In the fourth inning, Rick Kuipers led off with a double for HCAW, but a strikeout and two flyouts followed. In the fifth inning, Seb Visser led off with a walk, but his pinch-runner Linoy Croes was caught stealing and a strikeout and grounder then ended the game.

Next, L&D Amsterdam Pirates shutout Robur '58 5-0, but then played a scoreless tie vs. Vaessen Pioniers.
More details of these games will be added when available

AamigoO ADO Lakers then won 6-4 vs. Mr. Cocker HCAW and ended the day with a 2-2 tie vs. Vaessen Pioniers.

In the game against HCAW, ADO Lakers trailed 4-2 when the bottom of the fourth (and last) inning began, then rallied for four runs to win 6-4. HCAW opened the score in the second inning off Reggie Bomberg, who went the distance for ADO. In the second, Randy Reiph led off with a walk, was awarded second base on a balk, then scored on a following single by Kevin Gerard. But then a strikeout and double play followed.

ADO, which left two runners behind in the second inning, scored twice in the third to take a 2-1 lead. Aldrich Isenia led off with a single and advanced on an error. Next, another error was made on a sac-bunt by Gregory Hassell to put runners on first and third base. But Isenia then was eliminated on a grounder to third base by JaÔr Roseburg. A single by Phil Ortez then tied the score and a sac-fly by Enrique Tromp gave ADO a 2-1 lead.

The lead was shortlived, as HCAW answered with three runs in the fourth inning. Randy Reiph led off with a single and stole second base. With two outs, Reiph scored the tying run on a single by Seb Visser, who advanced on an error. Singles by rookies Dylan de Mello and Barry Mastenbroek then gave HCAW a 4-2 lead.

But things changed in the home of the fourth when the HCAW-defense committed four errors to bring the total in this game to seven. With one out and Glennton Poulo on second base, a single by Ludwin Obispo followed. Next, a grounder by Aldrich Isenia led to an out, but also enabled Poulo to score. Isenia then scored the tying run when two errors followed on hits by Gregory Hassell and JaÔr Roseburg. A single, plus following throwing error, by Phil Ortez then led to two more runs and a victory for ADO.
Standings after Day 2
#
Team
G
W
L
T
P
1
AamigoO ADO Lakers
2
1
-
1
3
2
Mr. Cocker HCAW
3
1
1
1
3
3
L&D Amsterdam Pirates
3
1
1
1
3
4
Vaessen Pioniers
2
-
-
2
2
5
Robur '58
2
-
-
1
1
L&D Amsterdam Pirates
vs.
AamigoO ADO Lakers
10:00 AM
Robur '58
vs.
AamigoO ADO Lakers
11:45 AM
Vaessen Pioniers
vs.
Robur '58
1:30 PM
Vaessen Pioniers
vs.
Mr. Cocker HCAW
3:15 PM
---

Hudson John Tournament
At Rotterdam, three games were played today.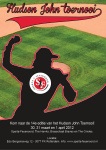 Organisor Sparta-Feyenoord, which opened on Friday-evening with a 6-3 win vs. Orioles also won on Day 2, beating The Hawks 6-1 to take the lead in the tournament. In today's game, Sparta-Feyenoord opened the score in the first inning when Kevin van Nederpelt singled, moved on an error and a stolen base, then scored while runner Anthony Vrolijk was caught stealing. After two scoreless innings, two runs were added in the fourth at bat. Michiel Ruiter walked and scored on a double by Churandy La Cruz, who then scored himself on a single by Jarred Duin. In the seventh inning, and after giving up a run in the fifth, Sparta-Feyenoord scored three more runs. Kevin van Nederpelt led off with a single and went on to score on an one-out single by Brian Raap. With two outs, singles by Churandy La Cruz and Jochem Pronk then increased the lead to 6-1.
Earlier in the day, Brasschaat Braves from Belgium played two games. The team won 8-4 vs. The Hawks, but ended up short vs. Orioles, 5-2.
More details will be added when available
Standings after Day 2
#
Team
G
W
L
T
P
1
Sparta-Feyenoord
2
2
-
-
4
2
Orioles
2
1
1
-
2
3
Brasschaat Braves
2
1
1
-
2
4
The Hawks
2
-
2
-
0
Orioles
vs.
The Hawks
11:00 AM
Sparta-Feyenoord
vs.
Brasschaat Braves (Bel.)
2:00 PM
---

Jersey53 Cup
At Vleuten, DOOR Neptunus played two games on Day 2 of this tournament and registered two shutouts. The Rotterdam-squad shutout Mannheim Tornados (Germany) 2-0, then followed with a 7-0 win vs. Kotlarka Praha (Czech Republic).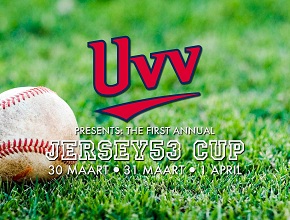 Day 2 ended with an 8-0 shutout win by host UVV vs. Mannheim Tornados.
More details will be added when available
Standings after Day 2
#
Team
G
W
L
T
P
1
DOOR Neptunus
2
2
-
-
4
2
Kotlarka Praha
2
1
1
-
2
3
UVV
2
1
1
-
2
4
Mannheim Tornados
2
-
2
-
0
Mannheim Tornados (Ger.)
vs.
Kotlarka Praha (Cze.)
10:00 AM
UVV
vs.
DOOR Neptunus
2:00 PM
(March 31)