Taiwan comes from behind to defeat Dutch Team
Nederlands

TAICHUNG (Taiwan) - The Dutch Baseball Team on Sunday failed to hold onto an early 3-0 lead against Taiwan, which came from behind to win 8-3. Taiwan is now 2-0 and almost sure of advancing to the second round. The Dutch Team now is in a must-win situation in its next game when it faces Australia on Tuesday. This Pool can end in a 3-way tie, when the Dutch beat Australia and South Korea wins vs. Taiwan. In that case, the runs against become important, so the eight runs give in this game are not in favor for the Dutch squad.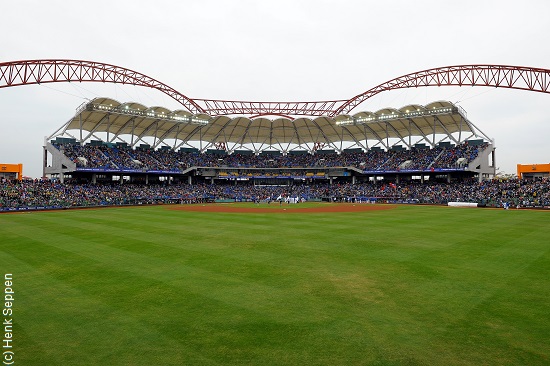 ...Intercontinental Baseball Stadium was sold out...
(© Photo: Henk Seppen)

On a chilly, misty and windy day (which almost surely effected the batted balls into the outfield), Intercontinental Baseball Stadium was sold out and thousands of enthousiastic Taiwanese fans supported their team making a lot of noise with their familiar, cheering, singing and hitting their thundersticks.

Did the Dutch Team perform very good in its opening game against South Korea with great pitching, solid hitting and fine defense, today, it was a complete other story. Offensively, only one basehit was hit, while the pitching was unable to stop the Taiwanese offense from producing hits and runs and sometimes gave up some hard hits.

The game started with an one-two-three inning offensively for the Dutch Team, as Andrelton Simmons and Jonathan Schoop were struckout by Taiwanese starter Yao-Lin Wang and Roger Bernadina popped out. Dutch starter Tom Stuifbergen also had a good start, as he also retired the side in his first inning on the mound.

In the top of the second inning, Wang began with his third strikeout, this time eliminating Wladimir Balentien. But he then lost his control and threw his pitches outside the strike-zone, with some close-call check-swings. Wang, who woke up in the morning with a cold, walked Andruw Jones, Xander Bogaerts and Curt Smith and was relieved by Wei-Lun Pan. He then hit next batter Kalian Sams with his first pitch, leading to the first Dutch run. Next, Dashenko Ricardo followed with a single that brought in Bogaerts and Smith and gave the Dutch a 3-0 lead. Two runners stranded, as a pop-foul and groundout followed.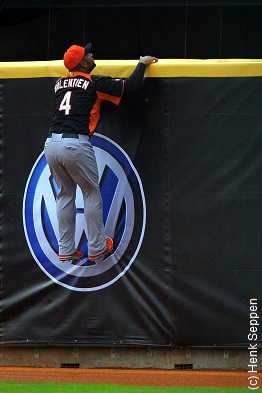 ...RF Wladimir Balentien follows...
...Dai-Kang Yang's homerun...
(© Photo: Henk Seppen)

Taiwan got one run back in its second inning. Chih-Sheng Lin led off with a single, then Szu-Chi Chou walked. With one out, Lin scored when Chien-Ming Chang also singled, but then two outs followed.

In the third inning, Dutch third baseman Xander Bogaerts made a nice play to end the Taiwanese at bat. But offensively, the Dutch were silenced by new pitcher Pan. After allowing the first two batters he faced to reach base, he retired 14 of the next 15 batters. Only Andruw Jones reached base when he walked with two outs in the third inning. In the fifth inning, Andrelton Simmons drove the ball into deep leftfield, but the wind kept the ball inside the stadium and so, it was caught on the warning track.

Taiwan struck with four runs in the fourth inning. Stuifbergen walked lead-off hitter Chih-Sheng Lin, then gave up a double to Szu-Chi Chou. Dutch Pitching Coach and Hall of Famer Bert Blyleven then had a talk with Stuifbergen, but he then gave up an RBI-single to Yung-Chi Chen that narrowed the deficit to only 3-2. As Chen advanced on the throw, Taiwan had now runners on second and third base, so Chien-Ming Chang was walked intentionally to set up a force play. Stuifbergen remained in the game and then hit next batter Hung-Yu Lin with his second pitch and that tied the score. Hereafter, and with the bases still loaded, Stuifbergen was relieved by Shairon Martis. The first two batters he faced, Yen-Wen Kuo and Dai-Kang Yang then both hit the ball into the outfield for a sacrifice fly, meaning Taiwan scored twice and took a 5-3 lead.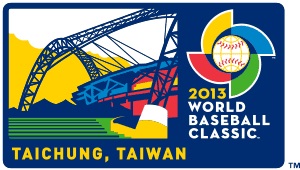 Taiwan added three more (unearned) runs in the sixth inning to make their lead more comfortable. Short stop Andrelton Simmons made a throwing error on a grounder by Yung-Chi Chen, who then advanced on a sacrifice bunt by Chien-Ming Chang. Shairon Martis then gave up some hard hits. First, Hung-Yu Li hit a ground-rule double into centerfield, which led to a run. Next, pinch-hitter Yi-Chuan Lin drove the ball into leftfield, but it was caught by Kalian Sams for the second out. Hereafter, Dai-Kang Yang connected well and hit a 2-run homerun that made it an 8-3 score.
In the top of the 7th inning, the Dutch got back on base off of new pitcher Jen-Ho Tseng. The 18-year old walked Curt Smith, followed with a strikeout, then walked Dashenko Ricardo (who up to this moment had hit the lone Dutch basehit) and was replaced by Ching-Ming Wang. He ended the inning, as Andrelton Simmons grounded into a double play.
In the bottom of the 7th inning, rookie Jonathan Isenia took over with one out for Shairon Martis and retired both batters he faced. He added two strikeouts in the eighth inning.
In the ninth inning, Andruw Jones led off with his third walk of the game, but was then forced out on a grounder by Xander Bogaerts. Next, Curt Smith and Kalian Sams struckout to end the game in which the Dutch hit only one basehit.
Pitching Stats
pitcher
INN
SO
BB
H
Tom Stuifbergen, L
3 (*)
1
3
4
Shairon Martis
3.1
2
0
2
Jonatan Isenia
1.2
3
1
1
(*) - Stuifbergen pitched to five batters in the 4th inning
Playing in today's game were:
Andrelton Simmons (SS, 0-for-4), Jonathan Schoop (2B, 0-for-3), Hainley Statia (2B, 0-for-1), Roger Bernadina (CF, 0-for-4), Wladimir Balentien (RF, 0-for-4), Andruw Jones (DH, 0-for-1, 3 walks), Xander Bogaerts (3B, 0-for-3, walk), Curt Smith (1B, 0-for-2, 2 walks), Kalian Sams (LF, 0-for-3, hit by pitch), Dashenko Ricardo (C, 1-for-2, walk)

...Lining up for the Dutch National Anthem...

...Dutch starter Tom Stuifbergen...



...Manager Hensley Meulens, Bench Coach Robert Eenhoorn and...
...Pitching Coach Bert Blyleven look on...

...Cheerleaders on the dug-out...

...Dashenko Ricardo hits the lone Dutch basehit...

...Lots of entertainment in the stadium......

...Pitching Coach Bert Blylven has a talk with Tom Stuifbergen...

...Shairon Martis took over in the fourth inning...

...Andruw Jones is forced out in the 9th inning...

...Jonathan Isenia completed the game...
(© All Photos: Henk Seppen)
(March 2)