Pittsburgh evens NLDS vs. St. Louis
Nederlands

ST. LOUIS, Missouri (USA) - After losing the opener with a big 9-1 score on Thursday, Pittsburgh Pirates recovered and handed St. Louis Cardinals a 7-1 loss on Friday-afternoon to even the National League Division Series. Game 3 will be played on Sunday in Pittsburgh.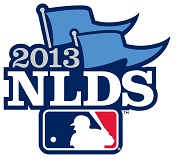 Both teams left a runner in the first inning, but then Pittsburgh opened the score in the second at bat. With one out, Pedro Alvarez hit a ground-rule double off of starter Lance Lynn. The righthander then struckout Russell Martin and walked Jordy Mercer intentionally to set up a force play. But next batter (and starting Pittsburgh-pitcher) Gerrit Cole (who has a real Dutch first name) then singled to bring in Alvarez, which gave Pittsburgh an 1-0 lead.

Two runs were added in the third inning. With one out, Justin Morneau singled, then Pedro Alvarez homered with two outs to make it 3-0.
Pittsburgh increased its lead to 5-0 in the fifth inning. This time, Morneau doubled with one out and scored when Marlon Byrd followed with a ground-rule double. Hereafter, Alvarez walked, which led to the departure of Lynn, who was replaced by Seth Maness. He was greeted with an RBI-single by Russell Martin that made it 5-0.
St. Louis got one run back in the home of the fifth when Yadier Molina led off with a homerun. But in the seventh inning, Pittsburgh made it a 5-run difference again. Kevin Siegrist became the fifth Cardinal-pitcher and he saw lead-off hitter Marlon Byrd reach second base on an error. Byrd then advanced on a grounder and scored on a sacrifice fly by Martin.
Pittsburgh added another run in the eighth inning when Starling Marte led off with a homerun off of new pitcher Shelby Miller.
Pittsburgh-starter Gerrit Cole, who gave himself an 1-0 lead in the second inning, threw six strong innings. The rookie-righthander gave up only two basehits and struckout five batters to become the winning pitcher. Cole grew up in Grand Rapids, Michigan, and that area is known for having a lot of people with a Dutch background. And Cole's Dutch first name 'Gerrit' must come from somewhere.
(October 4)