Boston wins big in ALDS-opener vs. Tampa Bay
Nederlands

BOSTON, Massachusetts (USA) - Boston Red Sox, the team with the best record in the American League, trailed 2-0 in the fourth inning on Friday-evening vs. Tampa Bay Rays, but then rallied for five runs. The BoSox went on to win the opening game of the best-of-five American League Division Series with a big 12-2 score.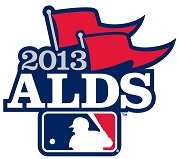 After Boston left a runner in scoring position in the first at bat, the Rays opened the score in the second inning when Sean Rodriguez homered with two outs. Boston then stranded another runner in scoring position in the home half of the second inning.
Both teams were retired in order in the third at bat, then Tampa Bay added a run in the fourth. And the Rays again did it by hitting a homerun. This time, the fourbagger came off the bat of lead-off hitter Ben Zobrist. Hereafter, with one out, the Rays got two more runners on base, but both were left behind.

In the home of the fourth inning, Boston turned the game around and struck with five runs. Dustin Pedroia led off with a single and David Ortiz followed with a ground-rule double. A pop-fly then accounted for the first out, but next batter Jonny Gomes then doubled to bring in both runners and tie the score. Next, Tampa Bay-starter Matt Moore struckout Jarrod Saltalamacchia, but then gave up a single to Stephen Drew that brought in Gomes and put Boston ahead. Will Middlebrooks followed with an RBI-double to make it a 4-2 score. Moore then also struckout Jacoby Ellsbury, but the third strike ended in a passed ball, which put runners on first and third base. Another run was then added when Shane Victorino followed with a single, before the inning ended when Pedroia grounded out in his second appearance in the at bat.
Boston scored three more runs in the fifth inning. With one out, Napoli doubled, then Gomes was walked intentionally to set up a force play. But that failed, as Saltalamacchia followed with a 2-run double that made it 7-2. That marked the end for Moore, who was replaced by Wesley Wright. After a strikeout and another intentional walk, Wright gave up an RBI-single to Ellsbury that lifted the lead to 8-2 and brought in another reliever. Chris Archer was greeted with a single by Victorino that loaded the bases, but then struckout Pedroia to end the inning.
In the eighth inning, Boston increased its lead to 12-2 by scoring four more runs off of new pitcher Jamey Wright. A single by Victorino brought in the first run, then Napoli received a basesloaded walk. The next run was scored on a double play-grounder by Gomes and the final run was then added on a single by Saltalamacchia.
Tampa Bay got only four basehits, including three off of starter Jon Lester, who struckout seven in 7 2/3 inning.
(October 4)