Atlanta evens NLDS vs. Los Angeles
Nederlands

ATLANTA, Georgia (USA) - Atlanta Braves defeated Los Angeles Dodgers 4-3 on Friday-evening to even the National League Division Series at one apiece. The series now moves to Los Angeles, where Game 3 will be played on Sunday.

The Dodgers, which opened the series with a win on Thursday, opened the score in the first inning. But Atlanta came alongside in the second at bat and took charge of the game from the fourth inning on.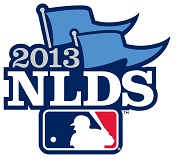 In the first inning, Atlanta-starter Mike Minor walked Mark Ellis with one out, then gave up an RBI-double to Hanley Ramirez, but then ended the inning with two groundouts.
The Braves tied the score in the second inning. Dodger-starter Zack Greinke gave up a lead-off single to Evan Gattis, but then retired the next two batters on a groundout and strikout. Curaçao short stop Andrelton Simmons then connected for a double to bring in Gattis and tie the score.
In the bottom of the 4th, Atlanta took a 2-1 lead when Freddie Freeman led off with a double and scored on a 2-out single by Chris Johnson.

Atlanta added two runs in the seventh inning when Los Angeles used four different pitchers. Righthander Chris Withrow started the inning in relief of starter Greinke, but walked lead-off hitter Brian McCann, then gave up a single to Chris Johnson. The two runners advanced on a sacrifice bunt by Andrelton Simmons. Withrow then struckout next batter Elliot Johnson. Hereafter, a strategic game between the two Managers began. With runners on second and third base, Atlanta-Manager Fredi Gonzalez inserted lefthanded hitting José Constanza as pinch-hitter for Luis Avilan. When Constanza was announced, Los Angeles-Manager Don Mattingly brought lefthander Paco Rodriguez to mound. When Rodriguez took the mound, Gonzalez made his next move, as he replaced pinch-hitter Constanza for a new pinch-hitter, righthanded hitting Reed Johnson. Next, Mattingly instructed to walk Johnson intentionally to load the bases and set up a force play. But that failed, as next batter Jason Heyward followed with a single that brought in two runs and lifted the lead to 4-1. With runners now on first and second base, Mattingly changed pitchers again and brought Ronald Belisario to the mound. He walked Justin Upton to re-load the bases and so, another pitching change followed, as J.P. Howell took over for Belisario. Howell finally ended the inning when Freddie Freeman grounded out, stranding three runners.
In the top of the eighth inning, David Carpenter became the fourth pitcher for Atlanta. He walked lead-off hitter Mark Ellis, then Hanley Ramirez homered that narrowed the deficit to 4-3. Hereafter, Carpenter struckout the next two batters and was relieved by Craig Kimbrel, who ended the inning with a groundout.
In the top of the ninth inning, Atlanta's Manager Gonzalez made some more offensive changes. After A.J. Ellis walked with one out, he brought in a pinch-runner and a pinch-hitter. But the pinch-runner, Dee Gordon, then was caught stealing. Pinch-hitter Andre Ethier then walked and also was replaced by a pinch-runner, Scott Van Slyke. But he stranded, as Krimbrel ended the game with a strikeout.
(October 4)