Detroit nips Oakland in ALDS-opener
Nederlands

OAKLAND, California (USA) - Detroit Tigers scored three runs in the first inning and that was all it needed to win 3-2 at Oakland Athletics in the opener of their American League Division Series.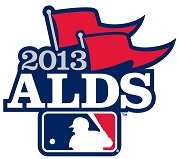 40-year old Oakland-starter Bartolo Colon had a rough first inning. He gave up a lead-off double to Austin Jackson, then hit next batter Torii Hunter, followed by an RBI-single by Miguel Cabrera. Next, Prince Fielder grounded into a double play, but Hunter scored. Victor Martinez followed with another double, then scored the third run in the inning when next batter Alex Avila singled. A grounder then ended the inning, but Detroit had taken a 3-0 lead.

In the next four innings, Colon allowed only three batters to reach base. In the sixth, he gave up two singles with one out. A single by Omar Infante followed, but the lead runner was thrown out at the plate and a pop-fly ended the inning.
Two relievers then held the Tigers hitless and scoreless, but the damage had been done in the first inning.
Detroit-starter Max Scherzer held Oakland to only three hits in seven innings and struckout eleven batters in a strong outing, but gave up two runs in the seventh inning. In the fourth through sixth inning, he retired nine of the ten batters he faced, including six strikeouts.
He gave up a lead-off single to Brandon Moss, then a homerun to Yoenis Cespedes, but then three outs followed. In the eighth, new pitcher Drew Smyly struckout two batters and walked one, then his reliever Joaquin Benoit ended the inning. In the ninth, Benoit closed the game with three strikeouts. With that, the strikeout-total for the three Detroit-pitchers came to 16.
(October 4)