Oakland one-runs Detroit in Game 2 ALDS
Nederlands

OAKLAND, California (USA) - Game 2 of the American League Division Series between Oakland Athletics and Detroit Tigers remained scoreless for eight innings. But Oakland then scored the lone run with no outs in the home of the ninth inning to win 1-0 and even the Series at 1-1. The Series now will transfer to Detroit, where Game 3 is scheduled for next Monday.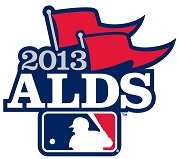 With a scoreless tie, Oakland got the bases loaded in the home of the ninth inning. Reliever Al Albuquerque came on to pitch for Detroit in the eighth inning with two runners on base and one out, but then struckout two batters. But in the ninth, Albuquerque gave up singles to Yoenis Cespedes and Seth Smith, which put runners on first and third base. To create a force play, next batter Josh Reddick was walked intentionally. Hereafter, Rick Porcello relieved Albuquerque, but third delivery to rookie Stephen Vogt ended in a walk-off single that gave the A's an 1-0 victory.

The game was a real pitching duel. 23-year old rookie righthander Sonny Gray started for Oakland and struckout nine batters in eight innings, while giving up only four basehits. Starting for Detroit was veteran 30-year old Justin Verlander, who also dominated. The righthander struckout eleven batters and also gave up only four hits in seven innings.
Gray gave up a 2-out single to Miguel Cabrera in the first inning. In the second at bat, he walked Alex Avila with one out and gave up a 2-out single to Don Kelly, but they also stranded. He then allowed only two more batters to reach base from the next 20 he faced though the eighth inning. 35-year old veteran Grant Balfour then pitched the ninth inning for Oakland. The Australian retired the side and became the winning pitcher, as the winning run was scored moments later.
Verlander retired the first eleven batters he faced, including six with a strikeout. With two outs in the fourth, he gave up a single to Josh Donaldson, but then followed with another strikeout. In the fifth inning, Oakland got its first two runners on base when Cespedes and Smith singled, but then a line out and two strikeouts followed. Verlander then retired the side again in the sixth, but saw two batters reach in the seventh. With runners on second and third base, he struckout his eleventh batter. In the eighth, Verlander was relieved by Drew Smyly, who gave up a pinch-hit, lead-off double to Alberto Callaspo and walked Jed Lowrie with one out. Hereafter, Al Albuquerque took over and struckout the next two batters, but then Oakland struck in the next at bat to win the game.
(October 5)