Oakland takes 2-1 lead in ALDS
Nederlands

DETROIT, Michigan (USA) - Oakland Athletics hit three homeruns on Monday-afternoon in Game 3 of the American League Division Series vs. Detroit Tigers to win 6-3 and take a 2-1 lead in the best-of-five. The series continues on Tuesday and when Oakland wins again, it will clinch the American League Championship Series.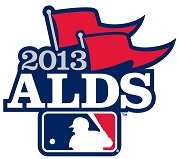 After two scoreless innings, Oakland opened the score in the third inning. Coco Crisp led off with a single and moved on a walk by Josh Donaldson. After the next two batters struckout, Crisp scored when Yoenis Cespedes reached on an error.

In the fourth inning, two runs were added. Josh Reddick led off with a homerun, then Stephen Vogt tripled and scored on a sacrice fly by Coco Crisp.
But in the home of the fourth inning, the Tigers came alongside, scoring three runs. Torii Hunter led off with a single, then Prince Fielder also singled with one out. Victor Martinez followed with a double that brought in the first run, then the score was tied when Jhonny Peralta added a 2-run single.
The A's reacted with three runs of their own in the next inning. Detroit-starter Anibal Sanchez first struckout Jed Lowrie, but then gave up a homerun to Brandon Moss. Hereafter, Yoenis Cespedes singled and Seth Smith followed with another homerun off of Sanchez, who led the American League this season with the best ERA. Sanchez was replaced by Josť Alvarez, who pitched three hitless innings. Oakland added two more basehits on Alvarez' successor Josť Veras.
After scoring the three runs in the fourth, Detroit was held scoreless in the remainder of the game. Starter Jarrod Parker was relieved after five innings, then three relievers gave up only two more basehits.
(October 7)