Boston advances to League Championship Series
Nederlands

ST. PETERSBURG, Florida (USA) - Boston Red Sox won the American League Division Series vs. Tampa Bay Rays after winning Game 4 with a 3-1 score on Tuesday-evening. In the American League Championship Series, the Red Sox will meet the winner of the series between Oakland A's and Detroit Tigers, which will be decided on Thursday.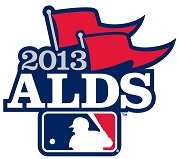 Tampa Bay took an 1-0 lead in the sixth inning when Yunel Escobar led off with a double, moved on a grounder and scored on a single by David DeJesus.

Boston then answered with two runs with two outs in the seventh at bat. New pitcher Jake McGee got pinch-hitter Jonny Gomes to flyout, but then walked pinch-hitter Xander Bogaerts. Next, Will Middlebrooks struckout, but then Jacoby Ellsbury singled, bringing Bogaerts to third base. A pitching change followed and Joel Peralta took over. Ellsbury then stole second base, but could advance as a wild pitch followed, which enabled Bogaerts to score the tying run. Hereafter, Victorino reached on an infield-single to also bring in Ellsbury and put the BoSox ahead, 2-1.
Boston added an insurance run in the top of the ninth inning. It again was Dutch infielder Xander Bogaerts, who scored. New pitcher Fernando Rodney walked the player from Aruba, who then advanced on a wild pitch with one out. The bases then got loaded when Jacoby Ellsbury walked and Shane Victorino was hit by a pitch. Hereafter, Chris Archer took over the pitching, but gave up a sacrifice fly to Dustin Pedroia that brought in Bogaerts and made it 3-1.
(October 8)