Golden Lions win Sri Lanka Baseball Classic
Nederlands

DIYAGAMA, Homagama, Western Province (Sri Lanka) - Last month, the Sri Lanka Baseball Classic 2013 was held at the Japan-Sri Lanka Friendship Baseball Ground in Diyagama, Homogama, 15 kilometers southeast of capital Colombo. With the Classic, the Sri Lanka Amateur Baseball Softball Association (SLABSA) plans to start a new era for baseball in the country. The Classic gives local and national players an opportunity to enhace their skills and show their talent.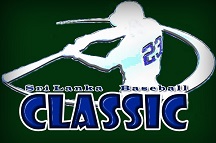 In the days leading up to the tournament, six teams were formed through a player selection process, which is also used for cricket in Sri Lanka. Each team got an experienced coach. All 100 players were given food and lodging at the venue during the four days-tournament.
On the first day, the tournament was opened with the throwing of the ceremonial first pitch by well-known cricketer Mahela Jayewardena.
On the last day of the event, Olympic Medalist Susanthika Jayasinghe threw the ceremonial first pitch before the final between the Green Wolves and Golden Lions. The Golden Lions won the final 12-3 to win the Classic. There were also four individual awards for Dilip Kumara (best fielder), Sanjeewa Jayarathne (best pitcher), Dampiya Mahathantila (best hitter) and Niroshan Punchihewa (most valuable player).
Earlier this year, the Sri Lanka Amateur Baseball Softball Association received a pitching machine from the Chinese Taipei Baseball Association as a gift and for the recognition that Sri Lanka has gained in baseball as a growing baseball-country. The pitching machine, the first in the country, will be available for use by national teams on the Japan-Sri Lanka Friendship Baseball Groud.
The Japan-Sri Lanka Friendschip Baseball Ground officially opened on December 23, 2012. It is the first baseball ground in the country and it was inaugurated by the President of Sri Lanka, His Excellency Mahinda Rajapaksa. The field is located at the Mahinda Rajapaksa International Sports Complex in Diyagama, Homagama in the Western Province of the island-country. The baseball field is located closely to the atletics ground, football and cricket fields. The construction was done according to specifications of the International Baseball Federation. The Government of Japan granted 111,606 US dollar of assistance on this project, ''the construction of a baseball ground for youth training''. Japan International Cooperation Agency added a donation of 136,400 US dollar.
On the day the field opened, the National Team of Sri Lanka played a game against Kanagawa High School from Japan, which was televised live. The next day, both teams played another game. Two days after the opening, a training camp was organized for umpires, led by Sujeewa Wijayanake, an international umpire from Japan.
The inauguration of the baseball ground coincided with the 60th anniversary of diplomatic relations between Sri Lanka and Japan.
(October 14)